Have you ever felt like your arch is starting to fall or lower and becoming quite painful? Well, this is a common sign of Posterior Tibial Tendonitis.
Posterior Tibial Tendonitis, once a debilitating and disabling condition, is now quite treatable with early diagnosis and conservative treatments.
Of course, two of the most important treatments are Correct Footwear And Orthotics.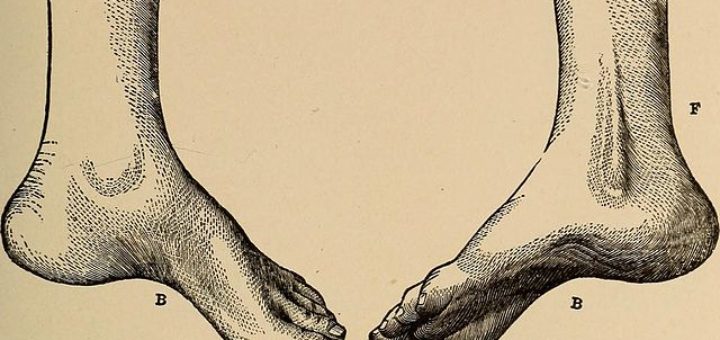 ---
---
Posterial Tibial Tendonitis Symptoms and Causes
Your Posterior Tibial tendon is one of the most vitally important tendons for your feet and ankles; this tendon runs along the inside of your ankle down into your foot.
The Posterail Tibial tendon supports your arch height and acts as a fulcrum, aiding to hold up your arch to create supination force and the inward rotation of your feet, helping to stabilize your feet and ankles when you walk or run.
When the Posterior Tibial tendon becomes overused, stretched out, or damaged and inflamed, the arch drops, becoming quite painful.
Some Causes Include;

Age – Posterior Tibial Tendonitis is more common among women over 40 and older adults, particularly those who are overweight or obese. Diabetes is another culprit that may lead to this condition.
Overuse Injury – Posterior Tibial Tendonitis is a condition that is less common in athletes and usually only occurs due to an overuse injury because of continuous engagement in high-impact activities.
High Impact Activities – The impact of activities causes tension in the tendon, resulting in inflammation and dysfunction.
---
Orthotics as a Treatment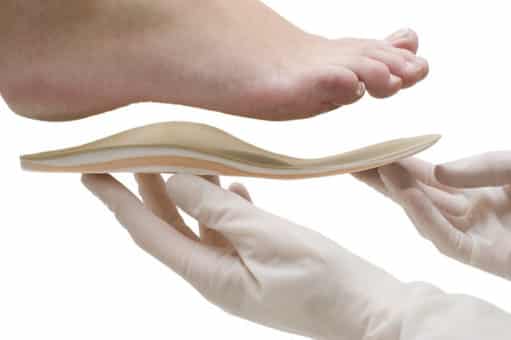 Orthotics or inserts are among the two most important treatments of Posterior Tibial Tendonitis and undoubtedly one of the best.
Custom Molded Orthotics designed specifically for your foot type and arch type are the most desirable, although pre-fabricated orthotics can be just as effective.
Orthotics or Inserts that support the Posterail Tibial Tendon can greatly alleviate pain and prevent further inflammation.
---
Best Shoe Types for Posterail Tibial Tendonitis and Their Features
Below are some shoe style options and their features that you can look at to relieve the symptoms and treat Posterail Tibial Tendonitis. For the most part, a RIGID SOLE, STABILITY, and good SHCOK ABSORBENCY are key when looking at shoe characteristics for this specific condition.
Running Shoes – Most Running and Walking Shoe brands are ideal for Posterail Tibial Tendonitis as they provide features for controlling over-pronation and under-pronation, along with a design to eliminate stress on your Posterior Tibial tendon. Most running and walking shoes come with various features to select in a particular running or walking shoe to provide specific support and comfort characteristics for your foot type and conditions.
Orthopedic Dress Shoes – Some orthopedic Dress shoe brands have a design and features such as cushioning and shock absorbency, along with a stiff design to reduce stress on the shoe's sole ideal for Posterail Tibial Tendonitis symptoms and treatment. In general, you can look at many other excellent features held by most orthopedic dress shoes that help alleviate the symptoms of many feet and health conditions besides just Posterail Tibial Tendonitis.
Sandals – Some sandal brands and designs have a rigid sole and cushioned, shock-absorbing features to provide the impact resistance and stability needed to treat this condition. Likewise, sandals and Flops offer excellent stability and motion control features that effectively control pronation to prevent further tension on the Posterior Tibial Tendon.
---
Reviews: Best Shoes for Posterior Tibial Tendonitis
Some Excellent options in shoes to accommodate Posterior Tendonitis.
We hope you love the shoes we recommend!
We may collect a share of sales or other compensation from the links on this page.
---
1
Running Shoe for Posterior Tibial Tendinitis
When you have Posterior Tibial tendinitis, one of your best options is this running shoe: Asics Gel Cumulus.
The Impact Guidance system enhances the natural Gait Function.
Guideline Midsole with vertical grooves for lateral stability.
Rearfoot and Forefoot gel technology and cushioning.
AHAR High abrasion-resistant Rubber Outsole.
The mesh uppers are comfortable, breathable, and flexible synthetic.
Various color options are available.
---
2
Posterior Tibial Tendonitis Dress Shoes
Dress shoes for all occasions that will keep you comfortable and completely pain-free.
Genuine and durable leather uppers that are soft and light against your feet.
The Shape 55 Mary Jane has an anatomical shank with PU on both sides and a plateau construction for more comfort.
The Shape 55 Mary Jane also features a full direct-injected PU sole wrapped in leather, with a 55mm slight heel.
Both shoes are very lightweight, cushioned, and comfortable.
The New Jersey has a rubber-like PU sole and moisture-absorbing insole with a direct-injected, one-component polyurethane outsole with a shock point for better traction.
The New Jersey similarly features a stacked heel for style and elegance.
---
3
Loafers for Posterial Tibial Tendonitis
The Nantucket from Cole Haan is a slip-on design loafer fully padded for comfort and support.
Features soft and comfortable leather or canvas upper options to choose from.
A thick shock-absorbent rubber outsole that offers good traction.
Inside, the shoe is fully lined for comfort.
The sock lining has cushioned padding for shock absorbency and support.
---
4
Posterial Tibial Tendonitis Running and Walking Shoe
A Great choice in running or walking shoes from New Balance, the 990V5 has an EVA core heel and blown rubber outsole ideal for preventing pain associated with POsterial Tibial Tendonitis.
Breathable, comfortable leather and textile upper construction with a lace-up closure system.
A Blown rubber outsole for superior shock absorbency and traction and a foam collar for comfort.
The ENCAP PU ring and EVA Core heel provide superb support.
A cushioned and comfortable insole to provide support and shock absorbency.
Available in many color varieties for you to choose from.
---
5
Leisure Posterial Tibial Tendonitis Shoes
Dansko is a shoe brand that offers many therapeutic and orthopedic pain relief features, thus making it ideal for persons who suffer from Posterior Tibial Tendonitis.
Leather uppers from genuine leather are durable and water-resistant, with a wider toe design for more freedom of movement.
A lightweight EVA midsole and nylon shank for cushioning and shock absorbency.
The rubber outsole is highly durable and slip-resistant.
Inside, soft, seamless linings to keep your feet dry and comfortable.
A PU foam footbed for extra comfort and cushioning.
---
6
Posterior Tibial Walking Sneakers
You will find two of the best and most comfortable sneakers for Posterior Tibial tendinitis.
It is ideal for various foot conditions, including Posterior Tibial tendinitis.
Offers exceptional cushioning with a removable Gel insole.
Biomechanical design and air-cushioned sole.
Ideal non-binding and seam-free interior for less irritation.
A durable and high-traction rubber outsole.
---
7
Comfortable and supportive running shoes for PTTS from Asics.
Fabric and mesh uppers are lightweight and breathable.
A Gel forefoot and rearfoot cushioning system.
Trusttic Guidance system for better gait efficiency and movement.
Guidance Line midsole technology and vertical flex grooves.
Features the Asics AHAR high abrasion-resistant rubber outsole.
---
8
Two stunning dress shoe models that are perfect if you suffer from Posterior Tibial tendinitis.
Genuine soft and supple leather uppers.
A thick and durable rubber outsole.
Comfortable Ortholite cushioned insole and smooth textile linings.
The outsole is flexible and offers long-lasting durability.
---
9
Comfortable Posterior Tibial Tendinitis Shoes
One of Clarks' most comfortable and popular ranges, particularly for foot conditions such as Posterior Tibial tendinitis, is their Cloudestepper Range. I have chosen a slip-on shoe for men and a comfortable sandal for women to wear to any occasion.
The Arla has stretchable textile uppers straps and a hook and loops heel strap.
The Arla features Cushion soft technology and Cloud Stepper cushioning in the footbed and has a wedge sole with a rubber outsole.
The Tunsil for men is a closed-style sneaker with textile uppers and stretch gore panels.
The Tunsil also features an Ortholite comfort footbed and EVA outsole for comfort.
---
10
Running Shoe for Posterior Tibial Tendonitis
The Saucony Redeemer is a supportive and highly comfortable running shoe that is perfect for the symptoms of Posterior Tibial Tendonitis.
A thick and shock-absorbing, high traction rubber outsole.
Slight heel rais of 29 mm and a power grid midsole for better arch support.
It comes with a removable comfort insole enabling you to use your own orthotic devices.
An EVERUN topsole provides continuous cushioned comfort and support while the engineered uppers provide a dynamic fit.
Mesh and synthetic uppers allow for superb breathability and lightweight comfort.
---
11
Orthopedic Dress Shoe for Posterior Tibial Tendinitis
As a dress shoe, I would highly recommend Orthofeet. I have chosen the Celina for the ladies and the broadway for the gents.
Both of these shoes have the popular and orthopedic cushioning system, the Orth Cushion.
You get an additional Gel orthotic insole to use, or you can use your personal orthotics.
The uppers have a seamless interior and a smooth lining to be non-irritating.
Both shoes have a roomy toe area and a comfortable fit.
The outsole is durable and has high grip rubber.
---
Index Table: Best Shoes for Posterial Tibial Tendonitis
---
---