Flip Flops usually make their appearance during the summer and spring months and are great if you want to let your feet breathe and stay cool.
Unfortunately, most Flip Flops do not support or cushion the feet and are not ideal.
Luckily today, Flip Flops are so advanced that brands provide great support and comfort, such as orthopedic Flip Flops.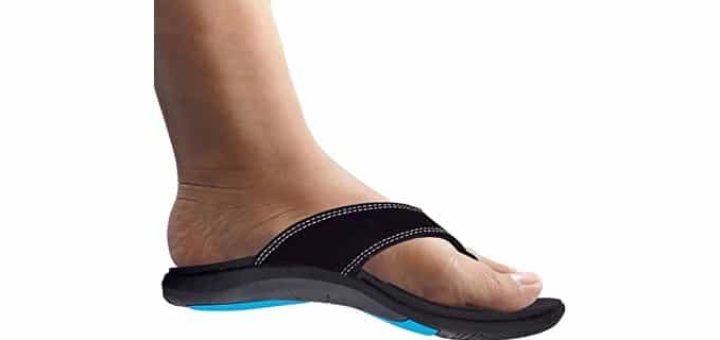 ---
Why Choose Orthopedic Flip Flops
An Orthopedic Flip Flop is designed with a supportive footbed that has to cushion and is usually contoured. It may have a removable insole and extra depth and width options to accommodate foot conditions and issues.
A therapeutic orthopedic sandal can influence not only the health of your feet but that of your entire body by providing stability and support in key areas. In addition, many feet and lower limb conditions and pain are effectively relieved by using a good orthopedic Flip Flop sandal or shoe.
---
Benefits of Orthopedic Flip Flops
Foot Conditions – Flip Flops, in general, allow your feet to breathe and also helps certain foot conditions such as ingrown toenails and athlete's foot to heal faster because it is kept dry and cool.
Easy Wear – Flip Flops are easy to put on and take off and a great option for quickly putting on when you need to make a quick trip outside or even to wear indoors as leisure footwear.
Outdoors – Sandals and Flip Flops are ideally built for the beach to protect your feet from hot sand and are easy to rinse off at the end of the day quickly.
Arch Support – With the advantage of orthopedic features, Flip Flops can also provide excellent arch support, cushioning for your heels, and can aid in realigning your foot into a more natural position.
Blood Flow – Orthopedic sandals allow your feet to function in a healthy and breathable environment and aids in improving blood circulation and reducing pain.
Neuropathy Aid – People who suffer from diabetes or neuropathy can significantly benefit from orthopedic Flip Flops.
Mobility – Flip Flops with good orthotic design can also help correct certain foot conditions and improve mobility.
In general orthopedic sandals and shoes are good for your feet and keep them healthy and well supported.
---
Features of a Good Orthopedic Flip Flop
Deeper heel Cups – A cushioned or deeper shaped heel for better stability and heel protection.
Midsole – A EVA or foam Supportive Midsole also absorbs shock on impact and offers a cushion.
Uppers – Comfortable Straps, and smooth moisture-wicking linings, or padded straps that may or may not be adjustable.
Motion Control – Good stability and motion control features to prevent excessive pronation.
Shock Absorbing – A shock-absorbing sole and cushioning in the footbed.
Outsole – A durable and slip resistant outsole, made from rubber with a lug pattern.
Comfort – A comfortaable padded or cushioned footbed.
Support – Supportive contoured and stabilizing footbed offers good arch support and bounce back.
---
Reviews: Best Orthopedic Flip Flops
We have researched and reviewed some of the best available orthopedic Flip Flops and listed them along with all their fantastic features;
1
Arch Support Orthotic Flip Flops
The Stride Tek Flipthotic is a stylish Flip Flop Sandal with fantastic support and comfort features that encourage the proper biomechanics throughout your entire gait stride.
The Flipthotic is made from soft and durable Polyurethane and Polyester for all-day comfort.
The durable rubber sole ensures excellent grip on wet and slippery surfaces.
A patented metatarsal riser pad supports and encourages the proper biomechanical movement of the foot.
The EVA arch supports molds to the shape of your arch and keeps your feet more naturally aligned.
A deeper heel cup provides excellent stability and heel support.
The Flipthotic from Stride Tek aid in relieving foot pain, Plantar Fasciitis, Shin Splints, metatarsalgia, and Morton's Neuroma.
---
2
A perfect flip flop for the beach, pool, or gym swimming pool, the Sole Sport has a classic sporty design and supportive cushioning.
A versatile and water-friendly flip flop sandal that has synthetic straps and an ultra-soft polyester lining.
The cushioned footbed of the Sole Sport provides all-day customized comfort and support.
The Grippy synthetic sole will prevent slips even on wet surfaces for excellent traction on and off the beach.
---
3
Toe Post Orthopedic Flip Flop
The Vionic Flops Wave is a performance sports toe post-Flip Flop sandal that provides excellent support and stability for tough comfort and durable support.
The Vionic Wave features a very tough and durable Vibram outsole that provides exceptional traction on various surface areas.
The flexible leather uppers and soft toe post ensure a most comfortable fit.
The Wave model has a contoured motion control footbed made from EVA and heel and forefoot cushioning for cushioning and support.
This Flip Flop Sandal is also an excellent choice for after-sport recovery because of its high stability and support.
---
4
Casual Orthopedic Flip Flops
Another fantastic choice in orthopedic Flip Flops is the Othaheel Wave; it is packed with support and comfort technology and features a sleek and trendy style.
The soft woven toe post and foam-lined upper strap of the Orthaheel Wave ensure a luxuriously comfortable fit.
The EVA midsole is lightweight and of medium-density to absorb shock and reduce strain on the feet.
In these Orthaheel flip flops, excess pronation technology is used.
The podiatrist-designed Tri-Planar motion control footbed with its deep heel cup stabilizes supports and realigns the foot into its natural position.
The Orthaheel Wave is a very convenient and natural healing solution to common foot pain associated with poor lower limb alignment.
---
5
These New Balance Flip Flops are sporty and comfortable with some fantastic orthopedic support characteristics.
The uppers are made from synthetic PU materials and breathable mesh.
A contoured footbed with a 360-degree heel cup and anatomical arch support aligns the feet into their natural position and provides exceptional comfort and support.
A durable TPR outsole is flexible and provides good grip and traction on different floor surfaces.
A comfortable and supportive Flip Flop will keep your feet in their natural position and provide all-day support and comfort.
---
6
Orthaheel Orthopedic Flip Flop
Another great orthopedic sandal from Vionic, the Ryder, and Tide 2, provides excellent comfort and support and will relieve foot pains and aches associated with poor limb alignment.
The uppers are made of durable and comfortable leather and synthetic materials; the adjustable strap on the Ryder and fixed strap on the Tide 2 are also lined with foam for an even more comfortable fit.
Orthaheel technology provides stability and prevents overpronation.
The Tri-Planar motion control footbed with the deep heel cup is designed by a podiatrist and provides excellent support and stability.
The medium-density EVA midsole is lightweight and absorbs shock reduces stress on the feet.
A durable outsole finishes off the Vionic Ryder and provides excellent traction on slippery and wet surfaces.
---
7
Orthopedic Lightweight Flip Flop
Lightweight and cushioned Flip Flops from Telic with an Orthopedic footbed.
Many color variations are available for your perusal.
The heat-sensitive Novalon material molds to the shape of your feet for an ergonomic fit.
It has an Orthotic grade arch support that doctors recommend.
Convenient and comfortable with a lightweight, easy fit.
---
8
Flip Flop Orthopedic Sandal
The Olukai Ohana is a top model in its range that offers orthopedic support and comfort.
A lugged outsole for slip resistance and outdoor walking.
Anatomical precision-molded footbed with an EVA cushioned sole and ICEVA drop-in design footbed.
Vegan-friendly materials are used.
Water-ready and quick-drying breathable design.
---
9
Orthopedic Stability Flip Flop
From Footminders, we have the anatomically molded comfort Flip Flop sandals for all-day wear.
Relieves foot pain with an anatomically designed compression-molded EVA footbed and arch support.
Deep heel cups for stability.
The podiatrist recommended flip-flops.
---
Index Table: Top Rated Orthopedic Flip Flops
---
---
---