Sweaty feet can be uncomfortable and also unhygienic, causing bacterial infections and bad odors.
In some cases, your shoes could either be the culprit of excessive sweat or, on the contrary, can help you prevent excessive sweating.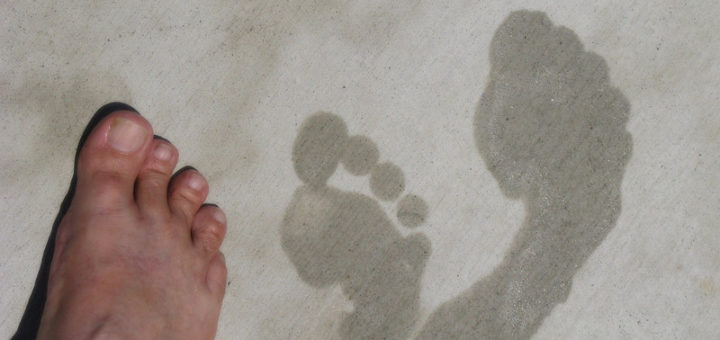 ---
The Wrong Shoes can Make Your Feet Sweat More
Certain low-quality shoes are made from synthetic materials that can actually cause your feet to heat up fast and sweat more.
Materials that do not breathe or wick away moisture can be one of the leading causes of sweaty feet and bad odors in your shoes.
Opt for more natural and sweat-wicking materials such as leathers, mesh, and textiles designed with this function.
---
Some Tips to Prevent Sweaty Feet
Moisture Wicking Lining – Look for shoes that have a moisture-wicking interior fabric lining that can help to absorb and wick away sweat inside your shoes.
Sweat Absorbing and Wicking Materails – Breathable textiles and mesh and leather with ventilation designs such as perforations allow better breathability and cooling ventilation.
Anti-Perspirant – You can use a regular spray-on or roll-on anti-perspiring on the bottom of clean feet to reduce sweat and moisture during the day.
Powder – foot powder on your feet and in your shoes also helps to reduce moisture and keep your feet dry.
Insoles – Certain insole brands and models have sweat-wicking and moisture managing technologies that are designed to keep your feet dry, and in some, have an antibacterial treatment to reduce odors and bacteria.
Regular Washing – You can wash or rinse your feet quickly during the day, preferably with cold water to wash away sweat and bacteria and to keep them dry and dor free.
---
Features of a Good Shoe for Sweaty Feet
Uppers – Textile, Mesh or Canvas uppers breathe easily and help to prevent moisture by properly ventilating your feet as well as absorbing moisture. Most leathers also have a moisture absorbent quality and many leather upper shoes have perforations for breathability nd ventilation. Interior linings have a moisture wicking capability which adds to moisture management and control.
Footbed – A ventilating perforated footbed that is cushioned for comfort and has a moisture-wicking lining is ideal for sweaty feet. Some shoe models also offer an antimicrobial treated footbed or insole, which helps combat bacteria and odors caused by excessive sweating.
Sole – A durable rubber outsole and EVA or Foam midsole ensure excellent shock absorbency and traction to keep you safe and comfortable on your feet.
Design – Open design shoes also allow for much better ventilation, such as a sandl or a slip on shoe.
---
Reviews: The Best Shoes for Sweaty Feet
These are some superb choices in shoes that help to reduce excess sweat and moisture and keep your feet dry and fresh;
---
1
The Orthofeet Malibu and Cambria are athletic styled leather sandals ideal for men and women who have sweaty feet that may also tend to swell.
The adjustable straps allow you a more customizable and comfortable fit.
The uppers strap is made from comfortable leather that is lined with a sweat-resistant material.
These sandals are available in a wider width option and also have a roomy toe fit.
The footbed offers excellent arch support and many layers of comfortable cushion.
The durable rubber outsole ensures excellent grip on most surface areas.
Both sandals are available in two or more color selections.
---
2
Slip On Shoe for Sweaty Feet
The Encore Breeze and Gust from Merrell are easy to slip on and off shoes that are also quite durable and breathable for Sweaty Feet.
Available in a few neutral colors for your perusal.
Both feature a mesh and leather uppers design with an open heel for easy slip on and off and better ventilation.
The insole is cushioned for comfort.
It also features a durable and highly slip-resistant, flexible rubber outsole.
---
3
Running Shoe for Sweaty Feet
The Zoom Fly from Nike is a favorite running shoe among many individuals who suffer from sweaty feet or feet overheating quickly.
Flyknit constructed uppers allow for very lightweight breathability and a sock-like fit.
There is also a Full-Length Carbon plate, for a more snappy feel.
The Nike React technology allows a more responsive and energized feel and smoother ride when running.
Fusible yarns create zones of structure for additional structural support without the weight.
A traction pattern underneath the rubber outsole ensures better stability and propulsion off the ground.
The Nike Zoom Fly is also available in a few color selections to choose from.
---
4
Athletic Shoe for Sweaty Feet
This is a top model from Adidas when looking for a more breathable and moisture-wicking design athletic shoe.
The Adidas Ultra Boost game of Thrones is available in a few different color selections.
Primeknit textile uppers that are best lightweight and breathable while allowing targeted support and comfort when you move.
There is also a lightweight and adaptable stabilizing Torsion System between the heel and the forefoot for a more stable ride.
Very responsive and energizing Boosting cushioning and a Stretchweb outsole that flexes naturally.
The outsole also has a patterned tread for better traction on most surfaces.
---
5
The Gel Quantum 360 from Asics is a top in its class for breathability and sweat, reducing athletic, running, and walking shoes.
This shoe is available in a few basic and colorful models to choose from.
The upper consists of breathable mesh with synthetic overlays.
A GEL cushioning system attenuates shock during impact and a Heel Clutching system to support the heels and ankles.
The Solyte and SpEVA midsole are the most lightweight and cushioned midsoles you will find.
The X-Ortholite Sockliner provides excellent moisture wicking and cushioning capabilities to keep feet dry and fresh at all times.
---
6
The Zero Grand from Cole Haan is a comfortable and supportive sneaker that is very lightweight and breathable, ideal for sweaty feet.
This Shoe features a Proprietary stitch like an upper fit for comfort and breathability with leather lateral and medial side pieces for better support and stability.
The Internal Heel padding prevents your heels from slipping and provides even further comfort.
ZeroGrand motion technology tooling and lasting allow a wider and more comfortable forefoot base with increased stability for side-to-side movements.
It also features an EVA foam cushioning base in the footbed and comfortable moisture-wicking interior linings.
The outsole is made from a high traction durable rubber.
---
Index Table: Top Rated Shoes for Sweaty Feet
---
---