Regardless of your occupation or daily activities, heel pain can fall on your at any age or stage of your life, making walking and running quite difficult, and causing great discomfort.
The right shoes for heel pain can truly make a huge difference in this regard.
Skechers shoes for heel pain offer a large rain of different shoe types that offer the proper support and comfort features to prevent and ease heel pain.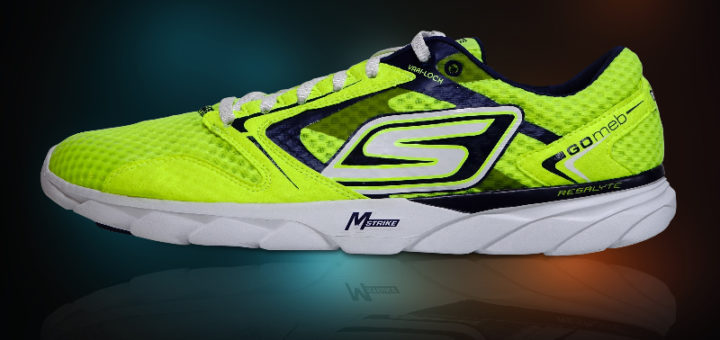 ---
Heel Pain and its Effects on You
Heel pain is a very common foot issue that can be caused by foot conditions including; Plantar fasciitis; Heel Spurs on Achilles tendinitis.
Mostly heel; pain is experienced at the bottom of the heel which indicates Plantar fasciitis, or just behind the heel, which relates to Achilles tendinitis, where your Achilles tendon connects to the heel bone.
Heel pain may become more severe if not addressed and treated.
Comfortable shoes with arch support, cushioning and a deeper heel cup, and a firmer heel counter are usually your best defenses against heel pain, no matter what the cause.
---
What to Look for in a Shoe for Heel Pain
Whether your pain levels are high or low, I suggest that you look for good shoes that have these characteristics;
Good Heel and Arch Support – Make sure that the shoes offer good heel support such as a firm heel counter or heel cup. Also, look for proper arch support which helps to spread weight and impact evenly and prevents it from placing pressure on your heels.
Cushioning – You want the soft impact to the ground, especially in the heel area. So make sure your shoes have ample cushioning in the footbed or insole, as well as firmer cushioning in the midsole for shock absorbency.
Extra Rigid Sole – A more rigid sole and some midfoot cushioning prevents impact on your heel when your walk or run. A thicker soled shoe or rocker bottom style sole shoe is ideal.
---
Features of a Good Skechers Shoe for Heel Pain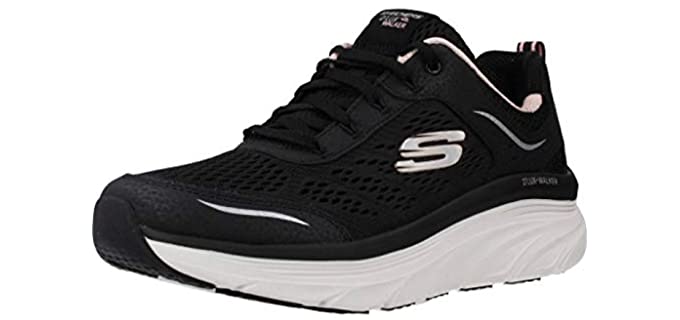 Uppers and Fit – Skechers shoe models come with a variety of materials used in the uppers. They can have mesh, engineered mesh, or soft fabric knit uppers or woven. Some models may have leather and synthetic, or textile uppers such as canvas. The designs come in lace up, slip on and sandal designs. The fit can be snug or more relaxed deepening on the actual shoe.
Cushioning and Support Technology – Skechers Uses a Variety of Cushioning systems such as memory foam, Goga Max, and Goga Mat that may be Air Cooled or regular. They also use Ultra Go cushioning and Pillar technology for shock absorbency. The Arch fit range has an anatomical shaped footbed that provides better arch support.
Outsole – The Outsole will generally be a durable and high traction rubber or a synthetic sole. Some models feature Comfort Pillar technology in the sole that aids with balance stability while providing excellent cushioning and shock absorbency. Some Skechers models have more rigid sole for stability, while others feature a more flexible sole design. there are also some models with a very thick sole almost similar to a platform style.
Options – You can usually choose from many color options available in most Skechers shoe models. Most models likewise come in wide and extra-wide width options.
---
Reviews: The Best Skechers Shoes for Heel Pain
These are our top choices in Skechers shoes that are ideal for heel pain
---
1
Cushioned Shoe for Heel Pain
The Skechers Cushioning Elite is a comfortable and well-cushioned walking shoe that is ideal for heel pain.
It has breathable engineered mesh uppers and a platform midsole.
They use responsive and lightweight Ultra Go cushioning.
The outsole has a parametric web design for traction on multiple floor surface types,
There are flex grooves for flexibility and smooth transitioning in the sole,
The shoe sole is ideal for midfoot striking.
It is available in more color options.
---
2
This is one of the most comfortable ranges from Skechers to their Go walk slip-on range.
They offer plenty of cushioning and support for heel pain.
The uppers are mesh and there is an Air-Cooled Goga Mat insole.
The lightweight dual-density Ultra Go synthetic outsole has comfort Pillar technology for shock absorbency and even balance.
This model is available in many color options, as well as wider widths.
---
3
These are two comfortable casual shoe models from Skechers for heel pain.
The Expected Avillo is a Moccasin style shoe available in more colors, with canvas uppers.
The Avillo has a cushioned memory foam footbed and a casual slip-on style.
The reggae Fest Manzanita is a flat loafer with synthetic leather uppers and a relaxed fit.
The Manzanita has an Air-Cooled memory foam insole and cushioned midsole.
Both models are available in more color options.
---
4
Wide Width Heel Pain Shoes
The Skechers D'Lites and Afterburn are comfortable and casual shoe models with plenty of cushioning for heel pain.
They have leather and synthetic uppers with a very roomy and relaxed fit.
Inside is an Air-Cooled memory foam insole for cushioning, and a supportive, shock-absorbing midsole.
The outsole is a thick and durable rubber with a slight platform style.
More colors are likewise available to you.
---
5
The Skechers D'Lux is a luxury comfort walking and casual shoe model.
It has mesh uppers that are lightweight and breathable, with a Bio Dri moisture-wicking lining,
There is a plush cushioned, Air Cooled memory foam insole and a supportive midsole.
The outsole is durable and synthetic, for good traction.
---
6
Walking Shoe for Heel Pain
The Skechers Go Walk Arch fit is a shoe model that fully supports your arches and has a more anatomical design footbed.
It offers high rebound Comfort Pillar technology and Air Cooled Goga Max technology for shock absorbency.
There is a comfortable cushioned Ultra Go insole for underfoot comfort,
The uppers are soft knit engineered mesh that is flexible and breathable.
The design of the shoe molds to the shape of your feet and the upper flex as you move.
It is very lightweight and well-cushioned.
---
Index Table: Top Rated Skechers Shoes for Heel Pain
---
---