Just as you could get a Bunion on your big toe, which is quite common, resulting from pressure, similarly, you can get a Bunion on your little toe, which is referred to as a Bunionette or Tailors Bunion.
A Bunion is an uncomfortable and painful irritation, no matter how you look at it, and it can be quite unsightly, though a Tailor's Bunion is less awful than the big toe bunion.
Therefore the right shoes are vital to prevent pressure and protect your feet when you have a Tailor's Bunion.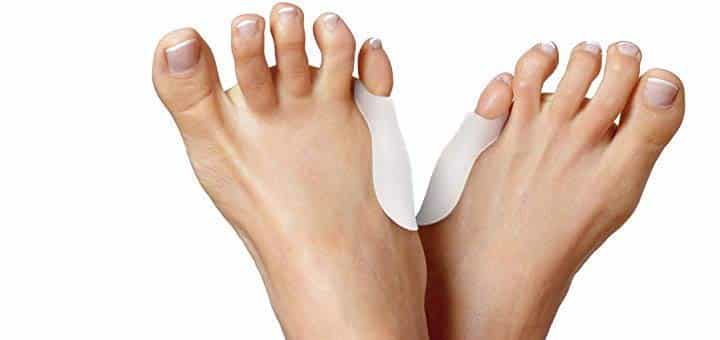 ---
What Exactly is a Tailors Bunion and its Causes
A Tailors Bunion or Bunionette is basically a bony lump that forms along the side of your little toe, usually affecting one or both of your little toes.
This happens when your fifth metatarsal bone enlarges and starts to shift outwards, rubbing against your shoe and forming a growth.
In general, the Tailors Bunion is precisely the same as any other Bunion, with the only difference being that it forms on the outside base of your little toe.
Tailors Bunions are not as Common as regular Bunions, so not many individuals are affected by this condition.
Though, if you are one of the unlucky individuals affected by Tailors Bunions these are some telltale symptoms;
A swollen bump on the outside of your little toe.

Pain and stiffness in the little toe.

Inflammation and swelling on the outside of your little toe.

Pain from shoes rubbing against the little toe.

Some of the Main Causes of Tailors Bunions are;
It is poorly fitting shoes or shoes that are narrow and have a very high heel.

This condition may likewise be inherited.

Inverted foot shape (foot leading to outside) pressing against your shoes.

A lower than usual with metatarsal bone.

Tight calf muscle structure.

---
Treating Tailors Bunions
Some great tips to treat Tailors Bunions are;
Silicone Pads – You can use a silicone bunion pad over the Bunion to relieve pain and prevent friction against your shoes.

Shoes – Shoes that are flexible and have a wide, roomy toe box, as well as cushioning, will reduce friction and pressure on a painful Tailors Bunion.

ICE – Ice helps to reduce swelling and inflammation in painful Bunions and can relieve the pain.

Medication – Non-steroidal anti-inflammatory drugs can be used to reduce pain and inflammation.

Stretching – stretching your calf muscles daily can help to heal and prevent Tailors Bunions.

---
Charactaristics of a Good Shoe for Tailors Bunions
Most important is a wide and roomy toe box, you can look for shoes that are available in wider widths.

Soft and flexible uppers that are seam-free or have a soft lining is gentle against Bunions and will prevent pressure.

A cushioned insole or cushioned footbed further aids in preventing pressure and absorbing impact.

Open upper construction such as a Flip Flop or sandal is great for comfort and pain relief, but may not be the best option as Bunions can be quite unsightly.

---
Reviews: Best Shoes for Tailor's Bunions
Here are some of the best available shoes, that offer therapeutic relief and ensure less pressure on your toes, for the treatment of Tailors Bunions;
---
1
Tailors Bunions Extra Depth Shoes
The Orthofeet Sprint and Coral are men's and women's sneakers designed to provide therapeutic and orthopedic support and pain relief from many foot conditions.
These sneakers are one of the most sought after shoe models presented by Orthofeet, as they are comfortable, healing, and very fashionable.

Both sneakers have soft and flexible uppers manufactured from breathable mesh with synthetic overlays.

The tongue is padded and breathable, and the heel counter is also padded with a snug-fitting design to prevent slippage.

Inside the is an Ortho-Cushioning system for excellent cushioned comfort and shock absorbency.

The non-binding and extra depth design accommodates foot conditions such as Bunions and hammertoes, among many others, and relieve pressure from the toes and forefoot.

The sole is lightweight and has a durable rubber outsole for excellent traction and slip resistance.

This shoe is available in a few color options as well as different sizes and widths options for both men and women.
---
2
Flip Flops for Tailor's Bunions
Brave enough to sport those Bunion toes, or even if your Bunions are not all that unsightly.
The Vionic Flip Flop Sandals are an excellent choice for those hot summer days, and they offer comfortable cushioning and arch support with an open design for more toe movement and freedom.

Both sandals feature a full-grain leather upper toe post strap with a soft and comfortable textile lining.

The VionicFloriana has decorative embellishments on the strap with different designs and colors to choose from.

Excellent arch support with a podiatrist-designed footbed consisting of EVA for stability and cushioning.

The rubber outsole ensures excellent traction and good shock absorbency.

---
3
Leisure Shoe For Tailors Bunions
Not the most appealing shoe, but I would rate the Dr. Comfort Marla and Carter as the most comfortable shoe if you have Bunions or other foot conditions and deformities, by far.
This shoe is so soft, comfortable and flexible, not to mention adjustable fitting and highly breathable, it is a comfortable leisurewear shoe, that could likewise be used as a slipper.
The uppers consist of soft and flexible lycra with seamless interior design to prevent irritation and chafing.

Lycra is highly breathable and lightweight and will not place any pressure on painful toes and Bunions.

A hook and loop closure allow you a customized snug fit.

Extra-depth design with a cushioned insole for plush comfort and support.

---
4
Slip On Sneaker for Tailors Bunions
These are two comfortable and flexible slip-on sneakers from Skechers that bot features soft and plush memory foam footbeds.
Breathable and flexible mesh uppers construction.

A thick shock-absorbing and high traction rubber outsole.

Easy slip-on and off design available in a few color options.

A shock absorbing FlexSole design that is lightweight and supportive.

Slight heel for added stability.

Memory foam cushioned insole that contours to the shape of your feet for luxury comfort and support.

These Sneakers are similarly available in a wider width and extended size options.

---
5
Tailors Bunions Dress Shoes
Orthofeet offers you these two gorgeous dress shoe models that are comfortable and supportive while featuring an extra depth and wider toe box design, which is perfect for pressure relief on Bunions.

Soft and supple leather uppers, the Gramercy has a lace-up closure and the Aviva a mary jane style with a cross strap.

The Aviva has a specialized Bio-Heel design with an arch booster and a forefoot pad to eliminate pressure on all of the foot and the toes.

Both shoes have the plush and comfortable Ortho-Cushioning technology and excellent arch support.

They likewise feature seam-free interior design, with a non-binding, extra depth toe.

Available in wider widths and extended sizes to choose from.

---
6
Running Shoes for Tailor's Bunions
For the avid runner out there looking for a comfortable shoe that will not cause pain and pressure on Bunions, I would highly recommend the Asics Gel Cumulus 20 it has a comfortable and flexible design, with extra toe room and cushioning that will protect sensitive and sore toes and feet.
Humanmade mesh and synthetic uppers for breathability and flexibility with a more roomy toe box.

An Impact Guidance system to enhance the natural gait of your foot during motion.

Rearfoot and Forefoot Gel padding for shock absorbency and cushioning.

Vertical Flex grooves to enhance gait efficiency.

An AHAR outsole that has high abrasion rubber which extends to critical wear areas.

The FluidRide Midsole provides cushioning and bounce back for energy return.

Reduced weight and excellent shock absorbency capabilities.

---
7
Tailors Bunion Walking Shoe
One of the most comfortable athletic brands and models from New Balance, ideal for accommodating tailors Bunions.
Soft and comfortable lightweight mesh and suede uppers and a durable and shock-absorbing rubber outsole.

A few different Color variations are available.

A wider fit design with a comfortable padded tongue and collar.

Features ABZORB cushioning technology.

Walking strike path technology for motion control.

---
8
Walking Shoe for Tailors Bunions
An orthopedic walking shoe that will provide you with all-day comfort and relief from the painful symptoms of Tailors Bunions.
Genuine leather uppers with breathable synthetic insets.

A removable moisture-wicking textile-covered EVA footbed for cushioning and comfort.

Received the APMA seal of acceptance and an orthopedic shoe.

Wider width fit options.

Podiatrist designed DUAL DENSITY EVA footbed.

Active motion system and orthaheel technology.

---
9
Slipper for Taillors Bunions
Looking for something comfortable and accommodating to wear at home as leisurewear, then look no further than the medically approved Cuh n Foot from Propet.
Soft and flexible neoprene or corduroy option uppers.

Features a Velcro strap so you can adjust the fit and width of the uppers of your shoe.

A fully cushioned comfort footbed and soft interior linings.

The durable outsole offers excellent grip indoors and outdoors and is thick and shock absorbing.

Extra-large opening and luxury comfort design.

---
10
Tailors Bunions Walking and Running Shoes
The New Balance 860V10 it has the perfect forefoot design and width availability to accommodate Tailors Bunions.
The uppers are an engineered mesh with a flexible fit, and you can get a roomier fit with the wider width options.

Inside is an NB insert for cushioning that is removable and a TRUFUSE foam midsole.

The Blown Rubber outsole offers excellent traction and durability.

---
11
Tailors Bunions Wide Toe Shoe
The Skechers Afterburn and Skechers D'Lites are my top choice when it comes to comfortable and accommodating shoes for Bunions, Hammertoes, and Tailors Bunions.
Both models are available in wider widths and offer a roomy toe box fit along with a more relaxed fit in general.

The sole is a platform design with a durable rubber for shock absorbency and traction.

Ther is an Air-Cooled memory foam footbed that molds to the shape of your feet and a foam midsole for shock absorbency.

You can select from many color options in both these shoe models.

---
12
Tailor's Bunions Dress Sandals
The best Sandal options for Tailors Bunions are from Drew, an orthopedic design brand.
The Alana and Barcelona both have leather uppers, and the Alana can be obtained in many colors, while Barcelona has a black or brown option.

Both feature a contoured and cushioned footbed with an accommodating design for orthotics.

The EVA sole offers excellent shock absorbency and cushioning.

The uppers are adjustable, and there is also wider width selection available in both the Alana and Barcelona.

---
Index Table: Top Rated Shoes for Tailors Bunions
---
---