Having bad or weak ankles means that an ankle injury is much more likely, and you may experience pain or discomfort in your ankles as a result.
However, the proper, supportive footwear can help quite a bit to protect your ankles against injuries and overuse injuries, as well as to relieve pain and discomfort associated with weak or bad ankles.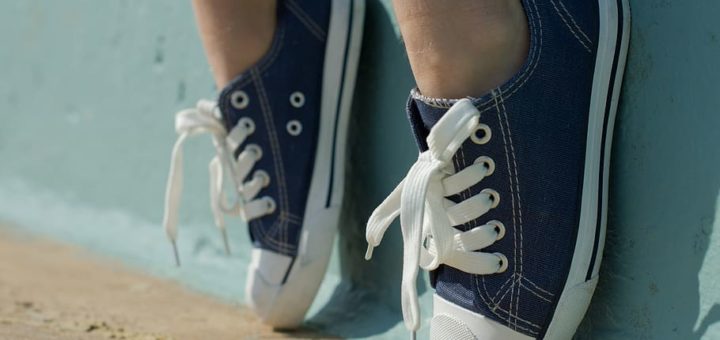 ---
How The Right Shoes Can Help With Bad or Weak Ankles
When it comes to shoes for bad ankles, mainly walking or running shoes, the right shoe can make a huge difference.
But let us first look at a few types of bad ankles and what shoes work best for each;
Unstable or Weak Ankles – Weak and unstable ankles are much more prone to sprains and strains and are usually remedied with shoes that provide lateral support and have a firm sole that provides better stability.
Arthritic Ankles – Arthritis can affect any joints or areas of the body, even your feet and ankles. Arthritic ankles are painful and can become swollen; with this regard, a pleasant and comfortable orthopedic shoe should do the trick and provide the comfort and support features you need to relieve pain and swelling.
Weak or Painful Ankles because of Overpronation and Flat Feel – When your feet are flat or have a fallen arch, there is no support or even weight distribution because of the lack of an arch and impact on the feet, joints and even the ankles are worse. Overpronation, an excessive inward rolling of the feet, is also prone in flat feet, and this motion can weaken and injure your ankles. Therefore, if you have flat feet and overpronate, correcting this issue with good stability or motion control will also protect and reduce your ankles' impact.
---
So What are The Main Functions of a Shoe for Bad Ankles
If you have Bad, injured, or Weak ankles for any reason, the main functions that a shoe should provide are the following;
Stability and Motion Control – Stability and motion control features such as a contoured or Biomechanical footbed, Rollbar Technology r stability features are ideal for keeping your ankles in proper alignment during a motion to prevent injuries and further damage.
Lateral Support – A firmer sole, particularly in the heel and midfoot, along with excellent lateral support, is ideal for preventing strains and sprains and for keeping your ankles from moving out of control and succumbing to an injury.
Boots and Ankle Protection – A longer boot type shoe or a high-top sneaker, and even shoes with a padded and supportive collar and heel help keep your ankle supported and protected against injuries.
Shock Absorbency – Good cushioning in the midsole and footbed, particularly the heel area, helps to reduce shock on the impact on your heels and ankles, which also prevents injuries and strain on the ankles.
---
Features of a Good Shoes for Bad Ankles
Cushioning – A cushioned Ortholite or padded, or EVA insole, in some cases removable allowing you the use of your own orthotic devices.
Support Functions – Lateral Stability, Rollbar Technology, or a rocker sole offers better support and stability.
Ankle Protection – A protective ankle or a heel counter to keep ankles aligned and protected from injuries.
Midsole – Cushioning in the midsole such as foam or EVA provides excellent and lightweight shock absorbency.
---
Reviews: The Best Shoes for Bad Ankles
Below are some excellent choices in a variety of shoe types for bad and weak ankles.
We hope you love the shoes we recommend!
So that you know, We may collect a share of sales or other compensation from the links on this page.
---
1
Running Shoes for Arthritic Ankles
The Bondi is an excellent choice for individuals with bad ankles because of arthritis, providing the right support and motion control to prevent injuries and further weaken the ankles.
The Upper consists of durable synthetic leather and mesh for breathability.
A Lycar comfort heel for enhanced support and a Padded Tongue and collar for a more comfortable fit.
Inside is a moisture-managing and cushioned Ortholite Footbed.
The thick rocker bottom sole enhances movement and provides better stability and support.
This sho is available in many color selections to choose from for both the ladies and the gents.
---
2
Bad Ankles Flat Feet Shoe
One of my favorite walking shoe brands and models, ideally for bad ankles in flat feet and even other foot conditions and ailments, is the Brooks Addiction Walker, an old and faithful beloved.
It is available in Black, white, and brown for men and black, white, and off-white colors for the ladies.
The uppers are made from 100% soft and supple leather with perforation holes for breathability and a soft interior fabric lining to wick away moisture.
There is an Extended progressive Diagonal Rollbar Technology which supports your arch and keeps you in a natural alignment for motion.
MC Pod construction ensures a secure and slip-resistant balanced fit.
Inside is soft and comfortable BioMoGo DNA cushioning, which adapts to your stride, weight, and speed.
Both shoes are durable and long-lasting and come with a tough high traction rubber outsole.
---
3
The Classic styled High Top Vans skater sneaker is a comfortable and casual number ideal for the younger generation who may suffer from weak or painful ankles and are looking for a fashionable, all occasion, and supportive shoe type.
Lovely high-top sneakers in a classic Vans Skater Shoe style are available in a few color selections for men and women.
The upper consists of 100% canvas materials that are lightweight and breathable with a cotton drill lining. And collar padding for a comfortable fit.
Triple stitched for durability, and there is a die ci=ut Cushioned EVA insert for shock absorbency.
The outsole is made from thick and durable Vulcanized rubber, which offers excellent slip resistance and provides shock absorbency.
The High top design ensures that your ankles are stable and protected.
---
4
Ankle boots or even Calf length boots are always an excellent choice when you have weak or bad ankles as they automatically provide excellent support. I have chosen these two models from Clarks that offer you the support of an ankle boot with additional comfort and support features.
For the ladies, there are a few neutral color selections available to choose from as needed.
The Chelsea Style boot comes in four darker neutral shade options in a smooth finish leather for the Gents.
Both shoes come from the Clpoudeteppers collection, featuring cushion soft technology insoles for ultra-plush and cushioned comfort.
There is an Ortholite footbed for even more cushioning and shock absorbency, which also helps manage moisture inside the boot.
Booth boot has a durable and slip-resistant outsole with a slightly elevated heel for sophistication and stability.
The insoles are removable, which also allows you to use your own orthotic devices.
---
5
I have chosen the Coco and Frank from Dr. Comfort as dress shoes for bad ankles because of their excellent lateral stability and cushioning systems, ideal for a painful or weaker ankle.
The Coco for the Ladies has a shiny patent leather finish in a Mary Jane style with an Adjustable strap and a low heel.
The Coco is available in either a patent leather Black or Taupe color option to choose from as you wish.
The Frank for the Gents is a slip-on shoe with a cross strap available in a Black or Bark colored smooth leather selection.
The Frank has Full Grain durable leather uppers and adjustable contact closure.
The Frank Likewise boasts a protective toe box, a firm heel counter for lateral support, and a supportive removable cushioned insole.
The Coco for the Ladies has breathable and heat regulating leather uppers, a protective toe box, and an adjustable closure.
Furthermore, the Coco likewise has a firmer heel counter for lateral support and a slightly elevated heel, with a comfortable and removable Gel cushioned insole for shock absorbency.
---
6
The latest in this range, the Asics GT-1000 number 10, is the perfect shoe for runners who have bad or weaker ankles looking for additional support and comfort features.
The uppers consist of breathable mesh and synthetic materials.
There is an Impact Guidance System, which enhances gait efficiency and improves stability, and absorbs shock.
The SpevaFooam Midsole and Flytefoam midsole technology ensure excellent shock absorbency that is exceptionally lightweight and durable.
Then To finish off, there is a high traction durable rubber outsole.
The Asics GT-1000 7 is available in many color selections for both men and women.;
---
7
The Gel Cumulus 23 from Asics is one of their top ranges to address conditions and issues such as bad ankles.
This shoe is the ideal running or walking shoe for weaker ankles because of the snug-fitting padded collar and stability design.
It is rearfoot and forefoot gel cushioning and an Ortholite sock liner for comfort and moisture management.
Furthermore, Flytefoam technology and SpevaFoam technology in the midsole ensure excellent shock absorbency and cushioning.
Lastly, a durable rubber outsole with ensuring better traction and grip.
---
8
The Orthofeet Glacier and Tivoli Boot is a supportive Orthopedic design boot that will provide protection and comfort for bad ankles.
There is a smooth leather upper with a roomy toe box and an extra depth design.
The shoe model allows you to use your orthotics and comes with a removable insole.
The many layers ensure excellent arch support and cushioning for shock absorbency.
You can also get both these models in wider width options.
Your ankles are protected and comfortable because of the stability and boot design.
---
9
These two Nike models for Men and Women can be used for training or just all-day casual wear. The fit that they offer supports the ankle and protects weak ankles.
The shoe's collar is raised and padded for optimal ankle protection and comfort.
There is a comfortable cushioned insole.
The Bootie design and Flywire cable structural design offer a more sturdy and secure fit.
These shoes are great for stability and protection against ankle sprains.
---
Index Table: Top Rated Shoes for Bad Ankles
---
---