Neuropathy affecting the feet and lower limbs holds many discomforts, pain, and dangers, and therefore it is good to ensure you have the right protective footwear.
A good slipper for Neuropathy can provide you with casual comfort, support, and protection at home. This article will look at the most comfortable and ideal Slipper design for Neuropathy.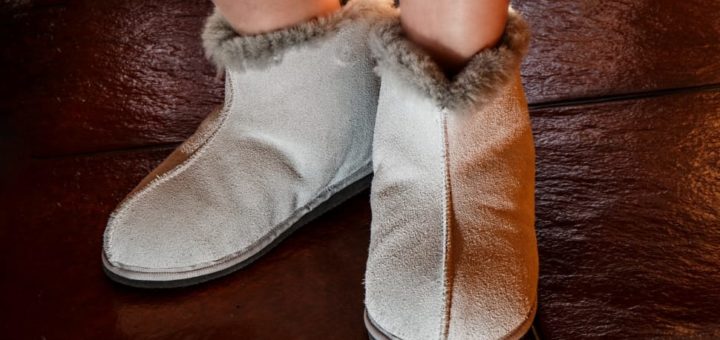 ---
Neuropathy and How it Affects Your Feet
Neuropathy occurs when you have nerves in your body that have suffered some damage and no longer function properly.
Diabetes is one of the number one causes and onsets of Neuropathy in general and causes Numbness and tingling in the feet and lower limbs.
Neuropathy can affect your feet, legs, arms, and hands, causing pain, tingling, a burning sensation, or complete Numbness.
Loss of sensation in your feet and legs can be a problem because you cannot feel pain, heat, or cold, and you can suffer an injury without even knowing it.
Other symptoms such as pain, tingling, burning, and swelling can also occur in the feet, soothed with the right pair of comfortable slippers.
---
What do You Need in a Slipper for Neuropathy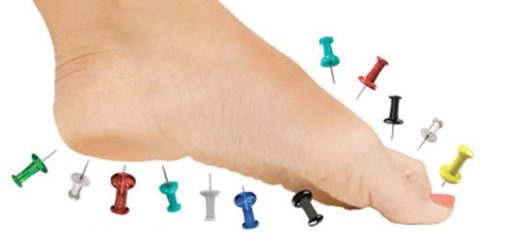 Closed Design – I highly recommend a closed design slipper for Neuropathy that will not slip off your feet and that adds extra protection in the toe area with reinforcement for comfort and durability. Because of the lack of feeling, you may not notice losing a slipper or even stubbing a toe and this is why the closed design is important.
Cushioning – A cushioned footbed will provide a soft base and comfort for your feet to protect them and to absorb shocks.
Underfoot Protection – A durable and thick sole that can protect your feet from sharp objects and punctures is recommended, especially if you lack any feeling in your feet.
Fit – When it comes to the fit, you want a fit in a slipper that places the least pressure and strain on your feet, and that can also accommodate swelling. Look for a shoe that has a flexible and comfortable fit that is not too snug so that it is squeezed and not too loose that it may slip off. Look for a roomy toe box that you can easily splay your toes out in.
Temperature Regulation – Because some Neuropathy symptoms include Numbness and the lack of feeling cold or warmth, you need to get a slipper that will provide your feet with the right temperature for the conditions. In cold weather, an insulated or lined slipper can help to keep your feet warm, and in hotter summers, a more breathable cotton or fabric slipper without a lining can keep your feet ventilated and cooler.
---
Features of a Good Slipper for Neuropathy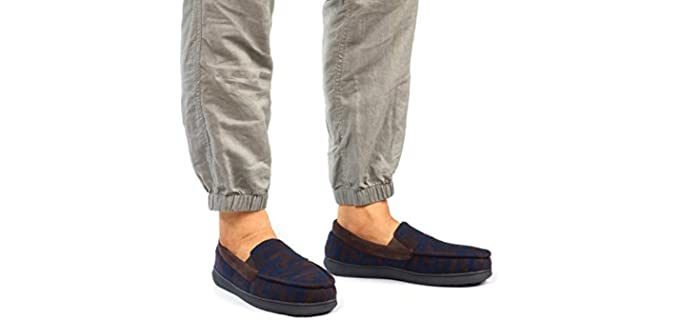 Fit – Look for a Roomy Toe Box fit that can accommodate swelling and other foot deformities, also make sure that the interior is seamfree and there is nothing that can irritate the skin. Look for adjustable features and a comfortable fit that will flex and mold to the shape of your feet without adding pressure.
Materails – Leather and textile materials are ideal in a slipper as they are flexible and soft against the skin. Wool, Fur, Faux Fur, and Fleece can be a soft and gentle lining against the skin. An EVA midsole and rubber sole are ideal for shock absorbency and durability. The rubber sole should have lug patterns for slip resistance.
Design – Look for either a slip-on slipper with a closed heel and protective reinforced toe or a Velcro closure adjustable design. Moccasin Slippers are perfect and easy to slip on and off.
---
Reviews: The Best Slippers for Neuropathy
Below we have some of the most comfortable and protective Slipper Designs that are ideal if you have Neuropathy;
---
1
Moc Toe Slipper for Neuropathy
The RockDove slipper is light and breathable and ideal for warm and cool weather conditions.
The uppers are cotton and Lycra that provide a stretchable and comfortable fit, along with breathability and moisture-wicking capabilities.
The rubber sole is thick and durable, providing excellent underfoot protection and slip resistance.
These slippers are highly versatile and can be used both indoors and outdoors.
You can also choose from a range of neutral and bright color options to suit your personal preference.
---
2
Neuropathy Winter Slipper
The Renten Lemato and Ice Angel from Skechers are two comfortable and fur-lined slippers ideal for winter and colder weather conditions.
These slipper models offer a more relaxed and comfortable fit that will not easily slip off your feet.
The uppers ate synthetic with fabric and textile materials, and there is a Fur lining on the inside, of faux fur for warmth and insulation.
The Plush foam footbed cushioned your feet and provided comfort in the Ice Angle, while the Renten-Lemato has a 360 degree Memory foam footbed.
The sole is flexible with a thick and durable rubber that offers an excellent grip for indoor and outdoor use.
These slipper models can be obtained in a few different color selections for your perusal.
---
3
Bootie Slipper for Neuropathy
The Glerups GR is a winter design bootie slipper with many unisex color choices.
The Upper consists of wool and felt materials with a soft and warm interior lining,
The Felt consists of 100% Merino and Gotland Wool.
Wool is one of the warmest materials that provide excellent insulation in extremely cold weather conditions.
The sole is a durable and natural rubber with a thick and lug design for underfoot protection and slip resistance.
You also choose a few colors available, which are dyed with natural Eco-Friendly Dyes.
---
4
Lined Slipper for Neuropathy
One of my favorite options as a slipper and casual shoe for neuropathy is the classic Crocs design. The toe box I roomy, and the shoe offers a secure fit that will not slip off. There are also large ventilation holes for cooling comfort. The Crocs model I have Chosen here is lined with a faux for comfort and warmth.
Crocs consist of Crosslite material, a soft, water-resistant, and foamy material.
You can use an adjustable slingback strap for a secure fit or lift over for a slip-on design.
The entire shoe has ventilation holes for breathability.
The specific model chosen here has a warm and comfortable fur lining from faux fur.
The sole is thick, protective, and slip-resistant.
The Crocs Slipper also has a very roomy and comfortable toe box and a secure fit.
You can choose from neutral and more bright and fun color options in this specific range.
---
5
Neuropathy Moccasin Slipper
The Minnetonka Sheepskin Slipper can be sued as a slipper or casual shoe for wintertime when you need something cozy and warm.
The upper is genuine leather with a wool lining for warmth and insulation.
The shoe has a Moccasin style and is very lightweight, soft, and flexible for the most comfortable and adaptable fit.
The sole is hard and protective with slip-resistant rubber.
You can use your Minnetonka slippers for casual wear andy wear indoors and outdoors.
---
6
Moccasin Slipper for Neuropathy
We have the Sabine and Yukon from Alpine, two comfortable and lined, warm Moccasin design slippers for Neuropathy.
The uppers are genuine suede leather, and there is a warm and cozy fur lining from faux fur.
The insole is lightly padded for comfort.
The rubber sole offers good underfoot protection and slip resistance.
These slippers are, however, only recommended for indoor use.
You can also choose from a few color options in both the slipper models.
---
7
The Acorn slippers have an Orthopedic comfort design for neuropathy.
They are comfortable with a plush lining.
The uppers are soft suede leather.
There is memory foam cushioning and a rubber outsole.
---
8
The Haflinger Clog Slippers are available in more options.
They have an Orthopedic design and a wider roomy toe box.
The footbed has a molded cork midsole and cushioning
The uppers consist of 100% wool felt for comfort.
---
9
Neuropathy Open Back Slippers
Orthofeet slippers are perfect for people with neuropathy.
They have an Orthopedic design and comfort features.
The slippers are soft and flexible, with a rubber outsole.
They also offer excellent cushioning and support.
---
10
The Bearpaw slippers are soft and comfortable.
They have a fit and design ideal for neuropathy.
The outsole is thick and protective.
They are well cushioned and lined.
---
Index Table: Top Rated Slippers for Neuropathy
---
---