A common complaint usually found among runners and sportspeople is the pain right on top of the foot where you tie your laces.
Although Extensor Tendinitis is not strictly limited to runners and sportspeople, it can affect anyone.
Your shoes do play a role in the relief and prevention of Extensor Tendonitis. That is why we have researched the best shoes for extensor tendonitis, their features to avoid, and what to invest in if you have this condition.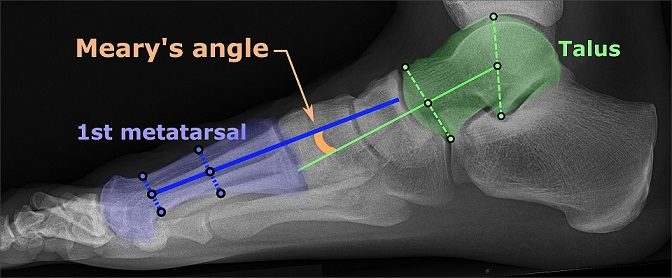 ---
Coping with Extensor Tendinitis
Extensor Tendinitis is mainly a condition that occurs because of the tendons' inflammation located at the top of your feet called the Extensor tendons.
If you have Extensor tendinitis, you will experience pain at the top of your foot or feet, which worsens during physical activity. Your feet may also become swollen at the top.
In most cases, Extensor Tendinitis is caused by strain from physical activity, but another cause is wearing improper and poorly fitting footwear.
Of course, this is where the shoes for Extensor Tendinitis come in. Shoes that fit too tightly at the top of your feet or are laced up too tightly can exacerbate or even cause extensor tendinitis.
Furthermore, shoes lacking support during physical activities can increase strain on your feet and affect the Extensor Tendons, leading to Extensor Tendinitis.
This article will look at some good shoe choices to relieve and prevent extensor Tendinitis.
---
How do the Right Shoes Help with Extensor Tendinitis
The right shoes can help t prevent and relieve Extensor tendinitis. One cause or condition that affects the severity and the risk of developing Extensor tendinitis is having a fallen arch or flat feet.
If you get excellent support and a good fit from your footwear, you should get relief and comfort from Extensor Tendinitis symptoms and reduce further aggravation.
Support – Good arch support and stability is ideal for reducing extra strain and overuse injuries on the Extensor Tendons.
Fit – The right fit is essential; a roomy toe box and lightly lacing your shoes are ideal for reducing pressure on the Extensor tendons.
Cushioning – Cushioning in the footbed and midsole helps absorb shock, reducing the impact on your feet and tendons, protecting the Extensor Tendons.
Fallen Arch Support – If you have extensor Tendinitis because of fallen arches or a flat foot, it is ideal to find footwear with support and stability features addressing the fallen arch situation turn, help with the Extensor tendinitis.
---
Features of a Good Shoe for Extensor Tendinitis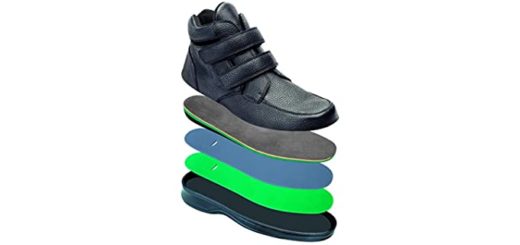 Uppers – For the upper leather, mesh or synthetic materials can be used. Oof for a roomy toe box and a lace-up system or adjustable closure system/
Cushioning – Cushioning in the footbed and midsole is ideal for absorbing shock and comfort.
Arch Support – The right arch support and stability features are ideal if you have fallen arches causing Extensor Tendinitis.
Sole – A flexible and durable sole is desirable with a rubber outsole and high traction tread.
Fit – Always look for a roomy toe box and wider width optiosn in the fit if possible and required.
---
Reviews: The Best Shoes for Extensor Tendinitis
Below are your best options in a variety of shoes that are ideal for Extensor Tendinitis.
---
1
Extensor Tendinitis Running Shoe
Brooks Adrenaline is the best choice in running and walking shoes if you have Extensor Tendinitis.
The upper comprises light, breathable leather and mesh.
It supports and energizes cushioning and DNA Loft Crashpads for shock absorbency.
The fit is modernized and more streamlined.
There is a rubber outsole that also offers excellent traction and durability.
Furthermore, you can choose between many color options in the Brooks Adrenaline 20 range.
---
2
Shoe for Extensor Tendinitis
The Gel Cumulus is the latest shoe range from Asics and the perfect shoe for Extensor Tendinitis.
The uppers are lightweight and breathable with leather and mesh.
A moisture-wicking lining, a comfortable padded collar, and a breathable tongue.
There is the Impact Guidance system, a SpevaFoam midsole, and Flyetfoam Propel Technology for support.
An Ortholite sock liner keeps your feet cushioned and dry,
The durable rubber outsole will ensure that you are well-grounded.
---
3
Dress Shoe for Extensor Tendinitis
For something more on the formal side, I have chosen the Willa and Walker from Dansko, which have superb features to accommodate Extensor Tendinitis.
A Mary Jane Style for the ladies and dress shoe lace-up style for gents with genuine leather upper available in neutral colors.
Inside is a moisture-wicking lining with Aegis antimicrobial protection and a cushioned PU footbed.
The EVA midsole ensures excellent shock absorbency and support, and there is a durable rubber pod outsole.
Comfortable as a dress and walking shoes.
---
4
Extensor Tendinitis Walking and Running Shoe
We have the latest number 16 as a running shoe model for Extensor Tendinitis from the Wave range in Mizuno.
An athletic-styled running and walking shoe with synthetic and mesh upper and a lace-up system.
The Cloudwave technology and soft anatomical sockliner keep your feet well supported, comfortable, and dry.
There is also a U4ic Midsole for added cushioning.
A durable rubber outsole ensures good traction on most surfaces.
---
5
Extensor Tendinitis Dress Shoe
Orthofeet is an orthopedic shoe range that manufactures a variety of shoes. I have chosen Celina and Lincoln as dress shoes or office wear shoes for Extensor tendinitis.
You can use both this model as a dress or casual wearing shoes.
The upper comprises genuine leather, and there are a roomy toe box and extra depth fit.
The insole is cushioned and removable allowing you the use of your orthotics.
A durable rubber outsole offers good stability in traction.
---
6
Walking Shoe for Extensor Tendinitis
The Saucony Ride model can run and walk, or even just as a casual wearing shoe for everyday use.
The Synthetic and mesh uppers are lightweight and breathable, and you get a customizable lace-up fit.
The shoe is ideal for running and walking for neutral pronation.
Inside is an Everun comfort insole and a PWRFOAM midsole for cushioning and shock absorbency.
The shoe models also offer an ISOFUT shape that forms to the unique shape of your feet,
The Toe box is designed with mesh to be roomy and breathable.
---
7
Extensor Tendinitis Running Shoes
The New Balance Fresh Foam 680V7 is the latest model in this running shoe for extensor tendonitis.
The shoe has soft and flexible uppers with breathable mesh.
There is a Molded insert for support and a fresh foam midsole.
There are also more colors available.
---
8
Shoe for Extensor Tendinitis
The Nike Tanjun sneaker is ideal for extensor tendonitis.
It has mesh and synthetic uppers and a flexible fit.
There is an injected unit sole and rubber outsole.
The midsole is shock-absorbing.
There are also more colors available.
---
9
Medicare Rated Extensor Tendinitis Shoe
Here we have a cross-training shoe from New Balance for extensor tendonitis.
It has leather and synthetic uppers.
There is a smooth moisture-wicking lining.
The IMEVA midsole offers firm cushioning.
There is also a durable rubber outsole.
---
10
Walking Shoes for Extensor Tendinitis
The Propet LifeWalker and Stability walker are stability shoes for extensor tendonitis.
They have two Velcro strap closures.
The shoes are leather and available in neutral colors.
They offer a removable cushioned insole and EVA midsole.
---
Index Table: Top Rated Shoes for Extensor Tendinitis
---
---