The Plantar Fibroma, non-cancerous, and benign growth in the arch of your foot can be painful and very uncomfortable.
These growths may enlarge if not treated, or aggravated continuously. Therefore the correct footwear to address this condition is necessary.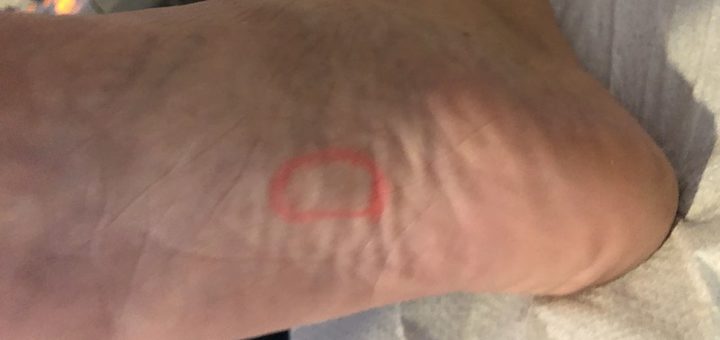 ---
Plantar Fibroma Identification and Causes
The Plantar Fibroma is a Nodule that grows slowly over time in your Plantar Fascia, which can occur in one or both feet. Usually, this lesion is less than an inch in size, but it may enlarge, which is then called Plantar Fibromatosis.
Although there is no select reason or particulars when it comes to the development of Plantar Fibroma, it seems to affect men in their middle age much more avidly than any other gender or age group.
Plantar Fibroma Identification

You will typically notice a growth at the bottom of your foot in the arch area.

With the early stages of Plantar Fibroma, there is almost no discomfort or pain, and you may just notice a slight bump and no nodule as of yet.

With time some pain or discomfort may be experienced, and the small bump can increase in size, becoming a much more significant nodule shape lesion, that is much more noticeable.

Pain and discomfort are usually experienced with any pressure applied to the bump or nodule, which includes friction from shoes, walking, and even standing with bare feet.

Plantar Fibromas are benign,, and sometimes may regress on their own, although if pain and discomfort persist, it is a good idea to see your physician.

Some Possible Causes Include

Improper Footwear – shoes with an elevated heel or a toe spring stretches the Plantar Fascia leading to weakness in this tissue that can cause Fibromas to develop, as a result of the loss of Plantar Fascia integrity. Your foot balance may be incorrect, and pressure can be caused by such footwear, which all lead to this condition.

Trauma – Any damage, injury, or trauma to the Plantar Fascia may lead to a Fibroma, as excess tissue is formed to aid in the healing process.

health Conditions – certain health issues such as Diabetes, Epilepsy, Liver Disease, and Thyroid problems are all culprits that can increase your chances of developing Plantar Fibroma.

Medications – some medications, particularly those taken after injury or trauma to your Plantar Fascia, which includes beta-blockers and anti-seizure medications, can increase the likelihood of this condition forming.

Other factors – External factors such as Age, Alcoholism, and gender are likewise factors which have their input whether you will develop Plantar Fibroma or not.

---
Treatments for Plantar Fibroma
There are a few and effective treatments for Plantar Fibroma, although, as mentioned before, I would highly recommend a visit to the doctor if the symptoms are severe and persist.
Topical treatment – Topical creams and gels can be applied to the affected area to reduce the symptoms and to remodel the tissue within continued use for a couple of weeks.

Corticosteriod Injections – This anti-inflammatory corticosteroid medication is injected into the nodule to reduce the pain and inflammation so that you can walk, stand, and wear shoes easily.

Orthotics – Orthotics are beneficial particularly when the growth is still small. Gel and foam pads can be used in the insoles to redistribute body weight to lessen pressure on the Plantar Fascia and relieve pain.

Physical therapy – Physical therapy and routine training and stretching exercises can aid in breaking the tissue accumulation down in your foot and improving blood circulation. The increase in blood circulation, in turn, reduces inflammation and pain.

Supportive Shoes – comfortable and supportive shoes that offer weight distributing cushioning or gel pads, and less pressure on the Plantar Fascia are ideal in the treatment of this condition, as well as to minimize pain and further aggravation or growth of these nodules.

---
Characteristics of a Good Shoe for Plantar Fibroma
A cushioned footbed with foam or gel in the forefoot and heel to absorb shock and disperse body weight.

Excellent motion support and stability to control motion, and prevent excessive pronation, which may aggravate the condition.

A shock-absorbing sole or midsole, to prevent further impact on the Plantar Fascia that can aggravate the condition and cause pain and inflammation to the area.

Removable insoles give you the advantage of using your own customized orthotics specific to the degree of your PlantarFibroma growth.

---
---
Reviews: Most Comfortable and Supportive Shoes for Plantar Fibroma
Some excellent choices in shoes to relieve the painful symptoms of Plantar Fibroma in men and women:
1
Sneakers for Plantar Fibroma
The Vionic Athletic Sneaker is stylish and suitable for everyday wear while providing you with exceptional comfort and pain relief.
Mesh uppers for breathability and a softer fit.

A durable and high traction rubber outsole.

The footbed is cushioned and removable, allowing you to use your own orthotic devices and insoles easily.

The VIO MOTION SUPPORT technology inside the shoe supports you with every step[.

A Full Bio-Mechanical contact that hugs your feets natural curves providing essential support and comfort.

Available in a variety of colors, sizes, and width options to choose from.

---
2
Orthopedic Dress Shoe for Plantar Fibroma Symptoms
Two highly comfortable and absolutely stunning dress shoes for Plantar Fibroma sufferers, as well as for many other foot conditions and ailments.

Both shoes feature an Ortho Cushioning system that is lightweight air cushioning in the sole, , which softens impact and reduces strain and stress on your feet.

Included is an orthotic insole offering anatomical arch support with cushioned foam for superior comfort.

Both shoes likewise feature a seamless and non-binding interior for less irritation in sensitive feet.

Available in extended sizes and widths for men and women to accommodate other foot conditions.

The Maya is a heeled dress shoe with soft leather uppers and a Bio-Heel system with an arch support booster.

The Broadway has a loop closure and a soft leather upper design with a thick rubber outsole.

---
3
Runnings Shoes for Plantar Fibroma
The Saucony Guide 10 is a running shoe that is ideal for individuals with foot conditions such as Plantar Fibroma and other conditions that can cause pain.

The mesh uppers are lightweight and breathable and offer a dynamic fit.

The Tri-Flex Sole provides better ground contact and optimal flexibility.

An EVERUN top sole ensures continual and long-lasting cushioned comfort.

It offers light stability features for extra support and motion control.

There is a FLEXFILM on the top sole for comfort and breathable mesh.

---
4
Plantar Fibroma Pain Relief Athletic Shoe
An athletic shoe designed to offer excellent pain relief for conditions such as Plantar Fasciitis and Plantar Fibroma.

Breathable and lightweight synthetic and mesh uppers with seamless interior design for sensitive and diabetic feet.

The Vero Shock technology with patented spring system absorbs shock and converts it into more positive energy and bounce back.

The insoles are cushioned and removable, allowing you the use of your own insoles and orthotic devices.

There is a front rocker sole with a supported midfoot for Plantar Fasciitis and Plantar Fibroma pain relief.

The toe box is extra roomy and comfortable.

A durable and slip-resistant rubber outsole.

Some color varieties are available to choose from.

---
5
Plantar Fibroma Relief Shoe
The Z-Coil is a pain relief shoe with a design that caters specifically for a variety of foot and health conditions, including Plantar Fibroma.
Soft and supple leather uppers with a forefoot flex line and wider toe box for comfort and extra toe room.

A patented coil in the heel reduces impact and prevents foot, back, and leg pain.

The built-in rigid orthotic device supports and protects your feet to eliminate pain.

Additional cushioning in the front of the shoe for protection of the ball of your feet and toes and a Rocker bottom sole for a more natural motion when walking.

A durable rubber outsole offers good traction on most surface areas.

---
6
Plantar Fibroma Running Shoes
The Asics Gel Kayano is one of the top designs from Asics when it comes to cushioning and comfort for foot conditions such as Plantar Fibroma.
Mesh and synthetic uppers are lightweight and breathable.

It offers a more fluid-like fit.

Gel cushioning in the forefoot and heel and a cushioned ComforDry technology insole.

The outsole is durable and ensures high traction.

---
7
Orthopedic plantar Fibroma Sneaker
The Orthofeet Sprint and Coral are two fashionable and trendy orthopedic design sneakers.
Offers therapeutic relief for foot conditions, including Plantar Fibroma.

Stylish and casual design for everyday wear.

Flexible in critical areas for better motion.

An Ortho Cushioning system,, and biomechanical technology to relieve pain and prevent injuries.

Comfortable interior linings and a cushioned insole.

---
8
Plantar Fibroma Running Shoes
For the Avid runner that suffers from Plantar Fibroma, you will not get better than the 990V4 model from New Balance for performance and pain relief.
Soft leather and textile uppers that offer a secure fit.

An ENCAP PU ring and EVA Core heel for stability and support.

The insole is cushioned for comfort.

There is a blown rubber outsole for better shock absorbency.

---
9
Slip On Walking Shoe for Plantar Fibroma
The Skechers Go Walk range is one of the most comfortable and supportive walking shoe ranges, I have chosen their easy slip-on models the Joy and Evolution for gents.

The uppers are made solely of mesh fabric that is flexible, light, and breathable.

There is a Responsive 5Gen cushioning system as well as a Goga Max High rebound Insole.\Inside is a soft lining for wicking away moisture as well as a padded collar for a comfortable fit.

There is also a Parametric midsole with 5Gen cushioning for added shock absorbency.

---
10
Plantar Fibroma Walking Shoe
The Asics Gel Cumulus Range is comfortable and lightweight running and walking shoe that is available in many colors and designs as well as wider width options.
The uppers consist of fabric and leather overlays for breathability and stability.

There is a DuraSponge Blown AHAR high abrasion-resistant rubber outsole, as well as a SpevaFoma and FyteFoam Midsole.

Inside are an Ortholite cushioned and moisture managing sock liner and an Impact Guidance System for better Gait efficiency.

---
11
Performance Sneaker for Plantar Fibroma
The Refresh and Performance-X from Dr. Comfort are orthopedic comfort sneakers designed for walking and everyday wear.
The Uppers consist of durable and breathable leather and mesh.

There is a secure bungee lace-up system.

A few color options, as well as different width options, are available.

The shoe is ideal for many foot conditions and issues such as Plantar Fasciitis, Plantar Fibroma, Bunions, and Diabetes or Edema in the feet.

---
Index Table: Top Rated Shoes for Plantar Fibroma
---
---