Whether you are a professional tree climber or do it as a hobby, climbing trees is not an easy task, and the right equipment and shoes are needed for this.
Tree Climbing shoes provide flexibility and unmatchable grip and are specific for this extreme hobby or profession.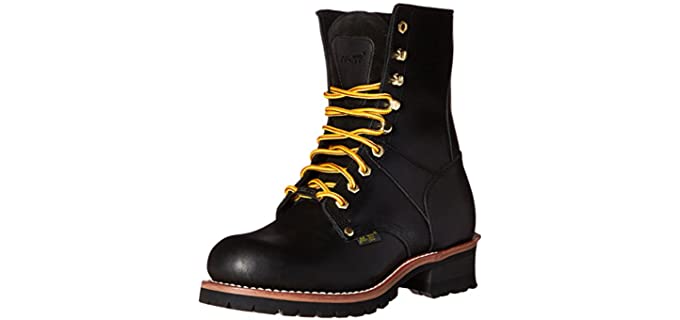 ---
Should You get Proper Tree Climbing Shoes
So, should you get professional tree climbing shoes for climbing trees? The answer is yes.
Tree Climbing shoes or boots, for that matter, will provide you with superior traction and grip to prevent you from slipping, and they will also hold up very well.
Most tree climbing shoes and boots are likewise very breathable compared to other boots and shoes to always keep your feet dry and cool.
Plus, most tree climbing bots are very comfortable and flexible, making it much easier for you to climb.
Most climbers spend a long time in their tree climbing shoes or boots. Thus comfort features can come in quite handy.
Similarly, you should focus not only on the actual trees when climbing but also on the rest of the terrains. Your tree climbing boots need or work well in all terrains, and The grip should be effective on rocky, wet, and other terrains for tree climbing.
Then again, the weight of your tree climbing shoes is likewise a huge factor, and you do not want any additional weight when you are up in a tree. However, some climbers still believe that heavier boots are more durable, though this is not always true with technology today.
All in all, good tree climbing shoes and boots should offer good arch support so that they can take more pressure and weight on your feet. This, in turn, helps to eliminate pain from your feet and lower limbs.
---
Benefits of Tree Climbing Shoes and Boots
A good pair of tree Climbing Shoes or Boots surely holds many benefits for you;
Easier Climbing – In the bigger picture, you will easily get your way around the tree with proper tree climbing boots or shoes. They provide good weight support and flexibility to take the weight off your work and for you to move around easily.
Much Safer – Tree Climbing Boots and shoes usually come with safety features that protect you against heavy falling objects, cuts from Chainsaws, and even water and liquids. Some may have a steel toe, metatarsal guard, or waterproof uppers for protection.
Good Traction – Tree Climbing Boots and shoes have a high traction lug outsole that provides the best grip for climbing trees, as well as for the surrounding terrains, to offer slip resistance.
Better Support – Most tree climbing boots and shoes also offer much better arch support and comfort features to take the strain off your feet and prevent foot fatigue and pain.
Weatherproof and Breathable – Tree Climbing Boots or shoes come with breathable and weatherproof materials to help protect you from wetness on the outside while wicking away moisture and keeping your feet dry and well ventilated on the inside.
---
Features of a Good Tree Climbing Shoe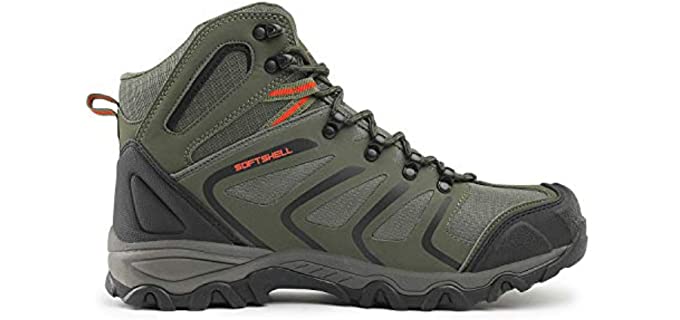 Grip – The most important feature of a tree climbing boot or shoe is its grip and traction for climbing trees and the surrounding trails. It needs to have a lug treaded durable rubber sole.
Durable – If anything, Tree climbing boots and shoes should be durable. Look for good-quality shoes that consist of durable materials such as leather, with construction methods such as cement or Goodyear Welt.
Breathable and Waterproof – Climbing with wet feet is a disaster on its own. Therefore, look for waterproof shoes should it rain. They should also be breathable and moisture-wicking to prevent sweat build-up and to overheat on the inside.
Comfort Features – Look for comfort features such as underfoot cushioning to absorb shock and proper arch support with a more flexible sole type.
Fit – You do not want a loose or a squeezing fit in a tree-climbing shoe. Make sure that the shoe or boot you choose fits snug and secure.
---
Reviews: The Best Tree Climbing Shoes
In our list, we have some of the best available shoes and boots that are ideal for climbing trees;
---
1
Tree Climbing Utility Boots
These are two work boot models from keen Utility that I find very suitable for climbing trees as a profession.
They have a grippy, durable rubber outsole and overall very durable construction.
The boots are electrical hazard safe and consist of genuine leather.
The Men's model has a steel toe, while the ladies' model features a lighter alloy safety toe.
---
2
The Salewa Mountain training is a great hiking shoe that is ideal for climbing trees.
It has a 360-degree full rubber outsole that has VIBRAM WTC technology,
Inside is a cushioned and cooling Ortholite footbed and a Bilight shock absorbing midsole.
The uppers are synthetic and breathable, and well as abrasion-resistant.
---
3
The AD Tec is a logger Style tree climbing boot.
It has a very ug rubber outsole and heel designed specifically for logging work that also involves climbing trees.
The boot has leather uppers and is extremely durable.
They also feature a comfortable cushioned insole and lining.
The rubber outsole is both oil a d slip-resistant.
There is likewise a steel protective toe.
---
4
The Timberland White Ledge is a Waterproof Hiking shoe that is perfect for climbing trees,
It has genuine waterproof leather uppers and rustproof speed laces.
The boot has a comfortable cushioned insole and seam-sealed design.
The outsole offers an exceptional grip for outdoor terrains and climbing trees.
---
5
Tree Climbing Tactical Boot
From Under Armour, we have the Stellar, a tactical military boot that can also be sued for climbing trees.
The boot has leather uppers with a textile lining.
The uppers are treated for water resistance and durability.
A molded EVA midsole for shock absorbency and a reinforced shank for support and stability.
---
6
The Nortiv 8 is an ankle hiking boot perfect for climbing trees.
The boot has a non-slip high-quality rubber outsole,
It is a breathable and very durable boot.
There is a comfortably cushioned footbed and EVA midsole.
---
Index Table: Top Rated Tree Climbing Shoes
---
---