Basketball is a usually an indoor game that is played on a court between two teams, of five players each, that have to score by throwing an inflated ball through a hoop at each end of the court, while the other team tries to stop them.
Basketball is a fun and fast-paced sport played by professionals as well as casually for recreational purposes. Basketball has taken the world by storm, it is watched and enjoyed by many people worldwide.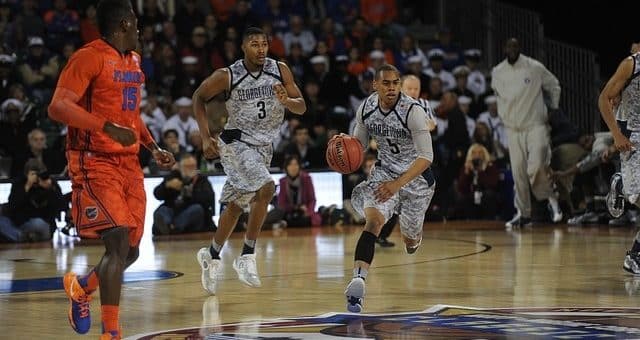 ---
Risks Related to Playing Basketball
In the game of basketball, there is an immense amount of pressure and great risk of injury on the feet and ankles. Two very distinct types of injuries are acute injuries from a sudden forceful blow and chronic injuries which develop with time and can become highly aggravated at later stages.
The type of court that you play on also has a significant effect on your risk of injury; wooden courts offer more shock absorption whereas concrete and asphalt courts tend to be the most dangerous and harmful to your lower limbs.
Foot and ankle injuries usually occur from a jump or landing and twisting the foot or ankle with the fall. Ankle sprains, torn ligaments, muscle pulls, tendon ruptures, and fractures are only a few of the many injuries related to playing basketball.
Chronic injuries can be reduced and prevented if the correct precautionary methods are followed:
Warming up properly before a match.
Wearing undamaged shoes that fit well and give proper support is one of the most important preventive practices.
Adding a special basketball insoles is highly recommended.
---
Features of a Good Basketball Shoe
Cushioning – The best basketball shoes are those who are exceptionally well cushioned.
Ankle Support – They should be stiff enough to offer proper ankle support.
Comfort – A comfortable, lightweight and breathable shoe that fits snugly without being too tight should aid in your performance and keep your feet dry and comfortable.
Lacing – The closure system of a basketball shoe is critical because you do not want zips or laces that loosen while you are playing, so make sure that you have a highly secure closure system.
Avoid – Velcro closures as they tend to loosen while you are playing.
Oustsoles – Make sure that the outsoles are durable and offer you excellent traction on the floor surface that you are going to be practicing on.
Quality – Whether you are playing professionally or only practicing it is well advised to invest in a good quality pair of Basketball shoes that are suitable for your foot type and that fit you perfectly.
---
Reviews: Best Shoes for Basketball
Without further a due here are some of our latest picks for the highest rated and most reviewed basketball shoes for today;
---
1
Air Jordan series, including Air Jordan I, has the complete class of features, support, and innovation that any basketball player needs.

The shoe, even though offered great comfort and functionality, it defied the convention.

Michael Jordan had to pay a penalty of $5,000 every time he wore the shoe on court.

The penalty did not stop him and instead gave a boost to Nike's marketing policies, where the shoe was soon given a rebellious image.

---
2
Fila prides themselves in creating footwear that is not just required but desired and offers not just adequate but exceptional. The Fila Slam 12C is no exception, a luxuriously comfortable and supportive basketball shoe in a more than perfect fit.
Synthetic leather uppers that give lateral support and a heel counter for improved comfort and stability.

An Ethylene Vinyl Acetate midsole that gives you a consistently cushioned feel.

The outsole is made from non-marking rubber and ensures exceptional traction and durability.

Available in three color variations.

A classic and old-school solid color design.

---
3
The Adidas Crazy 8 is a basketball shoe created for fast, all-court domination. A shoe that will improve your speed and precision for maximum performance with the greatest comfort and support.
A durable and lightweight synthetic mix upper.

A comfortable textile inner lining.

A Torsion system for better midfoot integrity and stability.

The Puremotion midsole responds to every impact and mimics natural balance efficiency and enables rapid response.

Tongue and heel pull tabs for easy on and off.

A non-marking rubber outsole for excellent traction.

Colorful and fashionable designs that will suit every preference and make you stand out on the court.

Available in a vast color variety.

---
4
This is the latest addition to the Jordan Shoe line. The Jordan CP3 VIII is an on-basketball court shoe that will keep you fresh and comfortable when you are playing tough!
Leather and mesh uppers for improved ventilation to keep your feet dry and fresh.

A flight web system to improve performance.

A durable plastic frame on the lateral side for better support.

The Lunarlon foam gives you a soft and springy cushioned feeling.

The rubber outsole offers excellent grip and traction.

---
5
The Nike Air Visi Pro Vi is a well cushioned and supported shoe that will keep you comfortable up and down the court.
Synthetic and leather uppers for breathability and comfort.

A durable rubber outsole with Herringbone patterns for traction and grip to reduce slip risks.

The visible air unit in the heel gives you high impact cushioning when you come down with the rebounds.

A collar design upper for a better fit.

A durable and comfortable design.

The sleek and trendy appearance will give you confidence on the court.

Available in a variety of colors and designs.

---
6
The AND Rocket 4 is a well padded and snug-fitting basketball shoe that will keep your feet protected from impact and comfortable all day.
A padded collar and tongue for a cushioned fit.

The high-quality sock liner adds extra cushioning for all-day comfort.

A traditional lacing closure with a mesh-lined tongue for lightweight support and improved breathability.

A Quarter panel molding and a patent leather detailed toe box.

Durable and comfortable Overrated construction.

The footbed aids as a padded insole and midsole that absorbs shock.

A molded rubber outsole with herringbone patterns for excellent grip

---
7
This basketball shoe by Adidas is the best choice for those who are flat footed.

It is also great for plantar fasciitis which usually goes hand in hand with flat feet.

---
8
Lightweight and highly breathable basketball sneakers from Beita.
A durable and high traction rubber outsole.

Breathable and lightweight textile uppers with a molded heel shield to protect you against ankle injuries.

Venting holes for ventilation in the uppers.

A comfortable and cushioned insole.

---
9
The 2018 model Basketball shoe from Adidas is a top scorer in basketball shoes for better performance.
Available in many colorful prints and colors.

Breathable textile uppers.

Bounce cushioning that is flexible and absorbs shock.

Mesh Forgefiber uppers that are heat pressed and TPU coated for targeted support and durability.

Offers a comfortable regular fit with Geofit anatomical fit technology.

---
10
From Under Armour we have the Jet basketball shoe, that is lightweight, breathable and highly durable.
Textile uppers that are breathable with molded quarter panels for structural support.

A full EVA sock liner and midsole for cushioning and shock absorbency.

One piece solid rubber outsole, with a herringbone traction pattern for better lateral movements.

Perforated area and mesh for better ventilation.

---
Video Review: Best Basketball Shoes for 2018
---
Comparison Table: The Top Basketball Shoes
---
Please Rate this Article:
---
---