Wearing the right shoes for the game of Pickleball is not just a good idea but extremely necessary.
Pickleball holds injuries such as rolled ankles, ruptured Achilles' tendons, pulled hamstrings, strains, sprains, and many more when you wear improper footwear.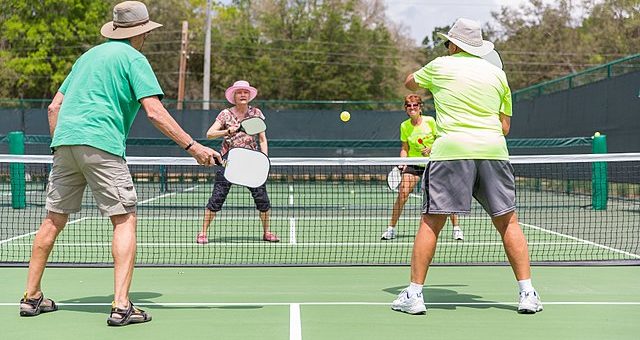 ---
What Makes and Effective Pickleball Shoe
Instead of just grabbing a pair of athletic shoes, it is imperative that you consider the forward, backward, and lateral movement that is required on the Pickleball field.
Walking shoes, running shoes, and even Cross Training shoes ate by far not enough for playing Pickleball; they lack many essential features for the movements involved with this game.
The Best shoe type for Pickleball is, of course, a COURT SHOE or a TENNIS Shoe, which offers good comfort, grip, ankle support, and that has a rubber sole with patterns conducive to fast lateral movements.
The general rule of thumb is to replace your Pickleball shoes after 3 to 4 months of regular playing, or around 60 hours of play.
---
Pickleball Shoe Types for Different Courts
The Type of Pickleball shoe that you may need vastly depends on the type of court that you will be playing on, and they will differ fro, men and women;
Men on Indoor Wood or Composite Gym Floors – A Court, Volleyball, or even indoor Tennis shoe is ideal for men playing indoor Pickleball on a composite, wood or gym floor type.

Men on Outdoor or Hard Gritty Surfaces – On a Hard, Gritty, or even an outdoor surface type, it is best to opt for a proper outdoor or Tennis Court Shoe.

Women Indoor Wood or Composite Gym Floors – A court, Volleyball or Tennis shoe designed for indoor courts are ideal for these floor types for women; a gum rubber sole is also advised.

Hard and Gritty Indoor or Outdoor Floors – Tennis court and outdoor shoe types for women are your best options with the right support for quick lateral, forward, and backward movements.

---
Features of a Good Shoe for Pickleball
Mesh and synthetic uppers offer a lightweight and secure fit.

Abrasion-resistant mid and toe wraps or reinforcements.

A durable rubber, abrasion-resistant outsole that offers a good grip.

It is cushioning in the insole and midsole for shock absorbency.

A secure heel lock system or design.

---
Reviews: The Best Shoes for Pickleball
below you will see some of the most sought after shoe brands and models that are perfect for Pickleball;
---
1
The Adidas Barricade is a tough and comfortable shoe that is ideal for Pickleball.
Synthetic and mesh uppers are lightweight and breathable.

The Abrasion-resistant Adituff materials wrap around the toe and medial forefoot for protection against drag and lateral movements.

There is a 360-degree TPU support foil in key abrasion areas fir stability and synthetic overlays for support.

A hard-wearing AdiWear rubber outsole.

This shoe is also available in many color selections.

---
2
From Asics, we have their Popular and high in demand Gel-resolution 7.
Flexion Fit fabric uppers with a form-fitting and breathable design.

Rearfoot and Forefoot GEL cushioning for shock attenuation.

A Solyte Midsole and SpEVA midsole that is more lightweight and cushioning.

The Trusstic System reduces the weight of the sole unit and still retains structural integrity.

There is also a PGuard Toe protector.

This shoe has availability in many color options to choose from.

---
3
The Price T22 is another widely sought after shoe, which is perfect for Pickleball and other similar sports.
Breathable and lightweight synthetic and mesh uppers.

A 4Foot wrap for a glove-like fit that locks the feet into place.

The wishbone shank ensures excellent midfoot stability.

There is also a PRC 1000 outsole for unmatched durability.

---
4
The Adidas Gamecourt is a breathable and lightweight Tennis shoe, which is also ideal for Pickleball.
Soft and breathable textile, synthetic uppers that offer a regular comfortable fit.

Inside is a Cloudfoam cushioned and shock absorbing Midsole.

Adituff abrasion-resistant toe area and an Adiwear outsole for supreme durability and abrasion resistance on the court.

Available in three neutral color selections.

---
5
This model from New Balance has also proven to be a superb choice in shoes for Pickleball.
The upper consists of durable and lightweight leather and synthetic materials.

There is a comfortable and cushioned removable insole, and an EVA cushioned midsole for shock absorbency.

The thick and durable rubber outsole offers excellent traction and high abrasion resistance.

Some color selections are available to choose from.

---
6
The BigShot Light 3 from K-Swiss is another top brand wth its latest model in Pickleball shoes.
Synthetic leather and textile upper that is breathable, lightweight, and durable.

There is a CMEVA lightweight cushioned insole and midsole for shock absorbency and comfort.

The collar is lined with textile material and offers a secure fit.

A durable and no-marking rubber outsole ensures good abrasion resistance and traction.

Many color options are available to choose form.

---
Index Table: Top Rated Shoes for Pickleball
---
---