One of the most unusual shoe types is the Minimalist Trail Running shoe.
When you think of a Trail-running shoe, you think of something substantial with cushioning, a thick protective sole, and heavy, durable construction, whereas the minimalist shoe is exactly the opposite.
The best Minimalist Trail Running shoe has fewer features and gives you a more natural feel when running on outdoor trails.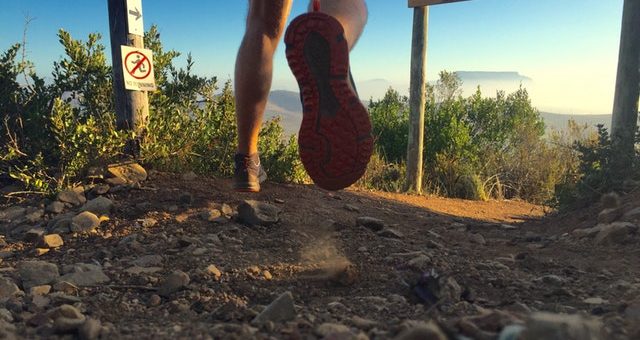 ---
Why Choose a Minimalist Trail Running Shoe
So why should you choose a minimalist Trail Running Shoe?
Neutral Pronators – For individuals who have a neutral arch and need less or no arch support or support features, the Minimalist Trail Running shoe is an excellent option that provides just so much more freedom.
Natural Toe Splay – Most Minimalist trail Running shoes have a wider and more accommodating toe box, allowing you to spay out your toes thoroughly.
encourages Midfoot and Forefoot Strike – Contrary to other Trail running shoes, the Minimalist trail Running shoe supports midfoot and forefoot striking rather than heel striking, which in turn, gives you a much quicker pace that is ideal for competitive runners.
Proprioception – You may think that you are more susceptible to foot injuries when running with a Minimalist Trail Running shoe, however, because your foot has an improved gauge and feel of the ground, you can run more efficiently, which on the other hand reduces injury risks.
Comfortable Sensation – Nothing compares to the lightweight and natural comfort that a minimalist Trail running shoe provides, giving the freedom of running outdoors barefoot while you are still protected.
---
What Makes a Minimalist Running Shoe so Different
Durability – A durable rubber sole that can flex without tearing. Durable and weather resistant uppers.
Flexibility – Flexible and Comfortable sole and form glove like fitting flexible uppers.
Breathability – Breathable Mesh or Neoprene design upper with additional ventilation holes to keep your feet cool; and dry.
Weight – Extremely lightweight design that weighs almost nothing to enhance the barefoot running experience.
Comfort and Support – Minimal comfort or support features; some models may have light cushioning or EVA in the midsole for shock absorbency.
Slip Resistance – Though thin, the outsole should still have a lug or patterned Trail specific tread that offers some underfoot protection along with slip resistance on uneven, slippery, and wet outdoor terrains.
---
Features of a Good Shoe for Minimalist Trail Running
Flexible Sole – Flexibility in the sole is key in any minimalist shoe to provide free movement and motion.
Fit – The uppers should offer a very lightweight and glove-like fit made from mesh or synthetic materials that breathe easily and do not feel too bulky on the feet. Some models provide a five-finger toe fit or a more roomy toe box.
Outsole – This is still an outdoor and trail running shoe; the outsole should consist of durable rubber with patterns and a lug tread for slip resistance specific to outdoor surfaces for underfoot protection.
Other Features – Other features may include some midsole or insole cushioning for lightweight shock absorbency and even microbial treatment to prevent odors. Most of these outdoor minimalist shoe types are very quick drying and have some drainage options, and are machine washable.
---
Reviews: The Best Shoes for Minimalist Trail Running
Below are some of the best availble Minimalist Trail Walking and Running Shoes that you will find availble today;
---
1
Shoes for Minimalist Trail Running
The Merrell Vapor Glove 4 offers a glove-like Minimalist fit that gives you the feeling of running barefoot and excellent flexibility and durable construction.
It offers a more natural and free trail running experience with a Barefoot 2 construction for enhanced proprioception and stability during viable movement.
Features the popular Vibram rubber outsole that is thin and flexible and offers excellent durability and slip resistance on outdoor trails.
It has a comfortable and glove-like fit, almost like a second skin.
Available in a few color selections for both men and women.
---
2
Minimalist Trail Running Shoe
The Vibram FiveFinger design Trail running shoe offers a minimalist feel and a snug and comfortable fit, and the robust and trail-specific Vibram rubber outsole for outdoor running on all terrains.
Replaces the feeling of running barefoot with some added protection.
A five-finger design hugs every toe for less friction and more stability.
Synthetic and mesh upper that is breathable and lightweight with a glove-like fit.
It offers better support and comfort to help with pain and plantar fasciitis issues.
A durable and trail-specific sturdy Vibram rubber outsole.
Ultimately Vegan safe construction.
This shoe is also machine washable and comes in some color options for you.
---
3
Minimalist Trail Running Shoes
This is a superb choice in minimalist barefoot running shoes from VivoBare with all the protection features you need for outdoor trails in a lightweight, flexible and free feel shoe.
It features a durable and tough trail-specific rubber outsole.
This versatile offroad shoe is constructed to be durable and robust yet still extremely lightweight and minimalist.
The breathable uppers are constructed from recycled PRET bottles making these shoes very Ecxo friendly.
Also, splash proof with drainage zones for faster drying.
Ideal for outdoor walking, running and even hiking.
---
4
Shoe for Minimalist Trail Running
The Barefoot range from the White Running shoes is the ideal minimalist trail running shoes that still offer comfort, cushioning and support features.
It is available in sizes for men and women and has a few different color selections quickly.
The sole has a zero drop and is not elevated to provide more pro balance and posture and a more minimalist feel.
There is a removable comfort sock liner for cushioning.
It is designed with a wider than average toe box, so you can easily spread your forefoot out for a more relaxed fit.
The Tru rubber outsole offers excellent underfoot protection and traction on outdoor surfaces.
---
5
Minimalist Trail Running Shoe
The Minimus from New Balance is a superbly lightweight and cushioned Minimalist shoe that is incredibly durable for trail running and walking on all terrains.
Breathable and very lightweight synthetic and mesh upper is reinforced in high-wearing areas.
Available in four color options for men and two-color selections for women to choose from for you.
Antimicrobial treated footbed to prevent odors.
A durable and trails-specific Vibram rubber outsole.
The Midsole consists of Acteva technology foam, which is extremely lightweight and durable, offering exceptional shock absorbency while still retaining a barefoot minimalist underfoot feel.
There is a low 4mm drop for control and stability.
---
6
Minimalist Trail Running Shoe
This shoe is an excellent option in Minimalist Trail running and walking shoes, which are breathable, flexible, and machine washable for convenience.
A five-toe box design fit ensures a more barefoot-like running experience.
The upper consists of mesh and TPU materials that are breathable, flexible, and durable.
This shoe is machine washable and very quick drying.
Hot melt synthetic upper overlays give you a customizable and heat-moldable fit.
The midsole we cushioned and lightweight for shock absorbency. There is a durable rubber outsole for slip resistance, reinforced high wear areas, and superior grip and protection under your feet.
---
7
Minimalist Trail Running and Water Shoe
These are two of the best minimalist Trail Running shoes from Merrell.
Both models feature a breathable mesh upper that dries quickly and is lightweight.
The durable Vibram outsole offers exceptional grip and slip-resistance on wet surfaces.
There are a comfortable cushioning EVA midsole and a padded insole.
Strategically placed rubber pods on the sole enhance stability during movement.
---
8
Shoe for Minimalist Running
The Inov is a durable and water-friendly Trail running shoe with a minimalist design.
The shoe features a wider and roomy toe box for a comfortable fit.
A flexible sole allows more natural flexing and a zero-drop design outsole.
The sticky grip rubber outsole also ensures an excellent grip on all terrains.
The uppers of the shoe are lightweight, breathable, and comfortable.
The Inov-* Minimalist trail runner is available in a few colors and width options.
---
9
Minimalist Running and Walking Shoe
From Steelement, we have their durable and lightweight Minimalist Trail running shoe.
You can choose between a few neutral color selections in this shoe.
These Minimalist shoes offer you exceptional durability and comfort with a Barfoot feeling when you run or walk.
The uppers are breathable and reinforced with double layers in critical wear areas.
A durable rubber outsole offers a good grip and a roomy toe box.
Inside are a skin-loving lining and velcro straps on the uppers for an adjustable fit.
---
Index Table: Top Rated Shoes for Minimalist Trail Running
---
---