Kickboxing is a versatile and fast-paced sport and workout routine used by many in their training routines or even as an individual sport today.
The best shoes for kickboxing need to provide just the right amount of traction and lightweight support to keep you moving and not weigh you down.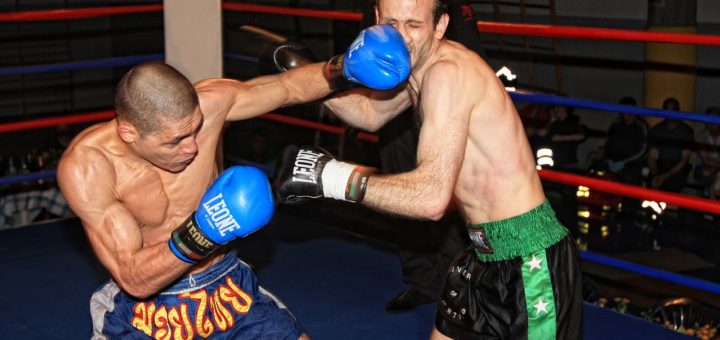 ---
What Shoes to Look For in Kickboxing
When it comes to Kickboxing, a specific show category does not apply.
Walking and running shoes provide excellent support and stability for motion, while tennis shoes offer better lateral movement support and flexibility on the ball of the foot.
Basketball shoes have a thick rigid sole, and golf track and soccer shoes have a specially designed sole.
Yet there is to date not a specific design for Kickboxing shoes; thus, our best narrowed down options are to look at shoes designed for Cross Training with particular features and shoes designed for Martial Arts and taekwondo.
So What are these Requirements in a Kick Boxing Shoe?;
Cushioning – You need some but not much cushioning. Because Kickboxing is done indoors and there are no outdoor risks, you need only some cushioning, particularly under the ball of the foot for the jumps.
Flexibility and Fit – I have placed these two features together because you want your kickboxing shoe to feel like an extension of your foot and not a separate shoe. These shoes should bend and flex easily and offer a very snug and glove-like fit that is very lightweight.
Weight – A flexible shoe is naturally lightweight, and a heavy shoe will just weigh you down, so look for the most minimalistic option.
You will notice that the shoe types that mostly fit these criteria are Cross Training shoes with a minimalist design and flexible sole.
---
Choosing the Best Fit
Unfortunately, when choosing shoes, no one size fits all, as everyone's feet are unique.
Therefore because you need a snug and lightweight fit, the fit should be perfect for your foot shape, size, and width. So make sure you know your arch type, whether flat, high, or neutral, and if you have a wide or narrow foot before choosing a size.
Make sure to fit your shoes and that there is always enough toe room; you also do not want a very loose fit, so opt for something adjustable.
---
Features of a Good Kickboxing Shoe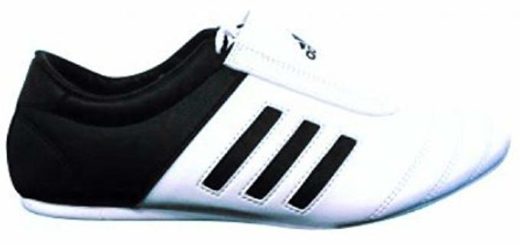 Fit – Offer a snug yet comfortable fit.
Uppers – Lightweight leather or mesh uppers that are durable, flexible, and breathable.
Sole – A flexible sole and design overall. Durable rubber outsole with or without pivot points that offer excellent traction. Oustole should be bon-marking on indoor floors.
Cushioning – Slight underfoot cushioning.Minimalist design.
Closure – Adjustable closure types are more ideal.
---
Reviews: The Best Kickboxing Shoes
Here is the top selection of Kickboxing Shoes.
We hope you love the shoes we recommend!
So that you know: We may collect a share of sales or other compensation from the links on this page.
---
1
The Metcon from Nike is an excellent option ideal for Kickboxing and similar sports.
Features a low, flat, and wider heel design with a Hyperlift insert, to improve squats and stability.
There is a textured print on the top of the shoe, and the uppers are lightweight and durable.
Directional traction on the outsole wraps up the shoe's sides for better grip and control.
Under-heel firm foam support and a more cushioned and softer forefoot foam.
---
2
Lightweight Kickboxing Shoe
Enjoy lightweight comfort and superb durability in the Brooks Pure Flow training shoe for Kickboxing.
It offers neutral support for a medium to high arch type.
BioMoGo DNA cushioning that adapts to your movements.
A rounded heel for minimal stress on your joints.
Stretch woven uppers and a soft internal bootie that is comfortable and lightweight.
Close to the foot fit and durable and long-lasting rubber outsole for better traction.
---
3
Martial Arts and Kickboxing Shoe
A Martial Arts design shoe from Century can also be used for Taekwondo and similar sports and arts.
Designed specifically to enhance and aid footwork during Kickboxing and martial art practices.
Extremely lightweight and comfortable design.
It keeps your feet dry and fresh with highly breathable materials.
Pliable and flexible design that comfortably moves with you.
There is also a floor gripping rubber outsole with unique Pivot Points for better movement.
Designed with the finest quality leather and synthetic materials.
---
4
The Adikick from Adidas is likewise a top brand and model of Kickboxing and Martial-Arts specific shoes.
Very lightweight shoe that offers a snug fit and exceptional comfort.
There are shorter laces for improved flexion of the foot.
It is made from durable PU materials.
The rubber outsoles offer excellent floor grip and traction.
There are also pivot points on the rubber soles to enhance certain movements.
---
5
From Nike, we also have the Flex RN, a flexible and lightweight training shoe with some superb features, which makes them ideal for Kickboxing training.
Flexible, lightweight, and highly breathable mesh uppers.
The uppers are manufactured with a 4-way stretch knit design that contracts and expands with your feet as you move.
A Dual-Density Solarsoft Foam cushioning.
Textured outsole un durable rubber for better traction with hot-Knife siping.
There are synthetic overlays around the laces for a better structural fit.
The Heel and tongue loops stretch the opening so you can easily slide your feet in and out of the shoe.
---
6
Kickboxing Cushioned Shoe
The Gel Fit Sana 4 and Gel-Excite 7 are another top favorites in training shoes, ideal for Kickboxing and martial arts training.
The Gel Excite 4 Offers rearfoot Gel Cushioning and a removable moisture managing and cushioned sock-liner to keep your feet cushioned and comfortable.
The Gel Excite 4 also has an AHAR high abrasion-resistant rubber outsole for excellent grip and durability.
The Gel-Fit Sana 4 for the ladies features a Mono-Sock Technology fit system with an internal elastic sleeve that replaces the original tongue for a sock-like fit.
The Gel Fit Sana 4 likewise has a seamless interior to reduce potential irritation and friction.
Both shoes have lightweight and breathable uppers made from mesh and synthetic materials and a durable rubber outsole.
Available in a range of color options to choose from.
---
7
Kickboxing Cross Trainer Shoe
The Puma Tazon 6 is a sleek and lightweight Cross-Training shoe, which is a choice by many kickboxing enthusiasts as a training shoe.
Each model has three color options to choose from.
The uppers are made from flexible and lightweight synthetic leather.
Inside is a breathable and moisture managing, cushioned Eco-Ortho sock liner.
There is a ZTPU shank for better control and stability.
These shoes are very lightweight and flexible with a low heel and durable rubber outsole.
---
8
Kickboxing and Wrestling Shoe
Bottom of Form The Asics Matflex is a top brand and model in Kickboxing and wrestling shoe designs.
The uppers are breathable synthetic mesh, and it has a high-top design.
The durable rubber sole is flexible and offers a good grip.
The Mid Height design ensures better ankle support and comfort.
There is a lightly padded insole for comfort.
---
9
We have the Mat Wizard Hypa wrestling shoes from Adidas used for Kickboxing practice.
With the Triaxiel structured rubber outsole, you have outstanding grip and durability.
There are an anatomically shaped tongue and footbed for comfort and support.
The heel tapes towards the rearfoot for an improved snug fit.
The V-Shape design foils add an abrasion-resistant TPU tape to protect the forefoot and toe area.
---
10
The Ringside Diablo is a Boxing and Kickboxing shoe available in men's and women's color options.
A contemporary styled kickboxing shoe with men's and women's color options available from which you can select.
Ther are mesh uppers with a high-top design for breathability and ankle protection.
The rubber sole is both durable and flexible.
The insole is lightly padded for comfort.
---
Index Table: Top Rated Kickboxing Shoes
---
---