So you have decided to start the practice of Thai Chi for your health or whatever benefit you prefer. And unfortunately, no, you cannot wear your athletic shoes, and yes, you will need specialized Tai Chi shoes if you want to advance in this practice.
With the practice of Tai Chi, your feet are rotating very frequently, which means there will be a strain on your knees if your shoes drag. Therefore you need a lightweight shoe with a rubber or soft and flexible sole.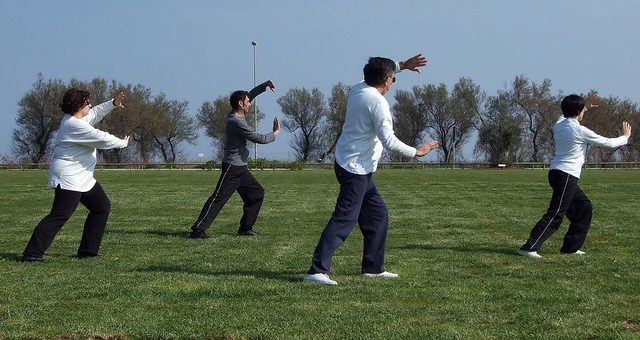 ---
What is Tai Chi and How Does it Work
Tai Chi is a mind and body healthy and well-being practice that involves many slow and flowing movements and exercises, which combine meditation, movement, and rhythmic breathing.
Tai Chi is initially developed as a martial arts practice for meditation to help stimulate the flow of vital energy known as "Chi" and, in turn, heal a variety of health conditions, both mental and physical.
Today Tai Chi is a practice used by many to improve and heal mental and physical conditions, as well as enhance your overall health and well-being. Tai Chi helps to improve your posture, flexibility, and strength, and also, it is excellent to boost your mood and alleviate pain, as well as strengthen your immune system.
---
Benefits of Tai Chi
As we have mentioned, Tai Chi is a great practice to improve physical health, such as strength, flexibility, and a heart condition, as well as for mental stability, mood-enhancing, and pain alleviation.
Below are some of the main benefits that you can look forward to in practicing the art of Tai Chi;
Cognitive Functioning – Tai Chi improves the cognitive function especially in adults and individuals with impaired congnitave abilities.
Balance – Tai Chi dramatically improves your balance and helps prevent falls in adults and older individuals.
Flexibility and Strength – You will see a dramatic improvement in your overall strength and flexibility with the practice of Tai Chi.
Heart and Immune System – Tai Chi, in general, is an excellent exercise to improve the condition and strength of your heart, and aids in enhancing and strengthening your immune system.
Mental Health – Tai Chi is hugely beneficial for your mental health and well-being, and can help alleviate stress and depression, as well as improve your mood and overall mental and cognitive abilities.
Other Conditions – Tai Chi can help speed up the healing and improve conditions such as cardiac heart failure, back pain, and other painful areas, and likewise mental conditions and stress.
---
Features of a Good Shoes for Tai Chi
Overall there are three specific shoe types to use for Tai Chi Practice;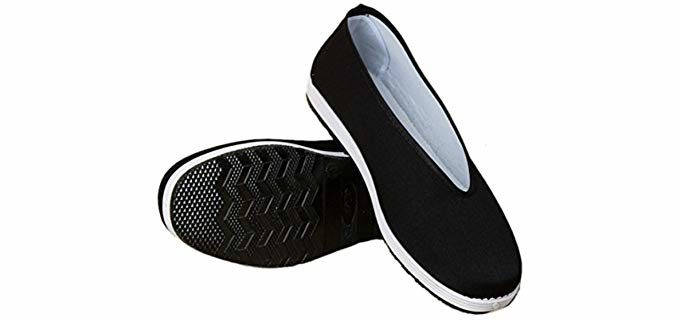 Tai Chi Slippers – The Basic Tai Chi Cloth Slipper is made completely out of cotton or fabric with a soft sole and has an elastic entrance and heel for a comfortable fit.
The Hybrid Slipper – the Tai Chi Hybrid slipper is similar to the general slipper, with the only difference being that it has a rubber sole. The uppers are still made from soft cotton or fabric with an elasticized entrance, though the outsole consists of very flexible rubber.
Tai Chi Athletic Shoe – The Tai Chi Atletic Shoe usually has a low profile and is an athletic-style sneaker with canvas or material uppers and a flexible rubber outsole, along with a lace-up or Velcro strap closure, rather than the slip-on slipper design.
---
Reviews: The Best Shoes for Tai Chi
Here are our top shoe brands for Tai Chi Practice;
---
1
The DoGeek Peking is a slip-on Hybrid Tai Chi Slipper with an elasticized and gore entrance, as well as a durable rubber outsole and comfortable cotton lining. This shoe is designed to be worn by both men and women for Tai Chi, Martial arts, and King Fu practice.
A durable and flexible rubber sole.
Suitable for both indoor and outdoor use.
Canvas top and anti-slip outsole design.
Lightweight, breathable, and very comfortable.
Wider toe space area and a moderate width at the opening.
---
2
A sleek and elegant-looking Athletic Style Tai Chi Shoe with a lace-up feature for a secure fit, smooth leather uppers, and a very flexible rubber outsole. The perfect athletic style Tai Chi Shoe for Tai Chi, Kung Fu, Martial Arts, and similar sports and practices.
Fashionable design for men and women.
Maximum traction outsole with a high traction design.
Comfortable leather and a flexible rubber outsole.
Available in red, black, or white color design.
---
3
From Scurtain, we have the very lightweight and soft, flexible Tai Chi Shoes that feature a soft leather sole and breathable cotton canvas uppers. This is the original style and general model for martial arts and Tai Chis shoes, worn by all your professionals, although only for indoor practice.
High-quality canvas Vamp uppers with soft linings and lightweight design.
An elastic strap at the instep for a relaxed and comfortable fit.
The slip-on design is available in various sizes for men, women, and children.
A soft Leather sole, For indoor use only.
Available in a black, red, or white color option.
---
4
Atletic Slip On Shoes for Tai Chi
From a very well-known and trusted brand, Adidas, we have the SM model, a Karate, Kung Fu, and taekwondo athletic Shoe ideal for Tai Chi. This is a slip-on one lace shoe that is available in sizes for men and women, as well as a black striped white option or a white-striped black color option with the original Adidas logo.
Very lightweight and durable for casual wear and heavy workouts.
Extra light and soft leather uppers with a smooth interior.
Single lace design top
Available in white color with back stripes or black with white stripes.
---
5
A traditional Hybrid style Tai Chi and Martial Arts shoe from Yunpeng with a slip-on design, soft and breathable canvas uppers, and a flexible and durable rubber outsole.
Canvas uppers are breathable and lightweight.
A durable ,strong.anti-slip rubber outsole.
Easy slip-on style for indoor and outdoor use.
Versatile and comfortable for all types of practice.
---
6
The Asics Tiger Mexico 66 is a comfortable unisex designed shoe ideal for Tai Chi Practice by men and women.
A bold and timeless design for men and women.
Gel Lyte, comfort technology that incorporates lightweight Gel cushioning.
Classic styled sneaker that is lightweight and breathable.
A slip-resistant and high traction outsole.
Some color availability.
---
7
The Arts Supply Tai Chi shoe from ACE features a classic Tai Chi Shoe design that is lightweight and comfortable.
A durable rubber sole for traction and shock absorbency.
Comfortable and breathable cotton uppers.
Easy slip-on and off design.
Washing machine friendly.
---
8
Traditional Cloth Tai Chi Shoes
From FitsT4, we also have a classic design slip-on Tai Chi shoe with Canvas uppers in Balc and white.
A breathable and lightweight canvas top in classic black color.
Traditional Old Beijing styled shoes with cloth uppers and elegant design.
Slip-on style and durable white rubber outsole.
It can be used for Tai Chi, Martial arts, and Kung Fu practice.
---
9
The FitKicks Original shoes are a versatile Tai Chi and Water Shoe or Aqua Sock ideal for all purposes.
The shoes are flexible and lightweight with a water-resistant upper material.
The fit is ergonomic and comfortable with a minimalist design.
The high traction rubber outsole is slip-resistant.
You can also choose from many color variations in the model.
---
10
From Apika, we have a Traditional slip-on Tai Chi Shoe.
The shoes feature a simple and easy-to-wear design.
The uppers are fabric with Canvas materials that are light and breathable.
The sole is flexible, and there is a slip-resistant rubber outsole.
These shoes are available only in the black color option with a contrasting white sole.
---
11
Embroidered Tai Chi Shoes
Something a bit more decorative in the Old Beijing Style for practicing Tai Chi.
The upper is light and breathable canvas with decorative embroidery.
The color will not fade with time, and the shoe is highly durable.
The design is flexible and comfortable.
There is a slip-resistant rubber outsole that is also quite flexible.
---
Index Table: Top Rated Shoes for Tai Chi
---
---