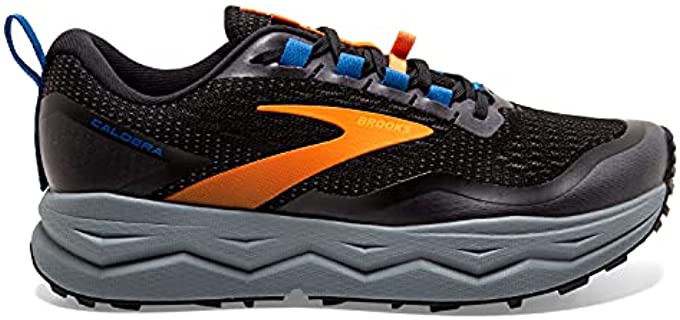 The expected release date for the Brooks Caldera 6 is 13 August- 2022.
The Brooks Caldera 6 will have the following features & updates:
The New Brooks Caldera will provide so much better protection with the higher stacked sole and more grippy tread that is expected.
The cushioning will be slightly more plus with a more flexible sole for better movement.
The Pseudo rocker forefoot design will be improved for better stability.
The fit will remain a comfortable sock-like fit that is snug and secure.
There will also be more colors and designs available in the new model.
---
Latest Version of the Brooks Caldera
*
---
Price
The recommended price according to manufacturers for the new Brooks Caldera 6 ideally will be about $135.00.
There will be a slight increase because of more advanced features.
The Price may likewise vary according to where you purchase from, so always look out for specials and deals.
Arch Support and Pronation Control
The new Brooks Caldera 6 will be a neutral shoe.
It will provide support and comfortable for neutral pronators and a high to neutral arch.
The design will be ideal for persons with a forefoot or midfoot strike.
Terrain
The Brooks Caldera 6 will be for outdoor trail use only.
The design will not be very comfortable for use on hard surfaces.
Use
You can use the new Caldera 6 model for jogging, hiking, and walking.
I would, however, not recommended it for trail racing or running.
It will, however, be ideal for obstacle courses.
Durability
The New Caldera 6 from Brooks will be durable and long-lasting if used in the correct settings.
It will be designed for wet and dry trails and to withstand outdoor elements and weather conditions.
Fit and Sizing
The new Caldera 6 will have a true-to-size fit.
The design will be snugger and sock-like in fit for a better feel.
There will also be normal and wide-width size options available to you.
Weight
The weight in the men's edition will be 301 grams.
For the ladies, you can expect a lighter weight of 266 grams.
Both models will have quite a lightweight.
---
Elevation of the Brooks Caldera 6
Heel Height
The heel height will be 32mm.
The sole will be slightly higher this time around.
Forefoot Height
The sole will be quite thick and more protective with the new model.
So, there will be a forefoot height of around 28mm.
Heel-to-Toe Drop
The Caldera will have a more uniform heel-to-toe drop of 4mm.
The heel-to-toe drop will be lower and more uniform, which is ideal for a Trail shoe.
---
Components of the Brooks Caldera 6
Outsole
Because the Brooks Caldera is an outdoor trail shoe, the outsole will be improved for better grip and traction.
The tread will have a more lug design and extra durability.
The Lugs will help you to clamp the ground to enable constant and secure balance with every step that you take, even on uneven, wet, and slippery outdoor surfaces.
Midsole
Fro the new brooks Clade rather will still be a BioMoGo midsole with full-length cushioning.
The sole will be slightly more flexible in the new model.
There will also be a comfortable lining and plush insole for cushioning.
Upper
The Uppers of the new Brooks Caldera 6 will be updated for a more sock-like fit with highly breathable engineered mesh.
It will have improved TPU overlays for structural stability as well as a traditional lace-up system.
The tongue and collar will have less bulky padding for the new model that will be more breathable.
There will still be a pull tab for easy on and off.
---
*
---
---
---