The Brooks Cascadia 17 release date is July 6, 2023.
The Brooks Cascadia 17 will have the following features & updates: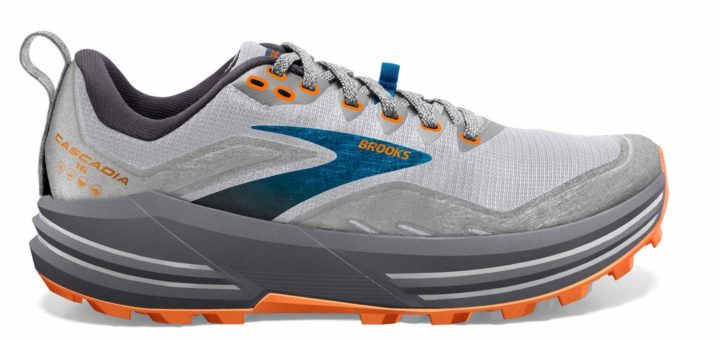 The Upper will have a more flexible knit, breathable mesh, and 3D print overlays.
You can still enjoy the waterproof protection of a Gore-Tex waterproof and breathable lining that you will also see in the new Brooks Cascadia 17.
There will be a 3D Printed Mudguard that has been improved for better protection.
There will be a structurally supportive Midfoot saddle and more plush cushioning for support and shock absorbency.
Brooks will improve the Outsole design for better slip resistance on outdoor trails in wet and dry terrains.
Previous model of the Cascadia:
The Brooks Cascadia 16 release date was on August 15, 2021.
---
Latest Version of the Brooks Cascadia
*
---
Video
---
Price
The manufacturer's suggested retail price (MSRP) for the Brooks Cascadia 17 should be $130.
Arch Support and Pronation Control
The Brooks Cascadia 17 offers neutral pronation control, ideal for neutral runners who do not need much pronation control or stability.
There is also support and cushioning, which is ideal for a Higher Arch type.
Terrain
Because the Brooks Cascadia 17 is an outdoor trail running shoe, it is more suitable for outdoor terrains and trails of all types.
The Outsole is explicitly designed to proved grip and traction on outdoor terrains and uneven surfaces on Trails.
Use
You can use your Brooks Cascadia 17 to run long or short distances on Trails and Outdoors terrains.
You can also enjoy jogging and Trail walking in these shoes.
Durability
Because the Brooks Cascadia 17 is designed for trail running and walking, it is durable in those circumstances.
There are 3D mudguards, reinforcements, and durable treads, giving you more use for your running shoe.
Fit and Sizing
I would recommend the Brooks Cascadia 17 for persons with a medium to narrow foot shape in the forefoot and a narrow heel.
There are, however, not full-width or narrower fit options available in the New Cascadia 17 range.
Weight
In weight, you will be looking at around 303 grams for men and 269 grams for women, which is reasonably heavy and stable.
---
Elevation of the Brooks Cascadia 17
Heel Height
Regarding elevation, the heel in the men's range I and women's range has the same height of 26mm.
A 26mm Heel height is relatively low and acceptable for most trail running shoes.
Forefoot Height
The Forefoot Height is 18mm for men and women, which is also quite flat yet still supportive.
Heel-to-Toe Drop
The Brooks Cascadia 17 will have a heel-to-toe drop of 8mm, ideal in a Trail running shoe.
The lower heel-to-toe drop is also advised for persons with a higher arch type.
---
Components of the Brooks Cascadia 17
Outsole
The Outer Sole of Cascadia 17 consists of very durable rubber.
There is a Trail specific tread that is improved for better traction and grip on outdoor trails.
Midsole
This new model keeps the Brooks Cascadia's supportive and lightly cushioned BioMoGo midsole design.
The Midsole offers just the right amount of shock absorbency for a Higher Arch type.
Upper
There is a new, improved fit for the Upper of the Brooks Cascadia 17.
The Engineered Birdsey mesh uppers are more flexible, and the toe box is a bit roomier.
There is a 3D Print Mud Guard that is improved for better protection against dirt and debris.
Inside you will find a highly breathable and waterproof Gore-Tex membrane.
---
Brooks® Cascadia 16 vs. Cascadia 15
---
*
---
---
---