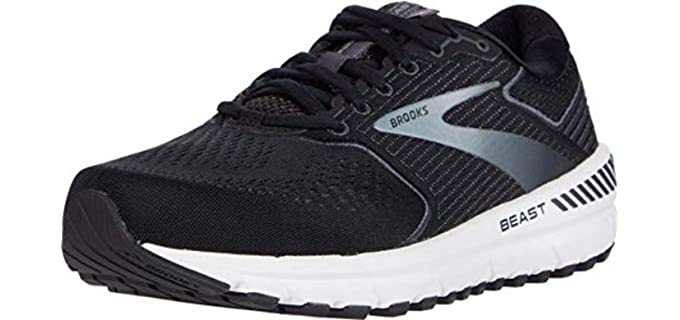 The expected release date for the Brooks Beast 21 is June 23, 2022.
The Brooks Beast 21 will have the following features & updates:
The new Brooks Beast 21 will be designed for Motion Control for persons who Overpronate severely and have a low or flat arch.
The new model will be suited more for casual use, light jogging, and walking.
The uppers will have an improved moisture-wicking lining and an improved fit.
The Midsole will be more supportive of the BioMoGo DNA design.
The tread on the rubber outsole will be improved for better grip and traction.
There will also be some new color options available.
---
Latest Version of the Brooks Beast
*
---
Price
According to manufacturers for the new Brooks Beast 21, the recommended price should be about $165.00.
There will not be much of an increase in the price for the new model as there will only be a few slight improvements.
Arch Support and Pronation Control
The Brooks Beast 21 will provide Motion Control for persons that Overpronate Excessivkey.
It will be aimed at persons with flat feet or very low arches.
Terrain
The New Brooks Beast 21 is ideal for Roads and indoor floors.
It will not be a trail or outdoor shoe.
Use
The new model from Brooks can be used for walking, jogging, and casual wear.
I would not recommend the new model for long-distance or marathon running as it is quite heavy and not very flexible.
Durability
The New Beast 21 from Brooks will be quite durable and enhanced.
You should, however, only use it as a road running shoe as this is what it will be designed for.
Fit and Sizing
The Brooks Beast 21 will have a more relaxed and true-to-size fit.
You will be able to select from a Normal, Wide, or Extra wide width option.
Weight
The weight of the men's edition will be around 332 grams.
Unfortunately, there is not a ladies model in these brooks beast 21.
---
Elevation of the Brooks Beast 21
Heel Height
There will be a heel height is expected at around 30mm.
The Heel height is average for motion control running shoes.
Forefoot Height
His forefoot height should be expected at around 18.
The Drop-in of this new model will likewise be quite low.
Heel-to-Toe Drop
The new Brooks beast Model will have a 12mm heel-to-toe drop.
The Heel-toe drop will be average for motion control running shoes.
---
Components of the Brooks Beast 21
Outsole
As for the outsole of the new Brooks Beast 21, it will remain a durable HPR green rubber outsole.
The outsole will have improved abrasion resistance and durability.
The tread will be enhanced for superior grip and traction.
Flex Grooves will also be improved for better flex where you need it in a stable running shoe.
Midsole
The midsole of the new Brooks Beast 21 is still expected to have the BioMoGo DNA midsole for shock absorbency.
There will also be GuideRails that will be improved for better stability and give a more locked-in feel.
You can look forward to the comfort of a Cushol top layer and a comfortable insole.
There will also be an improved full-length segmented crash pad in every shoe.
Upper
The uppers will be a breathable engineered mesh for the new Brooks beast 21, and the fit will be more relaxed and comfortable.
Along with the mesh, there will be an improved mesh interior lining for moisture-wicking.
The saddle design for the new Brooks beast model will still have a more structured and supportive design improved for better motion control.
There will also be an improved internal heel counter that will be integrated into the new model.
Furthermore, the tongue and collar will still be padded, yet it may be less thick and plush this time around.
---
*
---
---
---