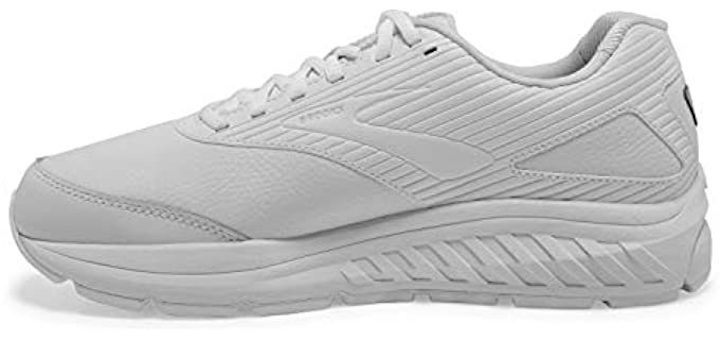 The expected release date for the Brooks Addiction Walker 3 is November 7, 2023.
The Brooks Addiction Walker 3 will have the following features & updates:
The uppers will be of a fresher-looking Full Grain leather, which will also have more color options.
The Popular Bio MoGO DNA cushioning system will still be for optimal support and cushioning.
An Improved Extended Progressive Diagonal Rollbar is expected; this design is ideal for flat feet and overpronation issues.
The Outsole will remain the certified slip-resistant rubber and will be improved with a more high traction tread ideal as a slip-resistance on wet and dry floor surfaces.
Previous model of the Addiction Walker:
The Brooks Addiction Walker 2 release date was on June 23, 2021.
---
Latest Version of the Brooks Addiction Walker
*
---
Video
---
Price
The recommended Price for the upcoming Brooks Addiction Walker 3 will be around $130, but look out for seasonal discounts and prices that may change over time.
Arch Support and Pronation Control
The New Brooks Addiction Walker 3 offers excellent Maximum Arch support for a flat and medium arch types.
The improved Extended Progressive Diagonal Rollbar (PDRB) support system gives you optimal stability and motion control, making this the ideal shoe model for Overpronation and Flat Feet.
Terrain
The Brooks Addiction Walker 3 is more suited to road and hard floor Terrain and comes with a slip-resistant outsole on wet and dry surfaces.
The Outsole offers exceptional Grip and stability with high traction.
Use
I would recommend the Brooks Addiction Walker 3 as a daily walking shoe for long and short-distance walking.
Because of the highly slip-resistant outsole and durable construction, the Brooks Addiction Walker can also make a great work shoe for less hazardous work environments or even just casual wearing shoes.
Durability
The Outsole of eth Brooks Addiction walker 3 is tough and durable for everyday walking and wear.
The reinforced and improved Full Grain leather upper is also of better quality and will last very long.
All in all, the shoe is very durable and robust.
Fit and Sizing
The Brooks Addiction Walker 3 is available in extended-size options for men and women and Narrow, Medium, Wide, and Extra Wide width options.
Weight
The Brooks Addiction Walker 3 weighs approximately 14oz / 396.9 grams for men and approximately 12.8oz / 362.9 grams for women.
This shoe is medium to heavyweight, which is usually the case in most Walking shoes; this way, it adds extra cushioning and support features.
---
Elevation of the Brooks Addiction Walker 3
Heel Height
The heel height for men and women in the Brooks Addiction Walker 3 is 31.75mm and 23.75 mm, respectively.
The lower Heel height provides better stability and control and is likewise ideal in a Walking Shoe.
Forefoot Height
As for the forefoot height in the Brooks Addiction 3 is 12.83mm for men and 11mm for women.
The Forefoot Height provides better control and cushioning in the ball of the foot area.
Heel-to-Toe Drop
A 12mm Heel to Toe drop in the Brooks Addiction Walker, as expected in a good walking shoe, and remains the same as the previous release.
---
Components of the Brooks Addiction Walker 3
Outsole
Brooks has improved the tread on their HRP Plus Green outsole, which is now even more slip-resistant on wet and dry surfaces.
Midsole
An improved Cushsole Midsole is now even more lightweight and more durable, providing optimal shock absorbency.
Upper
Full Grain Leather is used for the uppers, which are now available in a fresher, more sleek look and more color options.
---
*
Brooks Addiction Walker 3
---
---
---