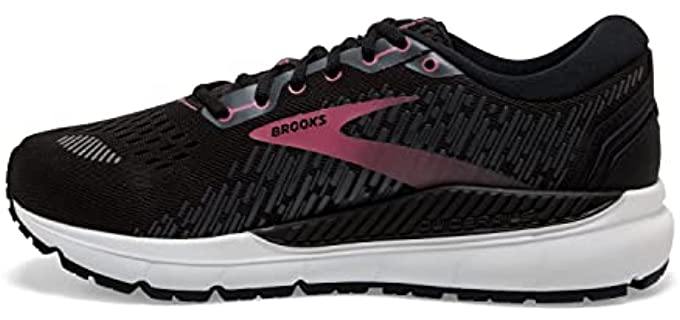 The expected release date for Brooks Addiction GTS 16 is on June 29, 2023.
The Brooks Addiction GTS 16 will have the following main updates:

The Brooks Addiction GTS 16 will be the latest in this model.
Many runners favored the predecessor, and the new model will be even more full of surprises.
The new model will be completely orthotic friendly with a removable insole.
It will have a roomy toe box and medium fit, with a snug but very comfortable heel that will be padded.
There will be an extremely durable and grippy outsole.
As for the uppers, they will have improved breathability, and you can look forward to some new color variations.
There will also be comfortable cushioning and excellent support for stability.
It will be ideally suited to heavier runners that need plenty of stability and shock absorbency.
Previous model of the Addiction GTS:
The Brooks Addiction 15 release date was on August 17, 2021.
---
Latest Version of the Brooks Addiction GTS
*
---
Video
---
Price
The MSRP (Manufacturer's Suggested Retail Price) for the Brooks Addiction GTS 16 will be $140.
The price of the new Brooks Addiction GTS model will be relative.
There should also be some entry specials available.
Arch Support and Pronation Control
The New Brooks Addiction GTS 16 will be ideal for individuals with severe Overpronation.
It will be suited for very low or complete flat arches and for heavier individuals.
The new model will be a full Motion Control shoe that corrects overpronation and provides plenty of stability.
Likewise, it will have firmer cushioning.
Terrain
The Brooks Addiction GTS 16 will be suited for road running and indoor use only.
It is not for outdoor trails.
Use
The shoe will generally be rated as a running shoe. However, it will be ideal for jogging, running on a treadmill, and walking.
It will also be suited to marathon and long-distance running.
Durability
All in all, we can expect good durability.
Brooks has always been a durable and reliable shoe brand, and the new model will not disappoint.
Fit and Sizing
As for the fit and size.
There will be wider and extra wide widths available.
The shoe model, being designed for heavyweights, will have a wider and more roomy fit and toe box.
Weight
The weight for the men will be 357 grams.
For the ladies, there will be a 323 gram weight.
---
Elevation of the Brooks Addiction GTS 16
Heel Height
There will be a heel height of 28 mm.
The heel will provide good stability and motion control.
Forefoot Height
The forefoot will be 19 mm high.
The height will be in perfect relation to a motion control shoe.
Heel-to-Toe Drop
The new Brooks Addiction GTS will have a 12 mm drop.
The heel-to-toe drop it will be perfect for overpronation and for flat feet, as it will be intended.
---
Components of the Brooks Addiction 16
Outsole
The Brooks Addiction 16 will have a very durable rubber outsole.
The tread will be enhanced for additional grip and traction.
Midsole
There will be plenty of support features in the new model.
There will be Guiderail support technology midsole and supersoft BioMoGO AND cushioning.
The Cushioning will offer firm support and adapt to your stride.
The GUideRails will enhance stability.
Upper
The Uppers will offer a roomy and comfortable fit.
There will be wider widths available.
You can also look forward to a wider toe box design and better durability.
Some more color variations may also be available.
---
*
---
---
---