Tarsal Tunnel Syndrome can cause pain and swelling and, in some cases, numbness in the feet, along with cramps and weakness in the ankles.
For this reason, comfortable and protective footwear that supports and alleviates the symptoms of this condition is necessary and, luckily, widely available.
So, in this article, we will help you find the best shoes for tarsal tunnel syndrome that are comfortable and come in more variety.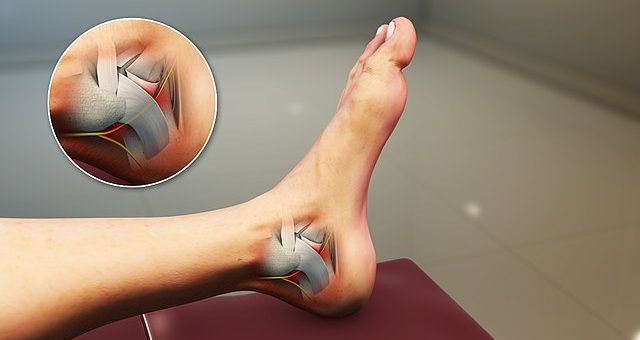 ---
How Tarsal Tunnel Syndrome Affects Your Feet
Tarsal Tunnel Syndrome is a compression neuropathy and a painful foot condition that occurs because the Tibial Nerve Becomes compressed as it travels through the tarsal tunnel, which is in the inner leg behind the bump of the ankle on the inside.
Many patients with Tarsal Tunnel Syndrome complain of numbness in the toes, tingling at the foot's base, and pain and burning sensations in the heel and foot.
Tarsal Tunnel Syndrome can likewise cause;
Swelling in the feet and ankles.
Burning, pain, tingling, and numb sensations in the feet and lower legs.
Electric shock sensations.
Hot and cold sensations in the legs and feet.
Burning sensations in the bottom of the feet.
Pins and needles.
A feeling as if there were no padding underneath the foot.
---
Choosing the Right Shoes fr Tarsal Tunnel Syndrome
Consider these characteristics and features before choosing your next pair of shoes when you have Tarsal Tunnel Syndrome;
Weight – Choose a shoe that is lightweight and easy to walk with.
Fit – Ensure that the shoe's length and width fit your foot perfectly, and look for a toe area where you can easily spread out your toes.
Support – A stability shank or motion control features, along with excellent arch support or a contoured and supportive footbed, will support and align your feet for more comfort and stability.
Oustoles – Aside from offering excellent stability and shock absorption, they should also provide excellent TRACTION to prevent friction.
Insoles – The Footbed or insole should provide good arch and heel support and some cushioning.
Comfort and Ease of Use – Choose shoes that are comfortable and easy to put on and take off and that can be adjusted to get the perfect fit.
---
Features of a Good Shoe for Tarsal Tunnel Syndrome
Support features – Good stability and motion control features include a TPU shank, firm outsole, contoured footbed, or deeper heel cup.
Fit – Allows for the use of your orthotics, with extra depth design or removable footbed.The roomy and wide toe box and non-binding seam-free interior.Comfortable and pliable fit.
Uppers -Breathable design uppesr in ;lather, synthetic or textile and mesh materials.
Midsole and Outsole – Durable and shock-absorbing rubber outsole and foam midsole.
---
Reviews: The Best Shoes for Tarsal Tunnel Syndrome
Here are some excellent options in shoes that you can choose from if you have Tarsal Tunnel Syndrome;
---
1
Tarsal Tunnel Syndrome Running Shoe
The Gel-Venture 6 from Asics is an excellent choice in walking and running shoes for Tarsal Tunnel Syndrome.
Synthetic leather and mesh uppers are lightweight and breathable.
Rearfoot Gel cushioning that attenuates shock during impact stages.
A removable comfort and moisture-wicking sock liner.
The outsole is Trail specific for outdoor running and walking and is made from AHAR high abrasion-resistant rubber.
Available in a few color selections for you to choose from.
---
2
Tarsal Tunnel Syndrome Sneaker
These two athletic shoe models from Propet are likewise highly sought after for their excellent support and comfort features, particularly in Tarsal Tunnel syndrome conditions.
Fashionable and colorful designs are available to select from.
The uppers are made from lightweight and breathable synthetic materials.
The Sole is flexible yet still offers excellent stability.
This shoe is also available in broader width options.
There are a durable rubber outsole and a cushioned insole and midsole for comfort and shock absorbency.
---
3
Loafers for Tarsal Tunnel Syndrome
The Nantucket from Cole Haan is a comfortable and casual easy-wearing slip-on loafer.
Leather or canvas uppers are available in a few color selections.
Loafer design that is easy to slip on and off.
The outsole is thick and shock-absorbing, made from durable and slip-resistant rubber.
A cushioned footbed and a moisture-wicking sock liner for comfort.
---
4
Running Shoe for Tarsal Tunnel Syndrome
The Gel-Nimbus 23 is another top favorite in running shoes and makes the ideal running and walking shoe f you have Tarsal Tunnel Syndrome.
The upper consists of soft and flexible mesh and synthetic materials that are breathable and lightweight.
There are a Gel forefoot and rearfoot cushioning system to attenuate shock on impact.
The Trusstic Guidance system ensures better gait efficiency and movement.
A Guidance Line midsole technology and vertical flex grooves for better stability and motion.
It also features the Asics AHAR high abrasion-resistant rubber outsole, which ensures excellent traction.
---
5
Wedge Sandal for Tarsal Tunnel Syndrome
Wewe have the Sheena sandal for the ladies and the gents' Gaston sandal.
The uppers straps are made from genuine leather with a moisture-wicking and padded neoprene lining; the Sheena straps are not padded.
The Harris features adjustable hook and loop straps, while the straps in the Sheena are stretchable.
Both sandals feature anatomical cushioned footbeds and comfort insole technology.
The Flexible and durable lug outsole offers excellent traction and slips resistance.
Some color selections are available for your perusal.
---
6
Tarsal Tunnel Syndrome Fisherman's Sandals
These are two Comfortable and protective Orthopedic Fisherman sandals, which also deem the ideal casual summer shoes for individuals with Tarsal Tunnel Syndrome.
The Fisherman's style uppers are made from soft and comfortable genuine leather, and the closed design protects your feet while the open slits allow for cooling ventilation.
Each model comes with a Gel plus insole for comfort and cushioning.
These shoes have availability in a variety of sizes and widths options.
Extra roomy and depth design allows you the use of your won orthotic devices.
This shoe is perfect for Plantar Fasciitis, Diabetes, sesamoiditis, and Tarsal Tunnel syndrome.
---
7
Tarsal Tunnel Syndrome Dress Shoe
As Dress shoes, I have Chosen the Celina with its low BioHeel that is supportive and sophisticated in a dress shoe, alongside Broadway, a stylish gents dress shoe.
Both feature leather uppers, and the Maya has a decorative Rose.
The Maya is a slip-on court shoe with a medium heel with BioHeel technology designed for better comfort and stability.
Both shoes have a roomy toe box and extra depth design along with availability in wider width options.
A comfortable air-cushioned anatomical arch support and ergonomic sole with a durable rubber outsole.
Seamless and non-binding design to accommodate all foot conditions.
---
8
Sporty Sandal for Tarsal Tunnel Syndrome
The sandal is comfortable and offers a supportive fit for tarsal tunnel syndrome.
The Tirra has comfortable and soft polyester uppers, while the Landon has a lined leather upper. Both are adjustable.
A Molded EVA footbed in both sandals with a stability shank in the Langdon and a Shock Pad heel in the Tirra.
The sandal has a rubber sole that is durable and slip-resistant.
---
9
Shoes for Tarsal Tunnel Syndrome
These are walking shoes that slip on and off easily.
They are available in more colors, sizes, and options.
The fit is snug and comfortable, and they offer good support.
There are a Goga Max High rebound insole and Responsive 5Gen Cushioning system.
The uppers are lightweight in breathable with a roomy toe box area.
The rubber sole is sturdy and offers good traction.
---
10
Tarsal Tunnel Syndrome Casual Shoes
The shoes are orthopedic in design to provide optimum comfort and support.
The cushioned insole is removable, allowing you the use of your own orthotic devices.
The toe box is wide and roomy, and there are adjustable velcro closures.
The upper is durable and genuine leather, and there is a rubber outsole.
---
11
Tarsal Tunnel Syndrome Walking Shoes
The Upper offers a more flexible and breathable fit.
There are wider width options available, and the toe box is quite roomy.
Inside is an ACTEVA Midsole with ABZORB cushioning for shock absorbency.
The sole is a lug and durable rubber for excellent grip.
More color options are available to you.
---
Index Table: Top Rated Tarsal Tunnel Syndrome Shoes
---
---