Whether it is because of the condition of Bromodosis or any other reason, smelly feet can be embarrassing and very unhealthy.
The right footwear can make a huge difference in dealing with smelly feet.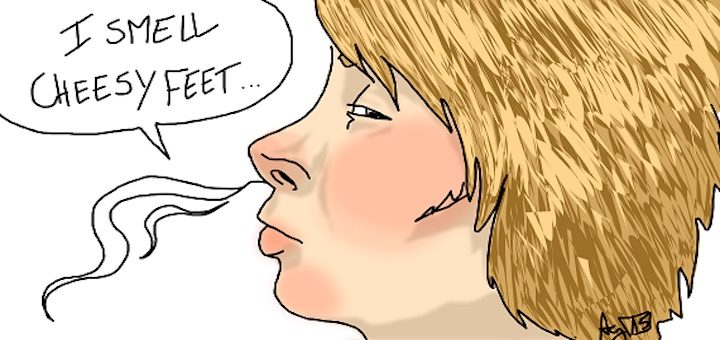 ---
What Causes Smelly Feet
One of the main causes of odor in your feet is SWEAT.
Your feet produce plenty of sweat for many reasons, and some individuals may even have a condition called Bromodosis, which causes increased sweat and odors.
Teenagers and pregnant women are the two groups who tend to have more sweaty feet in general because of their bodies' hormones.
People under pressure or stressed a lot would also tend to sweat more.
In turn, the build-up of sweat in your shoes and socks causes bacteria to grow and flourish in this hot and moist environment.
The Bacteria, together with the sweat, will then cause your feet to develop a terrible odor
---
Shoes and Treatment for Smelly Feet
Wearing the right shoes along with good foot hygiene practice can make a huge difference in Smelly feet conditions and reduce excess sweat;
Keep Your Feet Clean – Use a mild soap and scrub brush to wash off dead skin cells on your feet daily. Remove all hard and dead skin from your feet with a foot file and keep your toenails clipped and properly groomed. A good foot soak will also help improve your feet' condition and prevent sweat and odors.
Change Your Shoes – Having two pairs of shoes to alternate between throughout your day will allow each couple to breathe and prevent the build-up of moisture and odors.
Socks – You can also change your sock more regularly, especially when it's hot, and you sweat more. Wearing moisture-wicking and breathable socks will also help to manage moisture and odors.
Shoe Types – Open design shoes and sandals are ideal for hot weather and allow your feet to breathe to prevent sweat build-up. Shoes that are too tight and do not fit well can also retain moisture and cause odors. Other than that, breathable materials such as mesh and textiles are ideal in shoes to improve ventilation.
Antiperspirant and Foot Sprays – You can apply to rub alcohol to your feet with a cotton ball to kill germs every night. Anti-Perspirant, Roll-on, or foot spray also helps prevent odors and keep your feet dry. A good foot powder will likewise absorb moisture and odors.
Insoles – Another excellent option is a moisture-wicking or anti-fungal treated insole, which can help to wick away moisture and kill bacteria in our feet and shoes.
---
Features of a Good Shoe for Smelly Feet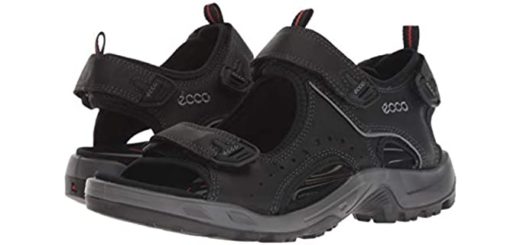 Antimicrobial Footbed or Lining Look for an Antibacterial, or anti-fungal; lining or footbed. These can include; moisture-wicking Agion technology Agion, Microban, and Microban's Aegis technology.
Upper Materials – Lightweight and breathable uppers such as mesh, textiles, r perforated leather breathes well and keep your feet dry.
Other Features – Cushioning for comfort and excellent support such as stability and arch support for comfortable feet. Also, look for a fit that is not too tight and a roomy toe box to prevent feet from becoming too overheated.
Open Design Shoes and Sandals – A open design or sandal shoe type is ideal in hot summers to prevent sweat and odors.
---
Reviews: The Best Shoes for Smelly Feet
Looking for the best available shoes that prevent foot odor, well then look no further than our list;
---
1
Shoes for Smelly Feet
A top favorite lightweight and casual comfort and walking shoe for smelly feet is the Skechers Go Walk Slip-On range.
These shoes offer an upper design that is exceptionally light and breathable, made from mesh and textile materials.
What is more, there is a comfortable Air Cooled Goga-Mat Insole, and The Ultra GO cushioning for comfort helps keep your feet cool and dry.
The rubber outsole is durable and ensures excellent traction.
You can find this model in a few color variants.
Then, for Smelly feet, an Agion treated insole prevents odors and bacteria from developing.
---
2
Smelly Feet Sports Sandal
The Yucatan is a sporty sandal from ECCO with an anti-odor footbed and open breathable design.
The sandal features a sports-style upper with adjustable straps that consist of leather with textile linings.
There is RECEPTOR technology for stability and impact resistance.
The dual-density footbed offers to cushion and support with can AGION odor-reducing lining.
The durable rubber outsole has a Lug tread for indoor and outdoor use.
---
3
Comfort Shoe for Smelly Feet
From Dansko, we have these two fashionable comfort orthopedic shoe models that offer excellent odor and sweat resistance.
The leather uppers help to absorb moisture and are very comfortable and durable.
The footbed has a lightweight EVA midsole for shock absorbency, comfortable PU layers for cushioning, and an
The shoe is designed to accommodate orthotic devices if needed and offers a roomy toe fit.
There is also a durable rubber outsole for slip resistance.
---
4
Sandal for Smelly Feet
The Teva M Langdon and Sirra are ideal sandals for smelly feet.
Both sandals are comfortable sports and outdoor sandals for everyday use.
Their uppers consist of breathable and light synthetic materials made from water-friendly polyester.
There are adjustable hook and loop straps to get the ideal fit.
The footbed is cushioned and contoured for comfort with a Zinc-based, anti-microbial treated lining for reducing smells and bacteria.
Lastly, the rubber outsole has a lug tread for all surfaces and trails.
---
5
Smelly Feet High Top Work Shoe
The Emeril Lagasse is the perfect sneaker for casual wear or all-day workwear to prevent smelly feet.
The upper consists of leather in a high-top design with a lace-up closure.
The durable rubber outsole is oil and slip-resistant, making this the ideal work shoe for slippery surfaces and greasy work environments.
There is a Balance Active Memory foam insole that provides cushioning and stability.
The upper and sole are both water and stain-resistant.
Inside is an Agion-treated breathable lining to reduce odor and keep your feet dry.
---
6
Running Shoe for Smelly Feet
We have a light and breathable running and walking shoe option for smelly feet from Adidas, the Cloudfoam Pure.
The uppers are designed to fit snugly and comprise very light and breathable mesh and textile materials.
A comfortable cushioned Cloudfoam memory sockliner with a moisture-wicking textile lining to manage odors.
The rubber outsole is designed for walking or running on most surface types and roads.
You can get the Cloudfoam model in a few color selections for your personal preference.
---
9
Shoes for Smelly Feet
The Converse Vintage is lightweight and ideal for smelly feet.
The canvas uppers absorb moisture, and the air holes keep your feet ventilated.
They are ventilated and lightweight for smelly feet.
There are also more colors available.
---
8
Smeely feet Shoes
The Skechers Go Walk slip-on is ideal for smelly feet.
They have breathable mesh uppers and a moisture-wicking lining.
More colors are available.
The outsole is a durable rubber.
---
9
Smelly Feet Sneakers
The Merrell Breeze is designed to keep your feet cool and dry.
They are lightweight in well ventilated.
Treated with FRESH odor control technology.
The sole is a slip-resistant rubber.
---
10
Sweaty Feet Shoes
The ZGR sneaker is lightweight and breathable.
The design allows better ventilation and wicks away moisture to prevent smelly feet.
The uppers are canvas and the sole a durable rubber,
More colors are available to you.
---
Index Table: Top Rated Shoes for Smelly Feet
---