Today most men opt for doing their gym routine in a pair of running shoes, which is perfectly fine.
But to optimize your gym routine and prevent injuries and damage to your feet and lower limbs, you will need something a bit more suited to your specific type of training in the best shoes for the gym.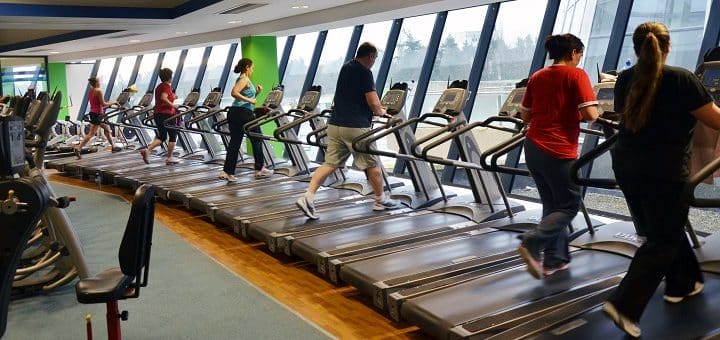 ---
Why You Need Good Gym Shoes
Wearing the most appropriate shoe for the type of training you will be doing in the gym can help transform your entire workout and give you the best performance. A lightweight and supportive shoe that fits properly can make all the difference in your training routine.
---
The Correct Gym Shoe for Specific Gym Routines
there are different gym routines, for which you may require different features in a gym shoe;
Weightlifting – When you do weightlifting, you want a low-profile shoe that keeps you low to the ground and prevents injuries such as ankle twists. When you do weightlifting, you need your muscles to fire optimally and therefore need shoes without cushioning and a more minimalist feel for stable and close contact to the ground. When your heels and midfoot drive into the floor, you get a better workout on your glutes and hamstrings.
Spinning or Cycling – If you like to participate in spinning or cycling classes, your spinning shoe's sole is the most important consideration. You will need a stiff sole, which will transfer the power produced by your leg and glute muscles directly to the bicycle's pedal. The idea is to maximize output with the least effort on pedal strikes. The shoe's heel must be soft, and there must also be enough wiggle room for your toes.
Cardio and Treadmill Running – In general, a lightweight and flexible shoe with good cushioning and shock absorbency capabilities is a great shoe for cardiovascular exercises. Keep in mind that a treadmill is already cushioned, so if you spend a lot of time on the treadmill, look for a shoe with less cushioning that will provide more stability.
Crossfit Training – Crossfit training combines different workouts such as weight lifting, bodyweight training, and cardio exercises for a high-intensity workout. For this reason, a shoe with a flatter sole and less cushioning is desirable as you want to strengthen your feet muscles and get the most out of your workout.
All Round Training Shoe – If you like to mix up your routine a bit and take part in different training types at the gym, you will need a shoe that can cater to almost everything.
An all-purpose athletic shoe should do the trick; these shoes are flexible enough for bodyweight exercises and climbing, stable enough for weight lifting, and comfortable and supportive enough for running and cardio exercises.
---
Features of a Good Shoe for Gym
Sole – A durable and flexible construction. A durable outsole that offers excellent grip and traction and is lightweight and flexible.
Support and Cushioning – Light support and cushioning for shock absorption.
Uppers – Flexible, breathable, and lightweight uppers. A durable and comfortable closure system. Have enough toe room. Soft inner linings to prevent chafing.
Fit – Overall a comfortable and proper fit and long-lasting durability.
---
Reviews: The Best Gym Shoes
Listed we have a perfect gym shoe for every type of training that has the highest ratings;
---
1
All Round Gym Training Shoe
The Inov-8 F-Lite is a lightweight and flexible training shoe that offers excellent grip and a great fit making this shoe perfect for all-round training.
Soft and supple uppers fit like a slipper with a durable toe bumper for pivots and sled pushes.
Zero-drop for better stability.
The light cushioning gives just the right amount of support and shock absorption.
The durable rubber outsole offers exceptional grip with its extra sticky design.
Available in different color options.
---
2
Weight Lifting Gym Training Shoe
An excellent choice for weightlifting, the Adidas Power Lift has a roomy toe box for a more solid base for dispersing heavy loads and offers even more stability.
Synthetic leather and mesh uppers for lightweight support and breathability with Velcro closures secure your foot from unwanted movements.
The wider size and more roomy toe box increase comfort and provide better stability.
The weightlifting engineered high–density die-cut midsole wedge gives you stability that is supportive and lightweight.
A flat profile durable outsole ensures secure foot placement.
---
3
Gym Shoe for Spinning and Cycling
The Shimano SH-RP2 and Ic500 is a perfect entry-level shoe for both club and recreational cyclists and spinners. The Shimano Dynalast technology provides stiffness and flexibility where you will need it the most.
Stretch-resistant leather uppers with ultralight mesh that are durable, breathable, flexible, and lightweight.
The two hook and loop straps ensure easy on-the-go access for adjustments.
The micro-adjust ratcheting buckle helps to control the tightness of the shoe for a more precise fit.
A fiberglass and polyamide outsole is constructed to deliver power to the pedal efficiently.
---
4
Gym Shoe for Running and Treadmill
For a responsive feel that allows your foot to work as it is naturally designed with added breathability, the Saucony Kinvara 6 is the best running and treadmill shoe you will find for the gym.
Flexible and breathable FlexFilm leather and nylon uppers with seamless overlays and an overall ombre effect.
A 4mm heel-to-toe offset for better movement.
The full-length power grip cushioning system provides lite support and shock absorbency.
A Pro-Lock lacing system ensures a secure fit that will not come undone during your exercise routine.
The durable non-marking outsole provides excellent traction.
Color options available.
---
5
Crossfit Trainer for the Gym
The Nike Metcon design helps you tackle the most intense strength sessions with confidence.
Breathable and lightweight mesh uppers to keep your feet dry and comfortable.
The Flywire midfoot technology keeps your feet locked in place.
A dual-density foam midsole provides supportive cushioning and shock absorption.
The flat and stable platform aids in promoting a more explosive lift.
The green rubber sides have been textured for high grip capabilities on rope climbs.
The zero drag heel is designed to accommodate hand-stand pushups.
The durable and flat sticky outsole provides excellent grip.
Available in different color designs.
---
6
You can run, Climb, lift weights, do aerobics, and anything else you may find in the gym with the Nobull Training shoe design specially for gym training.
Available in bright and fun solid neon and neutral color options for men and women.
Seamless one-piece construction SuperFabric uppers that are very durable, lightweight, and abrasion-resistant.
The SuperFabric uppers also have guard plates on the flexible mesh layers for a 360-degree shield.
The outsole consists of durable rubber with a lug pattern for multi-environment usage and a blend of flexibility, support, and traction.
Iside is a compatibly padded insole and moisture-wicking lining.
---
7
The Legacy Lifter from Reebok is another superb addition to the gym, a shoe specially designed for weight lifting.
Synthetic leather uppers that are perforated for breathability.
An anatomically shaped fit with double uppers straps for a customizable and lock-in fit feel.
The TPU piece in the midsole offers exceptional stability and control for weight lifting.
A high grip rubber outsole and low profile.
Exoframe technology in the heel for additional heel support.
---
8
The Tommaso Pista and Roma are two shoe models that are comfortable and versatile spinning and cycling shoes for spinning classes in the gym.
A low-profile lace-up shoe designed to be versatile enough for indoor and outdoor cycling and spinning classes.
Treflective materials allow you to cycle at night with better visibility.
Stylish design and a very comfortable and secure fit.
Breathable uppers and a padded comfort footbed.
The Ultra-grip rubber outsole and tread offers superb traction and grip on the pedals.
---
9
The shoes have an AHAR high abrasion rubber outsole.
There is Flytefoam cushioning and Gel technology to protect you against impacts.
The shoes also feature a Trusstic system that reduces tension.
More color options are available to you.
---
10
The fitness shoes have a locked cage fit that allows movement but keeps your feet stable.
They are available in many more color options.
There are a foam cushioned midsole and breathable uppers.
The sole is durable rubber with deep flex grooves.
---
11
This is a proper weight-lifting shoe design.
It has a solid and durable rubber outsole for grip.
The sole is flat and uniform, ideal for weightlifting, with light cushioning.
The uppers are synthetic leather with cross Velcro straps as closures.
---
12
The shoes have a CMEVA midsole for cushioning and a comfortable insole.
There is a TPU heel clip for stability and heel support,
The uppers are durable net mesh and synthetic materials.
The outsole is a high traction rubber.
---
Index Table: Top Rated Gym Shoes
---
---