Hiking is a dangerous sport, and you must make meticulous preparations for it, or you might end up endangering your life and sometimes your companions.
Choosing the right equipment, gear, and accessories is critical; this applies to your hiking shoes.
Gone are the days when no one pays any attention to the kind of hiking shoes they wear; everyone understands that having an excellent hiking shoe can make the difference between great hiking and trekking experience or a nightmare one.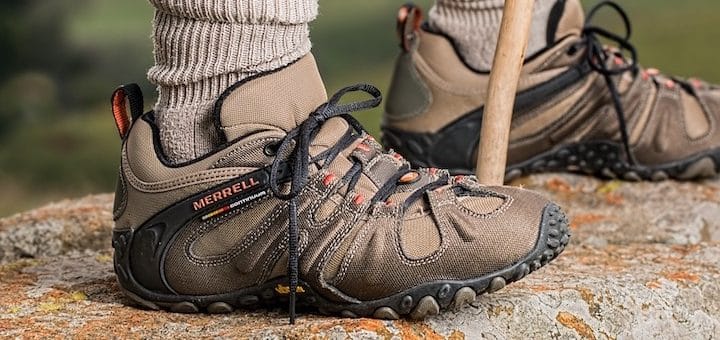 ---
---
Hiking and Trail Running
Trail running is a sport whereby you run or walk over trails on different terrain, usually on hiking trails for short distances.
Hiking is a vigorous or long walk on a trail or footpath in the countryside or outdoors through many different terrains. Hiking or trail running and walking are popular activities for exercise and recreation
---
What to wear for a General Hiking Trip
Here are a few items that you should wear for a Hiking Trip;
Footwear – Your shoes are The most important clothing and equipment for hiking or trail walking. Your hiking shoe choice will depend much upon the terrain you will be walking on, whether dry, wet, uneven, slippery, flat, or mountainous. You will also need very comfortable shoes that fit properly, as you do not want any unnecessary irritation or chafing. Good support and grip are also vital in hiking or trail walking shoes. A comfortable and moisture-wicking pair of socks that help to prevent blisters and keep your feet cool and dry are a good choice to wear with your hiking or trail walking shoes.
Comfortable Trousers – A comfortable pair of long or short hiking pants that are stretchy and do not fit too tightly around your waist is perfect.stretchy or short hiking pants that Make sure that these trousers are made from durable materials dry easily should you become wet.
Top – A long sleeve top made from tightly woven fabric will provide maximum protection against sunburn, although a long-sleeve top may become quite hot in summer. There are long sleeve tops available materials that are breathable or can control temperature; otherwise, you can always settle for a short sleeve and use ample sunscreen.
Cap – A lightweight cap covering your ears and neck will provide excellent protection against the sun and a pair of durable and high-quality sunglasses.
Rain Jacket – For in case it starts raining, it is always advisable to bring along a lightweight rain jacket for extra protection.
---
Different Hiking and Trail Running or Walking Shoes and Their Features
There are four categories of shoes and boots that you can wear on outdoor trail walks;
Trail Running Shoes – Trail runners are designed for off-road running or walking on uneven, rough terrain. Trail running and walking shoes are lightweight, with softer soles with more aggressive lugs for better grip and traction. A trail running shoe also only has a thin midsole, so you will feel more of the terrain you are running or walking on. The best use for a trail running or walking shoe is on gravel roads and trails for shorter-distance walks and hikes.
Hiking Shoes – A Hiking shoe fits in the gap between a hiking boot and a trail running or walking shoe. A Hiking shoe is much more durable, although still light in weight, usually available with a waterproof lining and a harder and more durable outsole. Hiking shoes have a lower cut than hiking boots and can be used in almost any hiking terrain. Hiking shoes are best used for daytime hiking, casual wear, and even for gardening purpose gardening.
Hiking Boots – A Hiking Boot is the most durable among the four options and provides more stable support and ankle protection on rough and rocky terrains. A hiking boot is your best option for a slippery trail, uneven with loads of rocks, roots, and other obstacles. A Hiking Boot is waterproof, and the additional ankle protection safeguards you against snakes and other critters.
Lightweight Hikers Boots – These are hiking shoes with a higher cut ankle collar. Lightweight hiking boots provide less ankle stability and more protection against ankle bumps and bruises.
Midweight Hiking Boots – These are more traditional hiking or backpacking boot that is more durable with an aggressive sole and stabilizing collar for rough terrain. The midsoles are more substantial, and there are also protective shanks to support the foot. A Midweight Hiking boot is excellent for hiking with medium to heavier-sized loads on rough terrain.
Heavyweight Hiking Boots – These traditional heavy backpacking hiking boots provide the maximum amount of ankle stability and foot support. The uppers are usually full leather with a dense midsole. A heavyweight hiking boot is perfect for year-round hiking carrying heavy loads and is extremely durable.
Mountaineering Boots – For hiking in extremely rough mountains through snow slush and many other obstacles, a mountaineering boot is the toughest you will find. A mountaineering boot is large, heavy, and stiff, providing insulation for cold winter months and full-length shanks and ankle collars for maximum support and protection. A mountaineering boot is manufactured from full durable leather with integrated gaiters and a heavy-duty outsole.
Until recent years, choosing a pair of hiking shoes is primarily determined by the type of hike you undertake and the load you expect to carry.
Usually, when you carry a heavy load while hiking, you should go for heavy hiking boots. Fortunately, the availability of new and innovative materials that many hiking brands incorporate into these shoes means that you don't have to wear heavy hiking shoes anymore, even while packing a heavy load on your back.
---
Reviews: The Best Hiking Shoes
Here's our list of the best-recommended hiking shoes and boots:
---
1
Low Cut Hiking Shoe in Wide Widths
The KEEN Targhee is a tough and durable mid-hiking shoe constructed for comfort and support and available in wider widths.
Lightweight and breathable mesh and synthetic leather uppers to keep our feet dry and comfortable.
A Strobel reconstructed insole provides exceptional stability and support.
The B-Fit Deluxe midsole and dual-density EVA outsole provide exceptionally cushioned support.
A nylon shank ensures high stability and support.
The durable rubber outsole provides a superior grip on different surfaces.
---
2
This is a high top 'sneaker-inspired' boot that the French Legion originally used as combat boot in the deserts of North Africa; many professional hikers recommend it:
Uppers: Made from light Canvas featuring wrap-around textured.
Distinctly casual-looking shoes made from canvas and an artificial outsole.
Colors: Available in many colors: black, white, indigo, green, and more.
Outsole: Reinforced toe and a high-walled rubber outsole with deep treads for extra grip.
A stylish boot that you can wear with any daily casual outfit.
Cleaning the Palladium Pampa is simple – throw them into the washing machine.
These boots are more suited for the summer and hot desert weather.
In case you need to hike in a wet environment – use the Waterproof Palladium Pampa version.
---
3
Breathable Waterproof Hiking Boots
A great-looking waterproof hiking boot that comes in several attractive colors.
Uppers: Made from leather and breathable mesh that is waterproof.
Outsoles: Durable Vibram with Lugs pattern that provides better traction on wet and dry surfaces.
Cushioning: Air Cushioned heels provide excellent shock absorbent.
It has a Normal/Narrow width and Wide (2E), so you can customize your selection.
A rugged-looking boot that can be worn for casual everyday activities and not only for hiking.
---
4
A great-looking shoe that comes in existing Dark Earth and Chilli Pepper colors.
Outsoles: Vibram Nuassi outsole with XSTrek Compound for better traction.
Midsole: Dual Density EVA footbed.
Uppers: Nubuck leather upper with abrasion-resistant mesh for breathability and durability.
Toe Box: Features a wider toe box to accommodate natural foot expansion during long-hour hikes.
---
5
Waterproof Mid Hiking Boots
This hiking shoe comes in a leather and textile combination that creates a rugged look.
Outsole: It has a rubber sole and a heel that measures about 1.5 inches and a contoured heel lock.
Midsole: Dual-density compression-molded EVA midsole for unrivaled cushioning and comfort.
KEEN.DRY waterproof breathable membrane.
It's quite popular with serious hikers and apparently holds its own very well in conditions of ice and snow.
Wide Toe-Box that allows expansion of the foot when walking for long hours.
---
6
Multifunctional Hiking Shoe
The Salomon X Ultra Prime is a multifunctional hiking shoe that provides excellent support and stability.
The uppers are made from lightweight and breathable abrasion-resistant textile materials with a lightweight frame between the outsole and midsole for motion control and energy management.
The Ortholite insole provides excellent and supportive cushioning for all-day comfort.
The durable non-marking rubber outsole ensures superior traction on a broad range of surfaces.
A breathable and abrasion-resistant textile lining keeps your feet dry and comfortable.
---
7
Trail Running and Walking Shoe for Hiking
The Pearl Izumi EM Trail Running shoe is comfortable and provides protection against stone bruising as well as punctures.
The uppers are made from breathable synthetic materials with seamless construction and an anatomical forefoot shape allowing your foot to splay out naturally.
An ESS forefoot rock plate protects your feet against bruising from stones and punctures from sharp rocks and tree roots.
The aggressive multi-directional carbon rubber outsole offers superior traction and durable abrasion resistance.
A comfortable midsole and EVA Strobel board provide excellent support and stability with added comfort.
The Pearl Izumi EM is available in three neutral colors.
---
Best Hiking Shoes Accessories
While having a good hiking shoe is critical for a safe trek, some accessories can make it even more enjoyable; the following socks and insoles can help to make the difference.
8
The Merino Wool socks from Darn Tough Vermont are comfortable, cushioned, and aid in controlling temperature.
Composition: 61% Merino Wool, 36% Nylon, 3% Lycra Spandex.
Warm in the Winter and Cool in the Summer.
Cushioning at the bottom of this hiking sock provides the perfect amount of comfort.
Smooth, performance fit eliminates slipping, bunching, and blisters.
Naturally antimicrobial: Repels bacteria and odor.
---
9
Shock-Absorbing & Cushion - Hiking Shoes Insoles
Comfortable and durable insoles specially designed for Hiking Shoes.
Firm arch support and heel cradle for better stability on uneven surfaces.
Foam cushioning helps to decreases stress on feet and ankles.
Dual-layer EVA foam for extra cushioning and comfort hike on the trail.
The anti-microbial fabric helps to keep the feet odor-free.
---
10
A top of the range protective spray for all types of hiking shoes.
Revolutionary nanotechnology that repels water and dirt.
Spray once on your clean or new shoes and let dry for 1 hour.
It does not alter the material, and it will stay breathable like new for longer.
It works on any kind of leather, suede, nubuck as well as textile materials.
---
In Conclusion
You cannot go wrong with these excellent choices in footwear for hiking. They are tough, durable, but still provide exceptional comfort and protection.
---
Summary Table: Top Rated Hiking Shoes
---
---