Most of the current shoe manufacturers produce very narrow-width shoes which do not fit the average person's feet.
What bothers me the most is that most of the people I know, do not even bother to look and search for a wider shoe, they just pick whatever is on display and ask the seller at the store to try the shoe model that they have seen.

---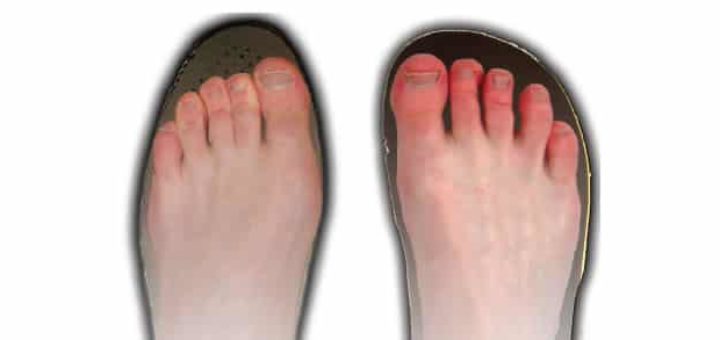 ---
Why do your Feet Grow Wider and Bigger
Have you ever wondered why you need bigger and wider shoes as you grow older, this is a phenomenon that is puzzling quite a few people today? Almost all of us will eventually need either a bigger or a wider shoe as we get older because your feet do most definitely grow at some stage of your life as you age.
The explanation for this is that as we get older, our feet slowly flatten out over time, as the feet flatten, so the arch lengthens and your foot becomes longer, in addition to this your foot also splay out and becomes much wider than normal.
Since your feet are becoming larger and wider, you will need to opt for a larger and wider fit shoe at some stage of your life.
Other Reasons Besides Aging for Larger and Wider Feet
Weight Gain
Carrying extra weight causes the arch of your foot to flatten as well as excess fat around your feet which causes your feet to become larger and wider.
Pregnancy
During pregnancy, there are hormones called relaxin that relax the ligaments of the birth canal for birth and in turn, also relaxes the ligaments in the rest of your body and feet.Becuase your feet are carrying so much extra weight during pregnancy due to the normal weight gain the arches often collapse causing a flat foot that can lengthen and widen.
How to Limit Your feet from Growing More
You may never be able to completely stop your feet from growing bigger or wider, although there are methods to slow the progression and to combat flattening of the foot that can also result in a wider and larger foot.
By using arch supportive shoes or additional arch supports you can stop flattening of your foot and slow down the splay that leads your feet to become wider. You will have to look for a shoe with arch support that conforms very closely to the arch of your foot, the closer it grabs your arch the more effective the results will be.
When you are not wearing your regular everyday footwear or work shoes make sure to also wear arch supportive slippers or sandals for leisure wear. Arch support is imperative if you are walking or standing on hard floor surfaces such as hardwood floors or concrete floors. Any shoe with good arch support, leather sandal or slipper will prevent the flattening and splaying of your feet that lead to a wider or larger foot. The key to avoiding your arches from collapsing is to wear arch supports or arch supportive footwear as much as you possibly can.
Prefabricated orthotics, as well as custom orthotics that comfort closer to the arch of the foot, can also stop your feet from flattening and growing wider. A total contact orthotic that hugs the arch of your foot very closely will have the best results in the end.
Shoes that are stable and do not flex too much provide better support to prevent flattening of the foot that can lead to the foot growing larger and wider.
make sure always to know the exact size of your foot before buying shoes because as your feet grow, so you will need bigger shoes, an uncomfortable, ill-fitting shoe that is too small can have even worse effects on your feet.
If you are overweight, losing a couple of pounds will most definitely also reduce the size particularly the width of your feet. Having less weight on your feet will also prevent your arches from collapsing and your foot from flattening.
Features of a Good Wide Width Shoe
Fits comfortably, no sqeeuzing and ample to room also not loose fitting causing chafing and blisters.
A wider toe box and soft or flexible uppers.
Durable and high quality construction.
Other comfort features such as a supportive and cushioned insole and moisture wicking or bretahability charactaristics.
A durable and reliable utsole that will provide good grip.
Standard Shoes Width Chart
Each shoe brand or manufacturer has its own width sizes, and there is no standard for it, this table is from Amazon – and they try to clear up this problem between all the different widths of the shoe brands.
Please check the specific table for each shoe as sizes might change.
| X-Narrow | Narrow | Medium | Wide | X-Wide | XX-Wide |
| --- | --- | --- | --- | --- | --- |
| 2A | B | D | 2E | 3E,4E | 6E |
Remember this when you choose for a shoe size, you will need to choose not only your size but also to pick up the width – usually marked with the symbol "2E" and up to "6E" as described in the chart above.
---
Wide-width shoes look just as nice on the leg as the narrower ones and there are many modern models to choose from.
Let's check the top wide-width shoes for men and women, given below:
---
Running Shoes for Wide Feet
1
Normal Arch and Wide Feet Running Shoes
A fantastic running and walking shoe for the wider foot the Asics Cumulus 18 provides comfort and support where you need it the most.

These sneakers run from Narrow and up to 4E (Extra Wide) for Men, and C/D (Wide) for Women – so make sure to order the correct width.

These shoes utilize Impact Guidance System (I.G.S) which enhance the foot's natural gait from heel strike to toe-off.

Gel cushioning in the rearfoot and forefoot gel cushioning absorb shocks.

The Seamless Construction in conjunction with the Guidance Trusstic Systems enhanced the gait efficiency while providing midfoot structural integrity.

---
2
Flat Feet and Wide Width Running Shoes
New Balance offers some of the best walking and running shoes available, the 1540V2 is no exception and is also available in wider widths.

These shoes are known for their extra width – up to 6E – the widest possible.

Symmetrical ROLLBAR technology for ultimate lateral and medial rear foot stability.

Lightweight upper constructed with mesh for breathability.

Synthetic compliment for stability and structure.

They will provide extra support for all your activities.

Dual-density collar foam adds a great feel, while traditional lacing closure allows a precise fit.

A wider sole is providing a more stable base and motion control.

This Shoe has mesh sides as a support for people who suffer from bunions.

This shoe is good for running, walking and long-standing.

This shoe is the 2nd generation, and it is much better than the previous excellent version.

---
Walking Shoes for Wide Feet
3
The Vionic with orthaheel is very comfortable and supportive walking shoes for the wider width foot that needs that extra bit of cushioning.

These wide-width shoes by Vionic have orthopedic supportive technology with excellent quality.

They are desirable to many people who look for accommodation and protection since their excellent design can provide all this.

As a part of them, you'll receive the well-known Podiatrist-designed, biomechanical orthotic insole which will provide extra support.

You can choose them in three colors, black, gray/orange or white/blue depending on your preferences.

---
4
Another comfortable wide width walking shoe from new balance, the 928V3 with rollbar technology and high shock absorbency.
The New Balance 928 is a great choice shoe for people with wide feet.

This is the second version of this very popular model.

The Compression Ethyl Vinyl Acetate(EVA) foam midsole provides cushioning as well as a high shock absorbent.

It is made up of high-quality full grain leather for best comfort, and also it will feel soft on your feet.

Utilizing Walking Strike Path and ROLLBAR® technologies, resulting in superior stability.

If you are looking for a comfortable walking shoe, you should give it a try.

---
Dress Shoes for Wide Feet
5
Best Dress Shoes for Wide Feet
A stunning dress shoe the Clarks Portland 2 is soft and breathable with extended sizes available for every foot type and size.

These shoes are classic and one of the most comfortable walking shoes.

Cushioning and support for the feet are provided by the Ortholite® footbed

Chose the black or the brown one and enjoyed your walking.

Made from a soft, breathable leather keeping your toes and feet well ventilated.

Their extended sizes, wide widths, and the handsome style will be a perfect match for all those who are looking for classics wide width shoes.

---
6
Wide Walking Shoe for Men and Women
The Rockport World Tour are attractive and flexible walking shoes with Strobel technology and wider widths.

Great choice of wide-width shoes for your foot, they will offer comfort during long walks.

These good-looking wide shoes have an attractive style that comes in five colors: black, Brown, Chocolate, Chocolate Nubuck, and Tan.

They are flexible, providing amazing stability while walking.

Strobel technology provides forefoot flexibility.

With Latex foam footbed and a Breathable mesh lining, your feet will be grateful.

---
7
Extra Depth Wide Width Shoe
A therapeutic and extra depth comfortable wide width shoe the Dr. Comfort Douglas is an excellent walking shoe.

These wide-width shoes are stretchable shoes with excellent quality.

These Shoes have excellent orthopedic design and have a soft buttery leather, making them very comfortable.

Depending on your foot width you can choose the highest width available for up to 4E.

These shoes give great accommodation and protection, as they are engineered from the ground to provide it for the most sensitive foot – a diabetic foot.

They are Therapeutic shoes with extra depth and can accommodate a very large foot.

As a part of them, you'll receive the well known Gel Insoles who will provide extra support.

---
8
Extra Depth Shoe Up to 9E Width
The Apis Orthopedic extra depth shoe is perfect for a wider foot as well as for feet with medical conditions or deformities such as Bunions, hammertoes or Corns.

These are Orthopedic shoes that have extra depth as well as extra width – up to 9E.

These are excellent choice for people that are looking for diabetics shoes including charcot foot.

These are very comfortable shoes, made from soft Napa-Leather at the uppers with seamless lining to decrease friction.

Padded collar and velcro ensure to fit these shoes comfortably around your foot with no pressure.

---
Casual Shoes for Wide Feet
9
The Dansko Pro is a wide width Clog with a large toe box for wiggle room and a cushioned comfort footbed.

Dansko shoes are manufactured in Denmark and are made of premium leather.

These shoes utilize high and wide toe box so you can wiggle your toes freely.

EVA and memory foam cushioned footbed insoles that can be removed in case you want to fit in your own orthotics.

A leather sock liner for extra comfort.

Shock absorption is provided by the Polyurethane midsole.

---
10
The New Balance 769 is a comfortable and supportive wide width running and walking shoe for everyday use.

Many Width sizes to choose from: medium and up to extra-extra-wide (4E); in all sizes.

Supportive stability web in the midfoot.

C-CAP compression molded EVA midsole for flexible cushioning.

Padded tongue and collar; all contributing to stability and a sense of security when walking.

This shoe is one of the best walking shoes for travel.

Thanks to its "ABZORB" shock-absorbing cushioning technology, they provide exceptional cushioning and durability.

Thanks to this shoe, you will feel a great stability and you won't be afraid that your feet will be sore after a long walk.

---
Accessories for Wide Feet
11
Professional 2-Way Shoe Stretcher
This is a premium professional shoe stretcher for both length & width of the shoe.

This is a Single Stretcher that can be used for the right & left shoes.

Made from a polished German harvested sturdy beech wood.

Includes 3 Bunion/Corn plugs and 14 Holes for customizable stretch points.

Includes complete step by step shoe stretching guide.

---
Issues Related to Narrow Shoes
Narrow shoes lead to not only discomfort but every so often, damage to your foot.
By squeezing mainly the front of your feet, over time, it deforms your feet leading to weakening of the foot bones strength due to the lack of pressure spread over the bottom of the foot.
A squeezed foot in it turns, create lower back problems.
When you don't fully land on your foot, you shift the center of gravity of your body, your lower back tries to compensate and twist inwards, over time your backbone structure changes and pain start to emerge at your lower back.
Narrow-width shoes are a bad choice for people who are having some diabetes problems, problems with foot swelling, bunions, deformed toes, hammertoes, Morton's neuroma.
How to Find the Best Wide Width Shoes
Are you buying bigger shoe sizes because your feet hurt, and do they still hurt even with a bigger sized shoe? When there is pressure on your big toe or small toe or the sides of your feet, hurt you may need footwear in a wider fit and not necessarily a bigger size.
It is not that easy finding a shoe that fits well in a wider width, but you should never give in buy shoes hoping that they will stretch and become wider with time, as they will only end up hurting your feet more in the end.
There are many shoes available in wider widths today; it may take some searching and browsing, but you will soon find that the options in wide width sizes are quite vast.
Your shoe width options range from narrow to medium, to wide and extra wide widths.
More About Shoes for Wide Feet
Choosing the best walking shoes for wide feet is crucial if you have problems with your feet which can be caused by wearing narrow shoes when you should not be. If you are someone who wears narrow shoes that are too tight for your feet, then you are putting yourself at an unnecessary risk for health issues with your feet that could create quite a problem in the future, mainly toe deformities.
Foot Conditions Caused by Wearing Shoes that are Too Narrow
Corns
Corns are a type of foot callus which develops from tight shoes. This happens when tight shoes are constantly putting pressure on the skin and are found between the toes more often than not when the toe rub together from shoes being too tight on foot.
Bunions
Bunions are an enlargement of the tissue or the bone around the joints for the base of your big toes. Once a bunion has begun to grow over time, it will turn the big-toe inwards to the second toe. It causes pain and swelling and is a result of wearing shoes which are too tight for your feet. They also come from genetic factors and can increase your risk of developing them, but typically occur due to wearing tight shoes. So if you are suffering from bunions check out these best walking shoes for bunions.
Hammer Toe
Hammer Toe occurs when a toe begins to curl instead of laying flat because the middle joint of that toe begins to bend upwards from rubbing against the surface of the shoe. This will cause pain and the muscles which are attached to weaken if the foot should stay in this position abnormally. Corn may also develop on the top of the bending toe, which adds to the pain and discomfort.
Ingrown Toenail
An ingrown will occur when the big toenail is cut too short near the top and will be aggravated further by putting your foot in a shoe which is too small. This causes the nail to become pressured against your second toe and results at a pressure that is abnormal for the nail and will bring pain and inflammation to the nail and the toe itself.
Crossover Toe
Crossover toe occurs when all of the toes have been cramped into the toe area of the shoe which is too small. The constant pressure will cause the third or second toe to cross over the next one.

Wearing shoes that are too narrow when you have a wide foot can cause many issues as well as painful foot conditions and deformities that may become serious and permanent with time. Take care of your feet making sure always to wear footwear that fits comfortably and that is the correct size in length and width. Shoes that are flexible, and made from soft, breathable materials with a wider toe box are also an excellent choice for a wide foot. If you are someone who enjoys walking it is also important to opt for a shoe that provides cushioned support and good shock absorption. the type of stability, motion control, and support that your walking shoe should provide will depend largely on your foot type and pronation type, whether you are an over, under or neutral pronator. A shoe providing adequate support and comfort in a good fit for your required width should provide you with the best comfort and performance.