Seniors may not be able to tie their shoelaces as fast and easily as they used to when they were young.
Seniors with conditions such as Parkinson's, arthritis, and even Dementia and other cognitive conditions can find it extremely difficult to perform such as simple tasks as tying shoe laces.
On the other hand, loose laces can be a dangerous tripping hazard for a senior person, so why take the risk.
So why not opt for the best Velcro shoes for seniors.
Velcro shoes offer an adjustable and easy-to-manage closure system compared to shoe laces.
Velcro shoes come in many designs and styles and are ideal for seniors.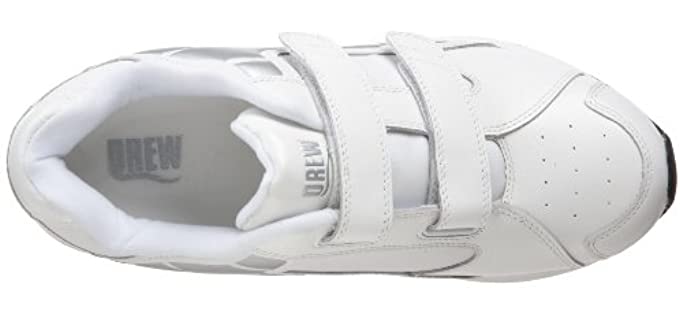 ---
Reasons to Get Velcro Closure Shoes for Seniors
Velcro shoes for seniors have a strap closure with Velcro as the attaching mechanism.
Instead of laces and lace holes, there may be a hook and loop design or solid strips with a Velcro closure style.
Velcro shoes are also adjustable such as laces for a looser or tighter fit.
Here are a few reasons why seniors may need Velcro closure shoes;

Laces can be a Tripping Hazard – Safety First. Loose laces can be a tripping hazard. For a young person, a trip and fall may not be so dangerous or much to worry about, yet for a more fragile elderly person, it can cause a serious injury or even be fatal. Loose laces are a great tripping hazard that can easily be avoided with a Velcro closure shoe.
Difficulty Tying Laces – For some seniors it may be difficult to tie laces. Their hands may be weakened, or there may be a physical medical condition such as arthritis and Parkinson's disease that can make tying laces tricky and even painful. Seniors with cognitive and memory disabilities such as Alzheimer's and Dementia may not remember or be able to tie laces.
Difficulty Reaching – For seniors who find it painful or difficult to reach down and toe their shoes, a Velcro closure is much faster and easier without you having to strain your back completely.
---
Choosing the Best Velcro Shoes for Seniors
When choosing Velcro shoes for seniors, it is always vital to ensure that they offer the correct fit and that there are no pressure points inside the shoes that can cause punctures, chafing, and other issues.
Look for shoes with extra depth and a roomy toe box design, especially for seniors with foot conditions, such as Bunions and Hammertoes.
Always look for comfort features such as cushioning in the insole and midsole, as well as stability features such as a more rigid sole and secure fit.
The Velcro closures come in regular or hook and loop styles and offer you adjustability in the fit.
Make sure you choose shoes that offer a comfortable and supportive fit but are of good quality and durable design.
---
Features of a Good Velcro Shoe for Seniors
Uppers – The uppers of Velcro shoes for seniors may be leather or textile. You get genuine and PU leather models and mesh, canvas and knit uppers that are more breathable and flexible. Make sure that the shoes have a moisture-wicking lining.
Comfort and Support – Most seniors need stability from their shoes, so be on the lookout for a more rigid sole, firmer midsole, and contoured or more supportive footbed. Plenty of cushioning is needed to absorb impact and a snug padded collar.
Outsole – Always opt for a durable rubber outsole with a more lug tread for optimal traction and grip to avoid slips.
Options – Most Velcro closure shoes for seniors do come in more color options, as well as wider width fits.
---
Reviews: The Best Velcro Shoes for Seniors
In our review section, we have researched and listed some of the best available Velcro Closure shoes that are ideal for seniors;
---
1
Walking Shoes for Seniors
We start with the Propet LifeWalker Velcro design shoes.
They have genuine leather uppers with two hooks and loop Velcro straps.
The shoes are available in neutral colors only, as well as wider widths.
They have a sole rocker profile with a rubber outsole.
They are Medicare/HCPCS code A5500 diabetic shoes.
The tongue and collar are padded for comfort, and there is a removable cushioned insole, allowing you to use your orthotics.
---
2
The Walking sneakers from Vionic are the perfect Velcro walking shoes,
They have leather and suede uppers with Velcro closures.
There are wider widths and a few more color options available.
The shoes have a comfortable cushioned, podiatrist design footbed and offer good stability.
There is Vio Motion support, with arch support and three cushioning zones.
They have a durable and high traction rubber outsole.
---
3
Velcro Sandals for Seniors
The Fisherman's style sandals from Dr. Comfort are diabetic sandals for seniors with a more closed design.
They are ideal for summer months with a breathable open design.
The sandals have a protective closed-toe box and a very roomy toe fit.
They have layered cushioning for comfort and a durable rubber outsole.
There are Velcro side closures for an adjustable fit.
---
4
Here we have a model from new Balance that offer a Velcro closure.
They have leather uppers with two Velcro straps.
There is ABZORB cushioning and additional heel cushioning.
They are Medicare / HCPCS code = A5500, shoes, and may be eligible for Medicare reimbursement.
There is a stable Polyurethane midsole and durable rubber outsole.
---
5
The New Balance 928V3 is a hook and loop Velcro closure shoe.
They have leather uppers and a hook and loop closure,
There is a removable polyurethane footbed for comfort and cushioning.
The outsole is durable and slip-resistant rubber.
---
6
Velcro Slide Sandals for Seniors
A comfortable slide sandal with Velcro closure for seniors.
The Kiwi slide has a solid Velcro closure uppers strap in smooth nubuck leather, with a padded textile lining.
The footbed has an anatomical shape and plenty of cushioning for comfort.
There is a slip-resistant outsole.
More colors are available to you.
---
7
Velcro Slippers for Seniors
Here we have some plush and comfortable slippers for seniors.
They have plush and soft fabric uppers with a single Velcro closure.
There is a comfortable interior lining and a memory foam-cushioned footbed.
The outsole is a slip-resistant rubber.
The slippers are available in a few more color options.
---
Index Table: Top Rated Velcro Shoes for Seniors
---
---