Walking or standing on a hard concrete floor may be integral to your daily routine or your job.
Many occupations, including teachers, lawyers, factory workers, nurses, and so many more, are occupations where you stand on hard concrete or similar floors all day.
Walking on hard concrete floors daily can cause significant foot pain and joint pain throughout your body and can, in turn, cause fatigue.
However, you can do a few things to alleviate pain and reduce injuries caused by walking on hard concrete. One of these options is to wear proper supportive and well-cushioned footwear, such as Skechers shoes, for standing on concrete all day.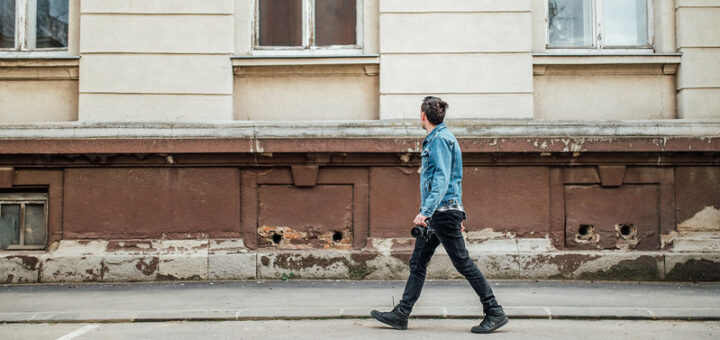 ---
---
How Walking on Concrete Affects You
When you live or work in an area where you need to stand or walk on concrete daily, you may suffer from joint and back pain, foot pain, heel pain, and even knee pain.
Your feet may ache and become tired, especially from regularly walking on concrete floors without proper footwear.
Your body has shock absorbers built into your feet and joints to absorb the impact when you walk or stand on hard concrete floors or uneven surfaces. However, these shock absorbers can become worn down even faster with time without proper footwear.
Unlike most other surfaces, concrete is completely unforgiving; standing or walking on concrete daily may lead to back aches, knee pain, swollen legs and feet, and other issues, leading to injuries and more chronic pain.
The rigidity of a concrete floor likewise increases pressure on your spine when you walk or stand, which could cause poor posture.
As you can see, there are many issues with walking on concrete, and there are also some solutions to reduce these concerns.
---
Preventative Measures for Walking on Concrete
One of the most important aspects to follow when you walk or stand on concrete floors daily is to use the right footwear. Good quality footwear cushions your feet supports your arch, and has a proper fit to alleviate pressure on your feet and joints and eliminate foot fatigue.
There are likewise a few other things you can do for standing on concrete;

Use Orthotics – You can invest in over-the-counter or prescription orthotic inserts or insoles to place inside your shoes. This insole will provide arch support for your arch type and neutral support or stability as needed. They will cushion your feet and have a moisture-wicking lining to absorb moisture and reduce odors.
Quality Socks – besides good shoes, you also need good quality socks to minimize friction on your feet that could cause chafing and blisters and absorb moisture and wick it away to keep your feet cool and dry. Socks need to be the right size, without any hard seams that could irritate your feet. Cotton and bamboo are good moisture-absorbent and wicking fabrics that you can use.
Stretching – When standing or walking on concrete daily, stretching your feet a bit now and again is a good idea. Do some simple arch stretches and ankle stretches to help reduce stiffness.
---
Features of a Good Skechers Shoe for Walking on Concrete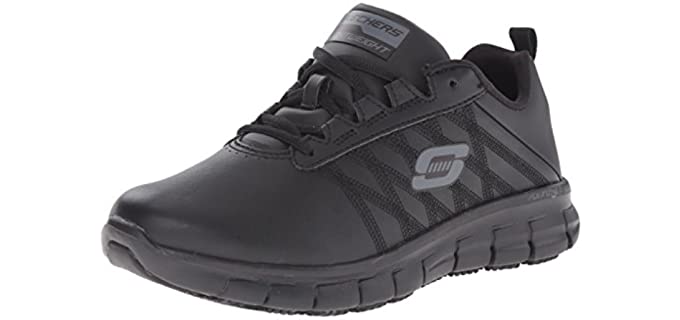 Uppers – Skechers shoes offer roomy-fitting shoes with a comfortable toe box and secure fit. The uppers can be leather, mesh, or synthetic that is breathable and lined to wick away moisture.
Support – Most Skechers shoes have an arch-fit design to support your arches or a more contoured insole that provides good arch support. Skechers shoes have options in stability or more neutral features, depending on your needs.
Cushioning – Skechers shoes are well cushioned, and they use various cushioning foams such as Goga Mat, Goga Max, and Air-cooled memory foam that is comfortable and absorbs shock.
Outsole – Most Skechers shoes have a durable rubber outsole providing good shock absorbency and traction on hard concrete floors.
---
Reviews: The Best Skechers Shoes for Walking on Concrete
In our review section, we feature some of the best available Skechers shoe models that are ideal for walking on concrete;
---
1
Work Shoe for Walking on Concrete
I have chosen these two work shoe models for working on concrete.
They are durable with a slip-resistant high traction rubber outsole and leather or suede and mesh uppers.
The shoes are lined and comfortable with a memory foam insole and shock-absorbing midsole.
They are also available in neutral colors for work.
---
2
Arch Fit Shoes for Walking on Concrete
The arch fit range from Skechers provides optimal support and cushioning for standing or walking on concrete all day.
They are breathable and lightweight shoes with soft mesh uppers.
They are both lined for moisture-wicking purposes.
The shoes are well cushioned and have an arch-fit insole with anatomical support.
---
3
Shoes for Walking on Concrete
Here, we have two more casual shoe models from Skechers for walking on concrete.
They have plush cushioning and a firmer midsole to absorb shock.
The shoes have a flexible sole, allowing for more comfortable movement.
The uppers are lightweight and breathable.
---
4
Shoe for Walking on Concrete
The Max Cushioning range from Skechers offers ample cushioning and support for walking on hard concrete.
They are lightweight with breathable uppers and a moisture-wicking lining.
There are stretch uppers and a durable rubber outsole.
Inside is an Air-Cooled Goga Mat insole and an Ultra Go Platform midsole for shock absorbency.
---
5
Shoe for Walking on Concrete
The GoWalk shoes from Skechers are specially designed for walking on roads and hard concrete.
They have a durable rubber outsole and lightweight mesh uppers for breathability.
There is a cushioned insole for comfort and a foam midsole for shock absorbency.
The shoes have a supportive footbed for arch support and a classic fit.
---
6
Shoe for Walking on Concrete
The Uno Stand on Air sneakers makes you feel like you are walking on Air, even concrete.
They are very lightweight, with soft cushioning to absorb shock and provide comfort.
The shoes have memory foam cushioning and a soft fabric lining.
They are a jogger sneaker style with a padded collar and comfortable insole.
---
Index Table: Top Rated Skechers Shoes for Walking on Concrete
---
---