As we get older, certain tasks in life become seemingly more difficult, even the smallest things, such as tying a shoelace.
Having a pair of comfortable, easy slip-on shoes for seniors makes life much easier to slip your shoe on and off as needed, and they do come in some lovely styles.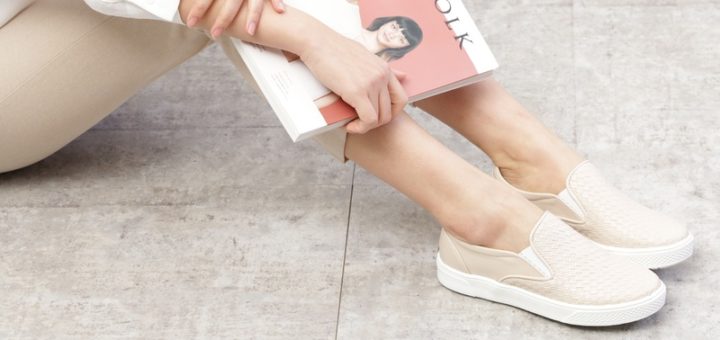 ---
Why Choose Slip-on Shoes for Seniors
I personally think slip-on shoes for seniors are an excellent idea, and here are a few reasons why;

Easy to Reach – many seniors may not even be able to reach their feet, or it may be difficult and painful for them. Sitting down or even standing and slipping your feet into your shoes can be much easier.
No Difficulty Tying Laces – Laces for some seniors may be difficult to tie, especially when they have conditions such as arthritis, Parkinson's, or just generally weak hands.
Many Styles and Designs – Slip-on shoes do come in many styles. You get slip-on sandals, sneakers, casual shoes, dress shoes, and even some comfortable slippers. Thus you are not all that limited with a slip-on shoe style, even for men.
Great for Summer – Many slip-on shoes have either engineered mesh or soft canvas uppers making them extremely breathable and comfortable for summer. They are usually much more lightweight and easy to wear, making them the perfect hot weather shoes that come with a comfortable insole and slip-resistant outsole.
---
Choosing Easy Slip-On Shoe Models for Seniors
Make sure that the slip-on shoes for seniors that you choose are actually easy to slip on and off without them having to reach down and pull them on and off.
They should likewise offer a fit that will not slip off your feet.
Consider comfort features such as cushioning and a smooth lining, along with a durable slip-resistant outsole.
Slip-on shoe models are available in a variety of styles, materials, and models that you can choose from and even colors so that you can have a pair for every occasion.
All in all, just make sure that they are comfortable for you to wear personally.
In the feature section, we will look at some more features for the best slip-on shoes for seniors.
---
Features of a Good Slip-on Shoe for Seniors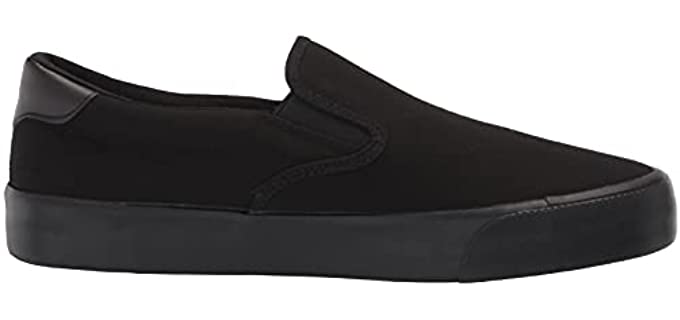 Uppers – The Uppers of a slip-on shoe can be either leather or suede, they can be textile, canvas or mesh.
Comfort Features – For comfort and support you can look at a cushioned insole, moisture wicking lining and supportive footbed or midsole.
Outsole – Opt for a durable rubber outsole that offer good traction.
Options – Look for shoe that offer some color options, as well as wider widths and extended size if needed.
---
Reviews: The Best Slip-on Shoes for Seniors
In our list below we have some of the most comfortable and stylish slip-on shoe models just for seniors;
---
1
Slip-on Shoes for Seniors
There is no comparison to the Skechers Slip-on Go Walk 5 shoes that are the best for seniors.
They have flexible and breathable mesh uppers and are available in many colors and wider widths.
The slip-on shoes have Ultra Go Midsole cushioning and a comfortable Air Cooled Goga Mat Insole.
The rubber outsole features Comfort Pillow technology for stability and to absorb shock.
The engineered mesh uppers are ideal to fit with a roomy toe box.
The rubber outsole is durable and slip-resistant.
---
2
Slip-on Dress Shoes for Seniors
Here I have included two dress shoe styles from Clarks for slip-on dress shoes for seniors.
Both feature genuine leather uppers and have an easy slip-on and off style.
They have a lower sole and heel for support and comfort,
There is an Ortholite insole and smooth textile lining for comfort and support.
The outsole is durable and offers good traction.
You can likewise choose from a few more neutral color options in these models.
---
3
Flat Feet Slip-on Shoe for Seniors
From Vionic, a top shoe brand, we also have two casual slip-on shoe models for seniors.
They have leather and nubuck uppers for the men's model and mesh uppers for the ladies' model, with a roomy and comfortable fit.
Both are available in more colors, widths, and sizes.
The Women's fitness model has a removable mesh-covered EVA footbed and durable rubber outsole.
The men's model features a Vio Motion supper three-zone cushioned comfort system for cushioning and support.
---
4
Slip-on Clogs for Seniors
Crocs technically are also easy slip-on and off shoes that come in many styles and designs.
We have chosen the fur-lined model for seniors, though you can choose from a few without.
They are fun, offer a wide and roomy fit, and breathe well.
The footbed s a plush crosslite foam with a contoured design for support and cushioning.
More color options and sizes are available to you.
---
5
Senior's Slip-on Slipper Shoe
From Orthofeet, I have chosen the open-back slip-on slippers as a model for seniors.
They are Orthopedic slippers that can be used as a casual home wear shoes.
The slippers have a comfortable lining and adjustable textile uppers for a customizable fit.
In the footbed, there is removable layered cushioning with arch support.
The shoes offer extra width and depth to accommodate for foot conditions.
---
6
Slip-on Shoes for Seniors
The Lugz clippers sneakers are very basic sneakers ideal for more fashionable seniors.
They have soft canvas uppers that are breathable and come in many colors.
There is a well-cushioned insole for comfort and a durable high,h grip Vulcanized rubber outsole.
They have a classic slip-on style, with a breathable lining and a padded collar for your comfort.
There are likewise a few more colors available.
---
7
Here we have two more slip-on slipper designs with a warm genuine wool lining.
They are an easy slip-on and off style with genuine sheep leather uppers and a wool lining.
The slippers come in a few neutral color options and wider widths.
They have water-resistant uppers and a durable rubber outsole, making them ideal for use at the beach or pool and in wet conditions.
There is a comfortable cushioned insole inside that will provide good shock absorbency.
These are the ideal slip-on shoes for seniors, for a summer vacation, or weekend away.
---
Index Table: Top Rated Slip-on Shoes for Seniors
---
---