The best shoes for walking in sand dunes need to provide good traction and support while also being comfortable and able to withstand the harsh conditions of the desert.
Some options to consider include the following:
Hiking boots with a sturdy sole and good tread: These shoes will help you keep your footing on the shifting sand and prevent you from slipping or falling.
Wide outsole shoes: These shoes can be effective in sand dunes, stopping you from sinking into the sand and providing good traction.
Trail running shoes: These shoes are lightweight and designed for running on uneven terrain, making them a good choice for sand dunes.
It is important to choose shoes that fit well and are appropriate for the conditions you'll be facing in sand dunes; you need shoes that can withstand heat and sand, as well as any rough or rocky terrain you might encounter.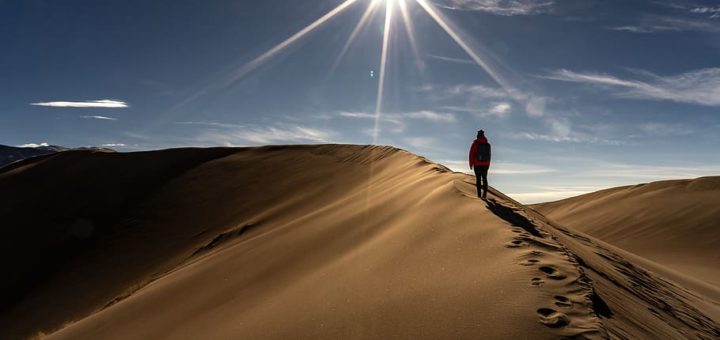 ---
---
Sand Dune Types to Consider
Overall, sand is squishy and loose and gets everywhere, not to mention wet sand.
So let us first consider the two types of dunes that you may be facing;
Beach Dunes – Beach Dunes through Very similar to Desert dunes tend to be less dry and the air around it more moist and humid, you may also be faced with some wet conditions it may not get quite as hot.
Desert Sand Dunes – The Desert, However, is hot and dry, with winds and dry, coarse sand everywhere, and hardly any moist air or wetness around. Desert Dunes may also have a looser consistency than Beach Dunes and be more unforgiving to walk on.
---
What to Look for In Walking Shoes for Sand Dunes
For walking on Beach Dunes, I would recommend an Aqua Shoe or even a Flip Flop sandal; however, I would highly recommend a lightweight Boot for walking on desert Dunes.
You want something that offers some grip, such as a flexible rubber sole and LIGHTWEIGHT. If anything, Lightweight is the way to go as it is already very tiring and challenging to walk on dunes.
An Open or closed design shoe is acceptable for Beach Dunes, Whereas a more protective waterproof or sealed boot is recommended for Desert Dunes as the sand here is a bit harsher and hot against the skin.
Fit – You will need a good and comfortable fit that does not cause friction or squeezes the feet.
Cushioning – Very little cushioning is required for walking on soft sand dunes alone, and I would recommend a more minimalistic approach here. However, if you walk on hard desert surfaces and climb over logs and stones, you may need to consider some cushioning.
Sand resistant – A liner or gusset in the shoe helps keep sand out. Waterproofing materials are also great for keeping sand and wetness out on Beach Dunes. The Gore-Tex lining is the most desirable as it is also highly breathable.
Ankle Support and Stability – Because of the uneven nature and good stability and ankle support features are required to prevent tension and injuries.
---
Features of a Good Shoe for Walking on Sand Dunes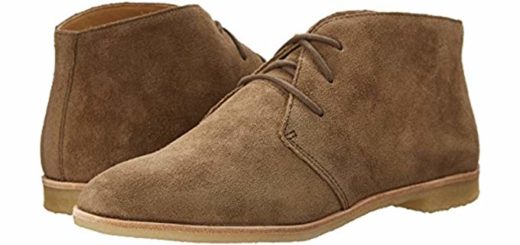 Outsole – A flexible and lightweight outsole from rubber or crepe with a lug or patterned tread for grip.
Uppers – Lightweight and breathable uppers. Gore-tex or water-resistant uppers. Durable materials and construction.
Fit – Lightweight and comfortable snug fit.
Comfort – Smooth interior linings and slightly cushioned insole for comfort.
---
Reviews: The Best Shoes for Walking on Sand Dunes
Here are the best shoe choices when you want to walk easily without slipping on Sand Dunes;
We hope you love the shoes we recommend!
So that you know, We may collect a share of sales or other compensation from the links on this page.
---

1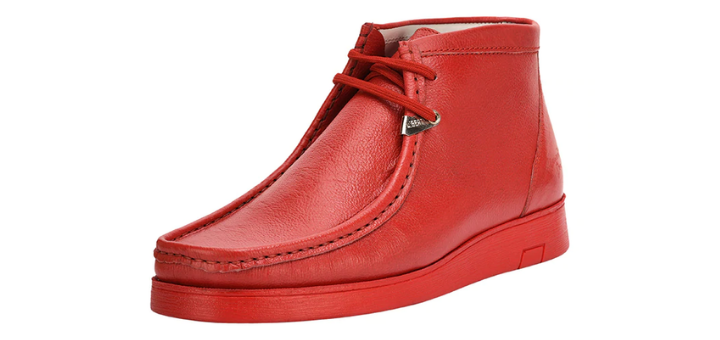 LIBERTYZENO Rush Leather Chukka Boot is made up of high-quality genuine leather with a safety assurance rubber sole.

Crafted in premium upper leather with lining provides long-lasting durability.
Premium rubber sole for safety assurance.
Moccasin toe, lace-up style, and high-top chukka design for an effortless sand walk.
Flat sole design to comfortably walk on sand.
---
2
Shoes for Walking on Sand Dunes
The Clarks Desert Boot is an ankle boot that is lightweight and comfortable enough for easy walking on sand dunes.
Soft and supple suede leather uppers with lace-up features.
A short ankle boot design available in a few neutral color options.
A durable and lightweight crepe sole.
The ideal lightweight and cooling boot for walking on sand dunes.
---
3
Waterproof Walking on Sand Dunes Shoe
The UGG Neumal is a durable and comfortable ankle design boot that is perfect for keeping your feet safe and cool when walking on sand dunes.
Soft and comfortable leather uppers are available in three neutral color selections.
The leather uppers are seam-sealed and completely waterproof, and sand resistant.
Inside is a UGG Pure wool lining to regulate temperatures.
A Treadlight UGG outsole for cushioning comfort and high traction.
---
4
Shoe for Walking on Sand Dunes
An Auqa sock is likewise a lightweight and easy option for walking on sand dunes, particularly in wet conditions.
Available in plenty of fun and colorful prints and color options to choose from as preferred.
Ideal for wear on the beach, in water, and on sand and dunes.
Very lightweight and quick-drying materials with durable and slip-resistant rubber outsole.
Non-Slip and easily permeable design.
---
5
Shoe for Walking on Sand Dunes
The Low Tibet is heavy duty and durable boot for walking on sand dunes and harsh outdoor environments.
A thick and slip-resistant rubber outsole with a trail-specific tread.
Lined with Gore-tex, the most breathable, durable waterproof lining you will find.
Leather upper and secure lace-up system.
Inside is a removable textile-lined padded insole with a slow-reacting foam layer for added comfort.
There are a full-length Nylon stabilizer and PU layer for underfoot control and [rotection.
The Vibram Masai outsole is durable and self-cleaning with deep lugs.
---
6
Walking on Sand Dunes Aqua Shoe
Another superb addition from WateLves is their lightweight and breathable aqua sock in khaki green, perfect for walking on loose sand dunes and even in a wet area.
Extremely lightweight and flexible with a water-resistant and sand-resistant quick drying upper.
A flexible rubber sole that offers exceptional grip, especially on loose sand.
Ideal for wet and dry terrains and is very breathable and cooling.
Also compressible for easy packing and portability.
---
7
Shoe for Walking on Sand Dunes
The Clarks Bushacre and Phenia are elegant and comfortable Ankle boots designed for deserts and perfect for walking on sand dunes.
Soft and lightweight leather upper that molds to the shape of your feet.
A thin and flexible outsole made from a lightweight crepe for a more barefoot experience.
It protects you against hot sand and elements and keeps your feet cool and comfortable.
Available in a few neutral colors that you can choose from.
---
8
Lightweight Slip On Walking Shoes for Sand Dunes
The Merrell Jungle Moc Slip-On is a Waterproof and breathable shoe perfect for Walking on Sand Dunes.
The Jungle Moc has leather uppers with an M Select Dry Breathable waterproof lining.
Inside are an EVA Compression-Molded Footframe and comfortable insole.
There is also an Aegis-treated lining to prevent odors and bacteria.
The Jungle Moc further features a durable and highly slip-resistant rubber outsole and a very lightweight fit.
---
9
Outdoor and Sand Dune Walking Shoes
The Under Armour Charged Bandit is a Trail Walking Athletic design shoe perfect for Sand Dunbe Walking.
The uppers are breathable and synthetic, offering a lightweight fit.
A Gore-Tex waterproof interior lining will also prevent sand from entering the shoe while remaining breathable.
A TPU film and a Molded Collar provide support and a comfortable fit.
There is also an EVA cushioned comfort footbed and a durable rubber outsole.
---
10
Walking on Sand Dune Shoes
The Adidas Terrex is a light and slip-resistant shoe ideal for Walking on Sand Dunes.
The Upper provides lightweight protection and breathability with synthetic and mesh materials.
The rubber outsole and protective toe cap are durable and hard-wearing.
There is an EVA Midsole and a molded sock liner for comfort.
Continental rubber is used for the outsole.
---
Index Table: Top Rated Shoes for Walking on Sand Dunes
---
---