As we all know, Charcot's foot is a foot condition caused mainly by diabetes. However, diabetes can also cause many other foot conditions and symptoms in their patients.
Orthotic footwear, particularly designed for individuals with Diabetes, is usually your best shoe option for Charcot's foot, especially if it is very severe.
The best shoes for Charcot's foot will help with the symptoms of this condition and protect your feet.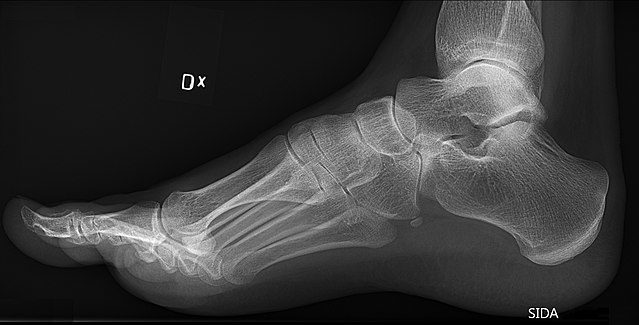 ---
What to Look for in a Good Shoe for Charcot Foot
The best shoe for Charcot's foot should preferably accommodate, stabilize, and support the shape disfigurement that this condition can and other foot deformities such as Hammertoes and bunions, which may also arise.
In turn, you want to limit the foot's motion for pain relief and reduce inflammation as well as reduce shock and pressure on the foot, particularly in high-pressure areas. Ulcers and sores can develop from friction, which is another issue that should be addressed when choosing footwear for Charcot's foot.
When it comes to Charcot foot or individuals with Diabetes, a good orthopedic brand shoe is highly recommended, and you should ideally look for these features;
Extra Depth – The Extra depth allows you to use insoles and foot orthotics and accommodates the foot's deformities to reduce pressure.
Extra Width – A roomy toe box and broader width options are ideal for swollen or wider feet and give more room for comfort and accommodate foot orthotics.
Cushioning and Shock Absorbency – Cushioning such as Gel, Foam, and Memory foam can provide comfort and reduce shock and pressure on the feet. In addition, an EVA midsole and hick rubber outsole can also reduce shock impact on the feet.
Motion Control – To prevent further bone deformity and damage, stability and motion control features are a must in your shoes, so avoid flexible soles and flat insoles and look for something with a more contoured shape and a firmer sole to keep your feet in position.
---
Charcot Foot treatment and Orthotic Device Tips
In early detection, you can prevent deformities in Charcot's foot by taking the weight off the foot, treating the disease in the bones with a supplement or cast, and preventing new fractures.
Taking weight off your feet is most important in reducing the pressure and preventing bone deformities; using a cast also keeps the feet from excessive movement. In turn, wearing shoes that ensure excellent stability and provide pressure relief can reduce the symptoms.
---
Features of a Good Shoe for Charcot Foot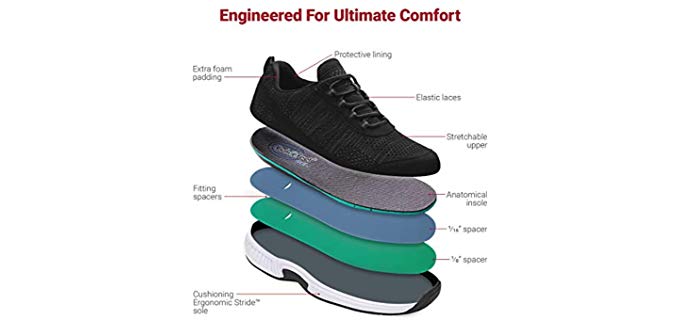 Roomy Toe Box – Extra depth and roomy toe box.
removable Footbed – Removable footbed or insole so you can use your own orthotic devices.
Uppers – Comfortable and seam-free non-binding upper constructed from leather, mesh, or synthetic materials.
Outsole – A durable and thick rubber outsole with a shock-absorbing midsole from foam or EVA.
Insole – Cushioned insole and good arch support.
---
Reviews: The Best Shoes for Charcot Foot
Here are some great choices in footwear to reduce and treat the symptoms of Charcot's disease in your feet;
---
1
Charcot Foot Walking Shoe
The Vionic Walker is a comfortable and supportive walking sneaker that accommodates Charcot Foot conditions, enhances walking, and reduces discomfort.
Genuine leather uppers construction from premium full-grain leather uppers that are also water-resistant.
The ideal outdoor walking shoe.
Ther is an action fast lace-up lacing system for a secure fit.
Inside is breathable moisture-wicking cool mesh linings with PU foam for comfort. At the base.
A Biomechanical and removable orthotic footbed with antimicrobial treatment keeps your feet fresh and supported.
There is also a Motion Control feature in the footbed, which is ideal for Charcot's foot, along with excellent arch support.
---
2
I have Chosen the Orthofeet Springfield and Lincoln as a more formal design shoe, which will make for the ideal work shoes in almost any environment if you have Charcot's foot.
The ladies' model is a slightly flat mary Jane style available in a black or Navy blue option, while the gent's shoe has a slip-on design with a cross strap and is available in brown or black.
Flexible and breathable uppers with an extra depth toe box and availability in wider width options.
There is an ergonomically designed sole with Air cushioning, orthopedic support, and anatomical arch support in multiple layers.
Ideal for sensitive feet and various foot conditions, including Charcot's foot.
A durable rubber outsole that offers good grip and traction.
---
3
Charcot Foot Professional and Dress Shoe
The Apis Mt Emey is an orthopedic design shoe, and I have chosen a model for ladies and gents ideal for wearing a dress shoe.
Durable and comfortable leather uppers with a roomy toe design.
It offers a flexible fit with removable cushioned inserts allowing you to use your own orthotics.
The linings inside are entirely seamless for less friction and irritation.
Extra-depth design is available in wider widths options as weAns an elongated medial and lateral counter for better support and stabilizes it required when you have Charcot's foot.
The outsole is made from durable and thick rubber.
---
4
The TravelActiv and TravelFit are two ideal sneakers from Propet for Charcot's foot.
100% breathable, flexible, and lightweight mesh uppers.
The sole is flexible, and there is a high traction rubber outsole.
The lace-up design is available in many color variations to choose from as needed.
Available in wider width options and extended sizes.
A Medicare Code A5500 footwear design.
There is also a comfortable cushioned and removable footbed that allows you to use your own orthotic devices.
---
5
The warren and Workaround are adjustable and highly comfortable casual sandals, perfect for those who have Charcot foot or other medical conditions affecting their feet.
The Uppers consist of durable leather and are lined with a padded and breathable mesh.
The heel's upper straps are also adjustable for the most comfortable fit at the toe and back of the heel.
There is a lightweight EVA midsole in the wedge sole, and a durable and high grip patterned rubber outsole for outdoor excursions and slip resistance.
There are point hook and loop adjustability options.
The removable footbed offers plush and generous cushioning and ample metatarsal support.
They are designed with double added depth and a wider, roomy toe area.
Also available in wider width options and a few color selections.
---
6
Two more stunning models in comfortable flip-flop sandals from Vionic will support your feet and provide ample comfort.
Synthetic leather uppers are available in many colors and prints to choose from as you wish.
A durable and high grip rubber outsole.
Thong-style sandals for easy on and off.
The footbed is Podiatrist designed and biomechanical with a deeper heel cup for better support and stability.
The midsole is flexible and absorbs shock on impact to reduce pressure on your feet, knees, and ankles.
---
7
Charcot Foot Walking Sneaker
The Coral and lava from Orthofeet are two fashionable sneakers that you can use for walking or just everyday casual wear to support your Charcot's foot and provide relief from any discomfort.
Soft and pliable uppers from mesh and synthetic materials are highly breathable and lightweight.
There is a Seam Free fabric interior lining and extra foam padding for comfort and less friction.
The toe box is an extra depth and broader for more toe room.
A removable orthotic insole with lightweight Air Cushioning, ergonomic and biomechanical design.
It offers excellent anatomical arch support, and there are multiple cushioning layers in the footbed.
It is available in a few color options and extended width and large size options.
---
8
Charcot's Foot Walking and Casual Shoe
The Skechers Afterburn and Skechers D'Lites are similar shoe models that offer a wide and roomy fit with memory foam's plush comfort.
The uppers are mesh and synthetic leather, available in a smooth or suede finish and many color options.
There are an Air-Cooled memory foam footbed and a supportive foam midsole for cushioning and shock absorbency.
The sole is a platform design with a durable rubber outsole.
The shoe is lightweight with a roomy toe box and wider width options.
---
9
Charcot's Foot Dress Sandals
The Alana and Barcelona from Drew are a comfortable option in a sandal for Charcot's foot.
You can choose from a Black or Brown Color Option in Barcelona and more color selections in the Alana for ladies.
The Upper is leather with adjustable straps, and the forefoot has a roomy and wide fit.
Inside are a moisture-wicking suede lining and comfortable footbed.
The EVA sole provides cushioned comfort and shock absorbency.
You can also use your own orthotics with both sandal models.
---
10
Capsulitis Running and Walking Shoes
The Adidas Cloudfoam Ultimate and Cloudfoam Pure are cushioned and comfortable walking and running shoes, which will offer support and comfort for Charcot's foot.
ZThe Cloudfoam will feel like you are walking and running on Airsoft clouds.
The Upper is synthetic and meshes for excellent support and breathability with a Hypoknit design.
The Design is Data-Driven to conform to your foot and movements.
There is a Fresh Foam Midsole and cushioned insole for comfort and shock absorbency.
Wider width options are also available in both models.
---
Index Table: Top Rated Charcot Foot Shoes
---
---