Work Boots form an essential part of your daily work equipment and wear.
Work Boots are there for your protection but should also be comfortable enough for regular wear.
In this article, we will look specifically at work boots for walking, that is comfortable enough for persons who walk quite a bit during their day at work.

---
How Walking All Day Affects You
Walking at work daily affects you because of the surface you walk on. Surfaces may be loose and slippery such as outdoor surfaces or hard concrete industrial floors that take their toll on your feet and joints.
None the less walking takes a toll on its own on your body and feet, and that is why you need the right work shoes.
Slip Resistance – On solid and concrete floors, and even more so on uneven outdoor terrains, you are always at risk of slips and trips on loose ground, wet floors, and many other aspects. Thus, good high traction rubber soles with a lug gripping tread are ideal for work boots designed for walking.
Foot Pain – Plantar Fasciitis or heel pain can be caused by excessive walking, especially on hard floor surfaces. The Plantar Fascia tissues connecting your arch to the heel may become overstretched and inflamed from constant walking and impact, thus leading to heel pain. This can, however, be helped by using well-cushioned work boots.
Knee Pain – Constant walking has excessive pressure placed on your knees, which in turn can make them feel tight, stuck, or cause pain. Knee pain, in turn, can also add to pressure on your back, leading to back pain.
Back Pain – Walking and standing, especially on hard concrete floors at work all day, is a sure recipe for back pain at the end of the day. Your back muscles constantly need to work and take the strain when you walk on hard floors, and thus your vertebrae may start bulging out from their normal position because of the pressure on them. This, in turn, can lead to lower back pain and other back issues.
---
How Good Work Boots can Help You
Good work boots for walking all day have many benefits to help with all the issues related to daily walking.
Mainly walking all day places much pressure on your feet that can be prevented and absorbed by wearing supportive and well-cushioned work boots or shoes to absorb the impact and spread your weight evenly over the insole or support of the work boots or shoes.
On the other hand, besides the comfort and support features, work boots also protect against the work hazards and dangers that are present in your work environments, such as heavy falling objects, electrical shock, slips and trips, and even puncture injuries.
The right work boots for walking will provide the right comfort and support features and durability for daily walking. On the other hand, they will also protect your feet from work hazards and provide good grip and traction on the floor surfaces that you need to walk on regularly.
---
Features of a Good Work Boots for Walking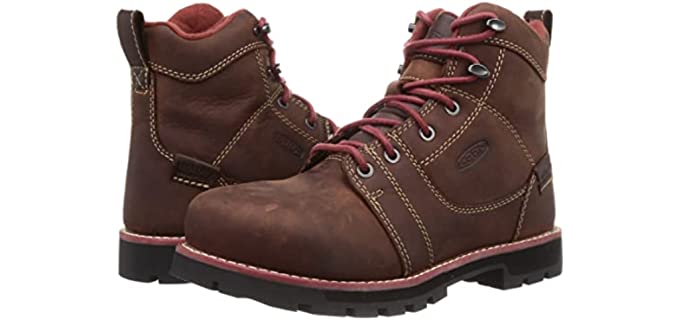 Materials – Most work boots for walking will have leather and textile uppers with a Vibram or regular rubber outsole. Some work boots may also come with a waterproof lining such as Gore-Tex and a moisture-wicking interior lining.
Comfort Features – Comfort features such as a cushioned insole or footbed and a shock-absorbing EVA or foam midsole helps to absorb shock, especially when walking, and reduce pressure on your feet. Other support features such as arch support can help to keep your feet properly aligned and allow for more natural motion.
Protective Features – Most work boots have the basic safety features of a steel or composite safety toe, electrical hazard safe materials, and a slip and oil-resistant rubber outsole that may be ASTM rated.
Durability – Good work boots need to be durable and thus consist of durable and quality materials such as leather, with construction methods such as Goodyear welt and cement construction.
---
Reviews: The Best Work Boots for Walking
Here are some of our top favorite work boots that are ideal for walking;
---
1
The Thorogood American heritage is a steel toe work boot ideal for walking.
It is a leather work boot that has a steel protective safety toe.
A wedge design with a MaxWear slip-resistant and high traction outsole generally flexes much better.
Inside is a removable cushioning and shock-absorbing insole.
The fiberglass shank also provides excellent stability and puncture protection.
---
2
The Skechers Hartan Onkin is a comfortable and well-cushioned work boot for all-day walking.
The work boots have durable genuine leather uppers with breathable insets.
It has a durable and slip-resistant rubber outsole.
Inside is a plush and comfortable memory foam footbed.
Furthermore, there are more colors options from which you can choose in this work boot model.
---
3
The Carhartt Waterproof work boot is also ideal for walking.
The work boot has leather uppers with Storm defender waterproof and breathable protection.
It is an electrical hazard safe work boot with a composite safety toe.
The workboat is cushioned for comfort and has a shock-absorbing midsole.
It also features a very durable and slip-resistant outsole.
---
4
From Irish Setter, we have a comfortable pull-on work boot for walking.
The work boot is available in more colors and has genuine leather uppers,
It has a durable and slip-resistant outsole that also offer exceptional heat resistance,
There is an UltraDRy waterproofing system and electrical hazard-safe materials.
The work boot has a comfortable insole and dry lining inside for your comfort.
---
5
For the Ladies, we have the Rugged flex from Carhartt for walking.
The work boot has leather uppers and a slip-resistant rubber outsole.
There is a lightweight composite safety toe, and the work boot is electrical hazard safe.
It also features comfortable cushioning and a smooth interior lining.
---
6
This is another favorite Carhartt model for the ladies as a work boot for walking.
The work boot has leather and textile lined uppers for comfort.
There is a PU Strobel pad, and a ZPU cushioned insole for comfort.
This is an easy pull-on work boots style.
For safety, there is oil, chemical, and slip-resistant rubber outsole and a safety toe, along with a waterproof membrane.
---
Index Table: Top Rated Work Boots for Walking
---
---