If you are someone with a wider forefoot and very narrow heel, you most likely know how difficult it is to find comfortable footwear that actually fits properly.
Well, in this article, we will look at some of the best available Walking Shoe designs that fit a wider forefoot and narrow heel.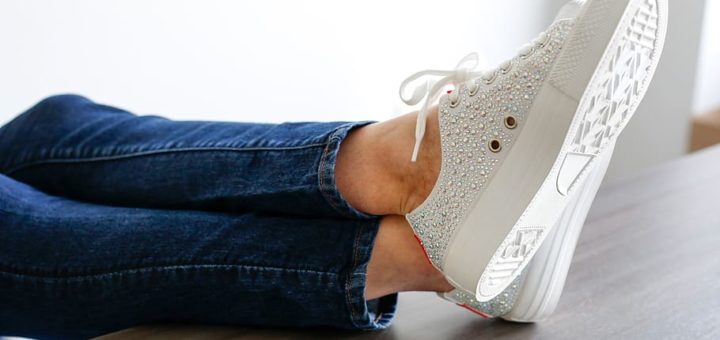 ---
Why You May Need a Wide or Roomy Toe Box Shoe
Most foot shapes and types are genetic, but there are some foot conditions and health conditions that can also affect the shape of your feet;
Genetic Condition – If you are born with a foot with a natural medium to wide width forefoot and narrower heel, it is genetic and the natural foot shape you are born with and have to bear.
Foot Condition – Foot conditions and deformities can cause your feet to be wider in the forefoot, and the heel may stay narrow. Bunions, Hammertoes, and other bone deformities may cause the need for a shoe with a wider toe box that is roomier to accommodate these issues.
Swelling – Your feet may swell because of many conditions and medical issues, or just maybe from the heat in the area where you live. This may likewise increase the need for w wider width shoe while;e your heel may still feel narrow as swelling is more concentrated in the forefoot.
Flat Feet – People who have a low or fallen arch may have a Flat Foot or Feet in which the forefoot may be splayed flat and wider, needing a wider width or roomy toe box shoe, and the heel may remain narrow in shape.
---
How a Narrow Heel Wide Toe Shoe Helps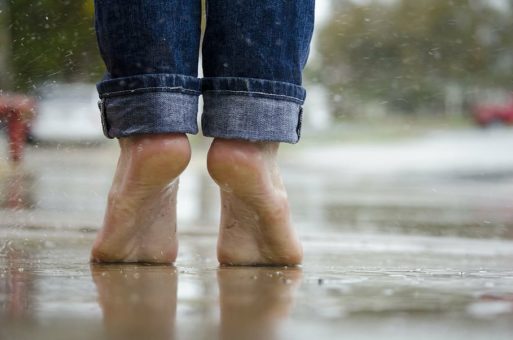 When you need, for any reason, a wider width shoe with a roomier toe box or wider forefoot design and narrow heel, the right shoe can be quite difficult to find. However, some designs, particularly in athletic shoes, offer a snug-fitting or molded heel design that will give you the narrow heel fit you require, along with a roomy toe box and wider width options.
There is also some shoe design with a wider and more roomy toe box and a narrower and snug-fitting heel.
Getting a shoe that fits properly will allow you the room and pressure relief you need for your toes and forefoot and prevent other painful conditions from occurring in the first place. The Narrow heel will also provide a better fit that will not slip of or cause chafing and blisters because it is too loose.
---
Features of a Good Wide Toe Box Narrow Heel Walking Shoes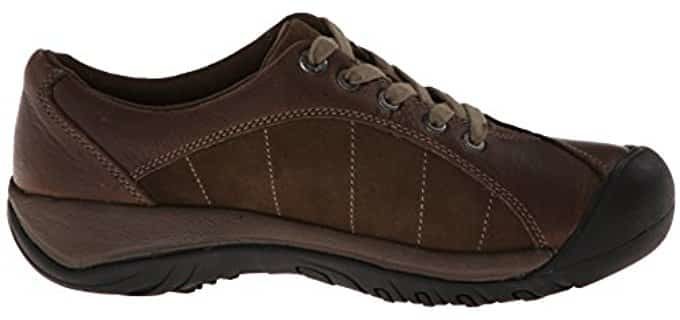 Fit – A roomy and wide toe box and forefoot design and a more narrow fitting heel design are ideal. Also, look for a padded heel collar or 3D Molded Heel design for a better heel fit that will not slip.
Comfort Features – Comfortable and breathable mesh, textile, or leather uppers are ideal, along with a moisture-wicking lining to keep your feet dry. A cushioned insole such as Foam, EVA, or Ortholite provides a comfortable platform for walking.
Support Features – Support features such as an anatomical or metatomical design footbed, TRusstic system, or heel cup helps to prevent excessive pronation and improves form and balance when walking.
Durability – Durable and long-lasting materials are ideal in a walking shoe along with a shock-absorbing durable EVA, SPEVA, or Flytefoam midsole and a durable high traction rubber outsole.
---
Reviews: The Best Wide Toe Box Narrow Heel Walking Shoes
Below we have some of the most comfortable and protective Slipper Designs that are ideal if you have Neuropathy;
---
1
Wide Toe Box Narrow Heel Walking Shoe
The Asics Gel Kayano is a Casual walking shoe that can be obtained in wider width options and has a narrow fitting, padded collar for secure form-fitting.
The fabric and synthetic uppers are highly breathable and comfortable.
There is an Impact Guidance System and a Duomax Dynamic support system for stability and optimal support when walking or running.
FLYTEFOAM technology is used in the midsole for cushioning and SPEVA 45 Lasting foam for better shock absorbency.
Inside is a comfortable footbed and moisture-wicking lining.
The Asics Gel Kayano is available in wider width options and many colors to choose from as you require.
---
2
Wide Toe Box Narrow Heel Walking Sandals
These are two exquisite sandals ideal for walking and other occasions and offer the perfect fit for a narrow heel and wide forefoot.
The Darwyn for men is a fisherman sandal with a wide and roomy toe box and an adjustable narrow fit on the heel.
The Gabby has a wide toe box and a supportive closed narrow heel.
Both sandals have leather uppers, and the Gabby is available in more color options.
The footbed in both sandals is cushioned with shock-absorbing EVA, and there is a durable high traction rubber outsole.
---
3
Wide Toe Box Narrow Heel Shoe for Walking
The Keen presidio and Austin are two comfortable and casual wearing shoes that are also ideal for walking and having a wide forefoot and narrower design heel.
The uppers are genuine leather, and there is a breathable leather lining to keep moisture at bay.
The Austin also features waterproofing properties in the leather uppers.
Both shoes feature an extensive and roomy toe box and a more narrow-fitting heel design.
They are classy and comfortable shoes ideal for walking and other excursions.
Ther is a Metatomical EVA cushioned footbed for comfort and support.
The durable rubber outsole is long-lasting and ensures excellent traction for walking.
---
4
Wide Toe Box Narrow Heel Dress Shoe for Walking
The Naot Eiger and Naot Bluegill are two casual dress shoe ideal for walking on all occasions.
Both designs have genuine and durable leather uppers, molding and shaping your feet' natural form.
The Toe box area is roomy and wide, and the heel becomes more narrow for a more snug fit.
Inside is a comfortable Cork Latex footbed that is contoured for support and offers excellent shock absorbency.
There is a durable Polyurethane sole that highly slips-resistant and long-lasting.
Both shoe designs also offer exceptional arch support and are ideal for persons who tend to Overpronte or have a low or flat arch.
---
5
Wide Toe Box Narrow Heel Walking Shoes
The New Balance 860v10 Running and Walking Shoe is comfortable and supportive with a 3D Molded Heel Cupo and Wider width options in the forefoot.
The Mesh and synthetic uppers are highly breathable and offer a snug and flexible fit.
There is a 3D Molded Heel Cup design which is ideal for narrow heels.
The insole is cushioned with a removable NB insert, and there is a TRUFUSE foam midsole for shock absorbency.
The thick and robust rubber outsole ensures excellent traction and shock absorbency.
There are likewise vent holes near the toe box and medial side for added breathability.
You can choose between a Narrow, Medium, Wide, or Extra Wide width option in these shoes, which already feature a roomy toe box.
---
6
Wide Toe Box Narrow Heel Walking Shoes
The DC Trase is a casual Skate Style sneaker with a more fitting narrow heel and a wide and roomy toe box design.
The uppers consist of Canvas or smooth Nubuck leather depending on your choice, and there are some color variations available in the men's range.
The footbed is lightly padded with a microfiber lining for moisture management.
There is a thick and durable Gum Rubber outsole for better grip and traction.
The forefoot has a wide and roomy toe box design, while the heel is more narrow fitting and supportive.
---
Index Table: Top Rated Wide Toe Box Narrow Heel Walking Shoes
---
---