Senior individuals have feet that have had their fair share of ups and downs, and their feet can be more fragile and need more comfort and support features in a shoe.
Having fragile and swollen feet is a different ball game as you need a comfortable and supportive shoe that can accommodate a large and swollen foot.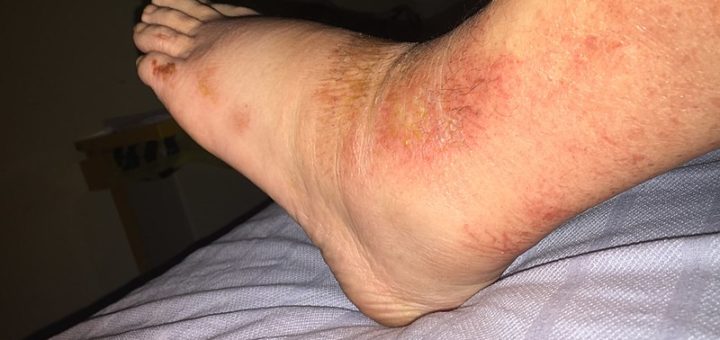 ---
Swollen Feet in The Elderly
Individuals who have a few years behind their backs may have feet that are more fragile and prone to injury and strain than the younger generation.
Older individuals' feet have carried them through many years, some even many activities and sports, and some have suffered an injury or two.
Therefore these feet need extra love and care and a comfortable shoe type with some additional support features.
When it comes to elderly swollen feet, the circumstances are even worse. A fragile swollen foot needs extra care and comfort and a shoe type that accommodates the swelling and does not add unnecessary pressure.
Your feet swell because the small blood vessels in your feet leak fluid, which builds up in surrounding tissues leading to swelling.
Some of the main causes of swelling and edema include;

Sitting or standing in one position for prolonged periods of time.
Eating too much food that contains plenty of salt.
Pregnancy and premenstrual signs and symptoms in younger individuals.
High blood pressure medications and treatments.
Nonsteroidal anti-inflammatory medications.
Steroidal medications and topical treatments.
Excess estrogen or estrogen treatments.
Diabetes and heart conditions.
Diabetes medications.
Some Symptoms of Swollen Feet Include;
General – Both feet and/or ankles will become puffy and soft with the enlargement spreading within a few hours.
Skin – The skin will easily indent when you press on it and return to its normal position very slowly. There will be indentations from your shoes and socks when you remove them.
Skin Color – The skin color in the ankles or feet is usually pale will become darker, and, in extreme cases, red or blue in color.
Resting and elevating your feet can help reduce the swelling and place an ice pack or cold cloth over the swollen areas.
---
What to look for in a Shoe for Swollen Feet
Flexible – Look for a shoe with soft and flexible leather or elastic uppers that will comfort easily to the shape of your feet and allow for easy movement without any pressure.
Cushioned – Cushioning and support features such as a contoured and padded footbed and shock-absorbing midsole provide protection and comfort for both swollen and more fragile elderly feet.
Roomy – A roomy upper and toe area is ideal if your feet tend to swell. You can also look for good walking shoes for seniors with a removable insole and extra depth design so that you have the option or for more space, if your feet start to swell.
No Pressure Points – make sure that the interior of the shoe is non-binding, seam-free, and has a smooth lining that will not chafe or irritate your feet. Also, look for pressure points that may press down and cause strain on your swollen feet.
---
Features of a Good Shoe for Elderly Swollen Feet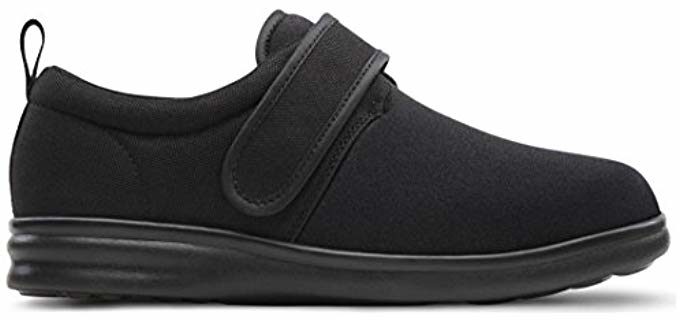 Uppers – Flexible and soft uppers construction from mesh, fabric, lycra or leather.
Support and Cushioning – A comfortable and cushioned insole. Shock-absorbing outsole and midsole. Removable insole.
Outsole – High grip slip-resistant rubber outsole.
Fit and Uppers – Extra roomy toe or extra depth design. No pressure points, and smooth seam-free interior linings. Wider width options may also be beneficial.
---
Reviews: The Best Shoes for Elderly Swollen Feet
Here are our top orthopedic and comfort shoe choices for the elderly who suffer from Swollen foot conditions.
---
1
Slipper Shoes Elderly Swollen Feet
Not the most stylish shoe, but definitely the best shoe you will find for swollen elderly feet is the Marla and carter from DR. Comfort. It has all the features of an orthopedic shoe with soft and flexible lycra uppers and an adjustable Velcro strap, which is just what you need for swollen feet.
An extra depth and volume design to accommodate swollen feet and allow you to use your own orthotics.
Breathable and durable lycra uppers with an adjustable Velcro closure.
It comes with a free pair of Gel Plus cooling cushioned insoles.
The thick rubber outsole is durable and offers exceptional grip.
---
2
Walking Sneakers for Elderly Swollen Feet
The Propet Stability Walker Sneakers are the ideal walking shoes for older individuals. They provide excellent stability and cushioning, which is necessary, and a wider upper design will not place pressure on swollen feet.
Genuine suede leather uppers with a speed lacing closure system.
For comfort and support, there is a removable cushioned orthotic insole and a molded EVA midsole.
The shoe is accepted as an A5500 orthopedic and diabetic shoe.
Available in wider width options and has a roomy toe area.
The rubber outsole is durable and offers good traction.
---
3
Sandals for Elderly Swollen Feet
The Crocs brand, in general, is made from extremely soft crosslite foam, which offers superb cushioning under your feet. The Crocs Swift water that I have chosen for the men features adjustable straps to help accommodate swollen feet, while the Lifestride for women has soft elastic straps that adjust to the shape of your feet.
Shiftwater
Synthetic uppers and a roomy toe area.
Crosslite material that is soft and spongy for lasting comfort.
Two strap construction.
Ideal for casual and leisurewear.
Open design for ventilation.
Lifestride
Athletic-inspired sandals for women for walking and leisurewear.
Made from Crocs Crosslite Foam, that is soft and cushioned.
Fleible and comfortable Matlite uppers.
---
4
Elderly Swollen Feet Dress Shoes
Hush Puppies is another Orthopedic comfort shoe brand that is perfect for elderly feet and conditions such as edema and swollen feet. I have chosen a stylish Mary Jane flat with an adjustable strap for the ladies, and an elegant classic lace-up oxford for the gents, as dress shoe options.
Glen Oxford
Lightweight and stylish Oxford design.
An Elon midsole, for superb shock absorbency and cushioning.
Available in wider widths.
Epic Mary
Genuine leather uppers in a classic Mary Jane style.
Latex Foam cushioning and a breathable arch.
A flexible Zero-G rubber outsole.
---
5
Shoes Elderly Swollen Feet
Two comfortable and supportive boots for men and women from Dr. Comfort with extra depth and a smooth, non-binding interior are ideal for swollen and elderly feet.
Vigor
Soft and flexible leather uppers with a lace-up design.
Included Gel cushioned insole.
Lightweight and comfortable.
Available in Black and Chestnut color variations, as well as wider width options.
Boss
Flexible genuine leather uppers and Gel plus Insole included.
Available in different width options as well as a black or chestnut color variation.
Roomy toe box and comfortable and adjustable lace-up closure system.
---
6
Sandals for Seniors Swollen Feet
The Flip Flop from Crocs is an open and cooling design for swollen feet.
The flip flop offers a secure fit that is more sturdy for seniors.
It is very lightweight with foamy cushioning.
Many color options are available to you.
---
Index Table: Top Rated Elderly Shoes for Swollen Feet
---
---