Every Hipster out there who is worth their weight knows that no outfit is complete without the perfect pair of shoes.
So if you enjoy the lifestyle or even just the Hipster dress style, we have some of the trendiest fashion Hipster shoes and sneakers to complete your outfit.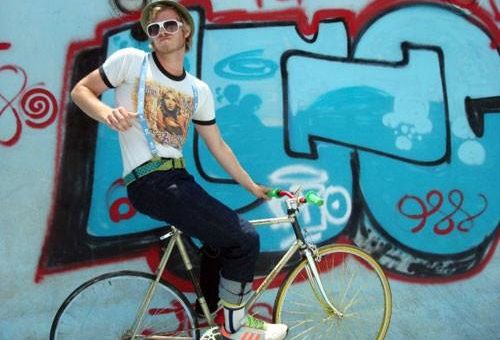 ---
Hipster Style
The whole idea of the Hipster Outfit and lifestyle is to give off the idea that you "Just Don't Care," that you do not follow the norm, fashion icons, and the ever-changing fashion styles of the World.
Most Hipsters are very environmentally conscious and embrace a more bohemian lifestyle and culture.
In general, Hipsters prefer to stay out of the mainstream, although they have had a huge impact on fashion and pop culture unintentionally.
So to Pull off the unique Hipster style, you most likely have the right outfits and everything you need in your wardrobe, and you are now searching for the perfect footwear.
So let us look a bit further into Hipster shoe styles, particularly some of the favorite Hipster Sneaker designs;
---
Hipster Shoe Styles
When it comes to Hipster Shoe Styles, you have the Sandal designs, Sneakers, and Boots; here are a few Favorites;
Flip Flop and Sandals – Leather Sandals and Flip Flops are a staple among many Hipsters and the ideal summer shoe that could show more that you do not have a care in the world.
Hipster Boots – Dr. Marten or similar style military boots are a staple favorite among Hipsters when it comes to boot styles.
Sneakers – This is where we come in today. One of the most favorite Hipster Style shoes is the Sneaker, and yes, the right types count. Sneaker types such as Vans, All-Stars, and Skate Style sneakers have all impacted the Hipster style and are popular favorites among many Hipsters and just those following the Fashion trend.
---
Features of a Good Hipster Sneaker
So what exactly makes the Hipster sneaker what it is. Well, let us look at some of the main features;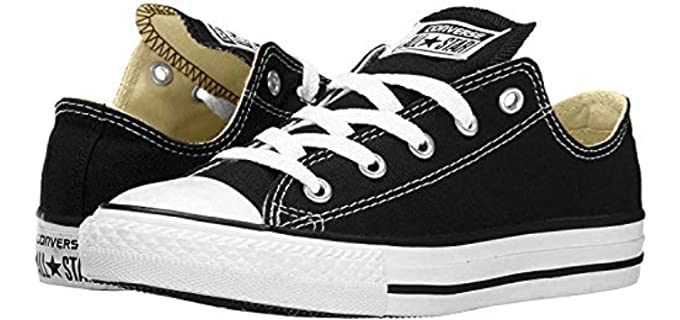 Uppers – Natural materials in the upper such as Cotton and Canvas are trendy, and some Hipsters also go for synthetic leather, or real leather, which may be controversial.
Style – The style is minimalist and easy, with a sleek design that imitates a Skate shoe or casual canvas sneaker design.
Closure – Both Laces and Slip on styles are acceptable hippies styles in sneakers.
Colors – Colors are usually faded and morth earthy although black is also acceptable.
Comfort – Hipsters tend to go for a more minimalist shoe design, yet there is nothing wrom=ng with some cushioned padding or an insole for comfort in a pair of sneakers for Hipsters.
Sole – As most Hipsters keep their sneakers until they practically fall apart, you need something durable. So always opt for a durable rubber outsole with lug patterns for good slip resistance.
---
Reviews: The Best Hipster Sneakers
These are some of the best fun and funky Hipster Sneakers available;
---
1
Vans are a very popular and trendy pick, which is predominant among most Hipsters, and they also come in a range of colors and designs, so you can really take your pick.
Vans have a sleek and simplistic design that is lightweight and easy to weaat I love most about Vans sneakebecausehat they go with almost every outfit possible, even some formal wear.
Vans have Canvas or leather uppers with a suede finish and come in many colors and patterns.
The sole is thick and shock absorbing with durable rubber that will last long.
Inside is a lightly padded comfort footbed and a moisture-wicking lining.
---
2
The Reebok Classic is another favorite among hipsters with a simplistic design and leather finish.
A sporty and sleek style sneaker that is very durable and lightweight.
The Uppers are comfortable and soft leather, and there is a lace-up closure design.
The Die Cut EVA midsole absorbs impact, and a molded foam sock liner provides long-lasting comfort.
The Low cut design is also comfortable and very sturdy with a secure fit.
You can get the reebok Classic sneakers in a variety of colors as well as metallic color finishes.
As for the outsole, durable rubber is used, which gives you excellent grip and traction.
---
3
Puma is a popular brand that has become accepted amongst many Hipsters as their go-to footwear. The Puma Classic comes in many striking color combinations as well as basic black and white options. The suede leather uppers are soft and comfortable to wear. There is also a padded tongue and collar, which ensures you a more snug and cushioned fit. Inside is a lightly padded footbed and a supportive midsole. The thick rubber outsole is highly durable and offers excellent traction.
---
4
The Adidas Superstar has become a staple among many Hipsters and is one of the most popular Adidas casual sneaker ranges.
The Upper is synthetic leather with a smooth interior, moisture-wicking lining.
The footbed is lightly padded for comfort, and there is a thick and durable rubber outsole.
You can get the Superstar from Adidas in many color options, all with the contrasting three stripes of the Adidas Logo and the Logo on the tongue.
The tongue and collar are lightly padded for a snug and comfortable fit, and there is a mesh interior lining.
---
5
The Chuck Taylor from All-Star Coverese has remained popular and holds the same style for almost a century. These are iconic among Hispetrts.
The Chuck Taylor can be obtained in both a low cut or a high cut design for your preference.
The Upper consists of a light and breathable Canvas material, and there are two ventilation holes at the sides.
You can choose between colors with a contrasting white sole or a solid black or solid white color option in this model.
The footbed is lined with Canvas, and the sole offers excellent traction with a Gum Rubber construction.
The sole is also very flexible, and the shoe overall has a light and minimalistic appeal.
---
6
One of the favorite Skate shoe models and brands among many Hipsters is the simplistic DC Trase, which is less bulky than most other DC Skate Shoe models.
The DC Trase has an Abrasion resistant, highly durable, and high grip GUM RUBBER outsole, for which it is quite popular.
The DC Trase comes in textile and suede leather options from which you can select.
You can likewise choose a color of your liking from a few variations.
The DC Trase also features a comfortable insole and a moisture-wicking fabric interior lining.
---
7
The Vans Old Skool is available in many more colors and patterns for your perusal.
They have suede leather in canvas uppers construction and a smooth interior lining.
There is a lightly padded footbed for comfort.
The outsole is a durable and high traction rubber.
---
8
The Uppers are 100% genuine leather.
The woman's model is a light blue color, but there are more color options in the men's model.
The footbed is padded for comfort.
There is a vulcanized rubber outsole with a patterned tread for slip resistance.
---
9
The Uppers are a very lightweight canvas design.
The All-Star Shoreline has an Ortholite insole for comfort and knit uppers.
The All-Star Original Chuck Taylor has a padded footbed and side vent holes.
Both models have a durable rubber outsole.
There are also more colors available.
---
10
This is the Slip-on Version from Vans.
There are more colors and checkered prints available.
It has a durable rubber outsole and a padded insole.
The uppers are canvas material.
---
Index Table: Top Rated Hipster Shoes
---
---