Just because it is winter does not mean you have to put all your winter activities on hold, and the same goes for walking and outdoor activities.
By investing in the best walking shoes for snow and winter conditions, you can still enjoy your daily walk in comfort, protected from slips and falls.

---
Proper Walking Shoes for Snow and Why You Need Them
It is an easy concept when there is snow on the concrete or ground, and it is cold outside. You will need to dress for the occasion, which mostly counts for your shoes.
The right winter shoes help keep your feet warm to protect them against frostbite. They keep your feet dry from the wetness of snow and give you enough traction to not slip on wet and icy surfaces.
Winter walking shoes are a must to keep your feet protected and allow you a comfortable and safe walking experience.
Many people think they can still use the following shoes in the snow, which is not so;
UGG Boots – Although they technically are winter boots, they are meant to wear indoors or in dry conditions to keep your feet warm, similar to slippers. They are not waterproof or durable enough for wearing in snow, and they do not offer good traction.1.
Stilettos – This should come as a given, but surprisingly many ladies still want to look stylish in their stilettos or stiletto boots in winter snow. This is not a good idea at all.
Rain Boots – You may think your rain boots or hunting boots are ideal for wearing in snow, but not so. They offer very little insulation and no proper grip for these conditions. However, you get similar designs adapted for use on ice and snow.3.
Suede Shoes – Suede is a material that should not get wet at all and that does not last in cold weather or wet weather conditions
White Shoes – Well, white shoes are not a good idea in the snow because they will get stained and dirty.
---
So What Should You Wear for Walking in Snow
Well, I have narrowed t down to the basic options for Walking shoes to wear in the snow;

Leather and Faux Leather is a Good Choice – Leather shoes, especially those with a waterproof lining, faux or genuine leather, are great choices for wearing in snow. Some leather is treated to be waterproof and water-resistant. Leather is comfortable, durable, flexible, and keeps your feet warm.
There Needs to Be a Warm Lining – Because of the extreme cold weather, you will need more than one-layer uppers. Insulation such as Thinsulate or fleece is ideal for keeping your feet warm.
The Shoes Need to be Slip Resistant – Then again, it very is very important the shoes are slip-resistant. The sole needs to be lug enough for traction yet should hold snow and debris in the grooves and tread of the sole.
Make Sure They are Waterproof – Make sure that your snow walking shoes are waterproof. You do not want wet feet in these cold conditions. Gore-Tex is one of the best technologies to look for in waterproofing as it breathes well and provides complete waterproofing.
Get the Right Size – Balancing on snow is tricky, so your shoes need to fit well and provide good ankle support. Make sure the fit is snug with no heel slippage, yet not too tight to squeeze your feet.
---
Features of a Good Walking Shoe for Snow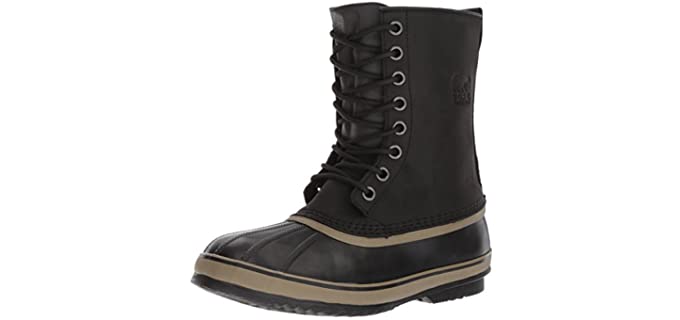 Water Resistance – Walking shoes for snow ned to be completely waterproof or at least just water-resistant, snow is wet, and you will be walking through wet conditions that can quickly cause your feet to become very cold. You will need shoes that have a Gore-Tex breathable waterproof lining, neoprene, leather or PVC, and rubber uppers for waterproofing.
Insulation – Because your feet will be quite cold walking through snow conditions, you need some insulation for your shoes. An insulating lining or Thinsulate insulation can provide different levels of warmth as needed.
Comfort – Walking requires that your shoes offer a comfortable fit and support and cushioning technology. Look for shoes that have cushioning or shock-absorbing materials in the insole and midsole. Arch support and a more contoured footbed help with balance and support your feet.
Ankle Support – If you are hiking or walking in the snow, you will need shoes that support your ankles, especially on trails with elevation gain. The uneven surface of snow and trails requires proper ankle support from your shoes.
Outsole – One of the most important features of shoes for walking in snow and ice is a slip-resistant high grip outsole. The outsole needs to be very lug and grippy to offer stability and prevent slipping. It also needs to be a thick and durable rubber that can protect against cold and shock absorbency.
---
Reviews: The Best Walking Shoes for Snow
These are our top choices in the best walking shoes ideal for walking in snow conditions.
We hope you love the snowshoes we recommend!
So that you know, We may collect a share of sales or other compensation from the links on this page.
---
1
The Salomon Quest 4D is a Hiking and walking ankle boot ideal for snow and cold weather conditions.
It has synthetic leather uppers with a waterproof lining.
Inside is comfortable underfoot cushioning or comfort and support,
It is lightweight in durable with a high traction rubber outsole to prevent slips.
They are also available in two color options.
---
2
Waterproof Walking Shoes for Snow
The Icebug for men and women are snow ankle boots that can be used for walking.
They have a rubber BUgrip outsole with 16 carbide tip studs for walking on snow and slippery surfaces.
Inside is a warm fleece lining for insulation, and their uppers are suede or nubuck with zip closure.
There is also an abrasion-resistant baseline trim for durability.
More colors are available in the Icebug model.
---
3
The Merrell Cold Pack is a lightweight slip-on shoe model for light snow conditions.
It has full-grain leather uppers and a comfortable fleece lining for insulation.
The uppers are waterproof, and there is an EVA midsole with M Select Dry technology to seal water and breathe well.
The outsole is a Vibram Arctic grp for traction on ice and snow.
---
4
From Aleader, we also have an insulated snow walking boot for men and women.
It has durable water and wind-resistant PU-coated synthetic textile uppers with a drawstring and barrel lock closure design.
The sole is a rugged rubber design that offers excellent slip resistance in wet and snow conditions.
The footbed is cushioned for comfort and very supportive.
The entire construction is seam-sealed to keep water out.
---
5
Sorel offers you their premium snow boot for walking.
It has waterproof full-grain leather and suede uppers that are seal seamed to keep moisture outs and warmth.
They have are movable, and washable insulating felt inner.
There is an aero-trac non-loading durable rubber outsole.
The boot is available in more color options.
---
6
Walking and Hiking Shoes for Snow
We have the ideal ankle boot model for walking in the snow from Timberland.
It is available in more colors and size options.
The boot has genuine waterproof leather uppers and seam-sealed construction, with rustproof speed laces.
The sole is a lug and durable rubber for traction on ice and snow.
The boot is rugged and durable and provides and comfortable cushioned platform for walking.
---
7
Shoes for Walking in Snow
The Columbia Bugaboot is a warm and durable boot for walking in the snow.
It has an Omni-Heat reflective thermal lining and great insulation.
The longer length protects your legs.
The outsole is a high traction, durable rubber.
---
8
Shoes for Walking in Snow
The Salomon X Ultra 3 is a boot-like running shoe for walking in the snow.
It has synthetic waterproof uppers with a Gore-Tex Lining.
The longer ankle length provides great stability.
The rubber outsole us a lug grip design for walking on snow.
---
9
Shoes for Walking in Snow
The Merrell Thermo Chill us a waterproof boot for walking in the snow.
It has an ankle-length with leather and synthetic uppers.
The boot has an M Select DRY impermeable membrane that seals cod and moisture.
There are 200 grams of M Select insulation.
The outsole is a durable rubber.
---
10
Shoes for Walking in Snow
The Keen revel 4 is a Polar snow boot ideal for walking in the snow.
It has a boot length with Keen Dry waterproof uppers.
The boot has leather uppers and good odor protection.
The outsole is grippy on snow and ice.
---
Index Table: Top Rated Walking Shoes for Snow
---
---