There is no tougher and better sole on a shoe than the Vibram Rubber Outsole.
Most workboots and hiking shoes come with this superb sole, yet today there are also other shoe types that have adapted to this superb sole type.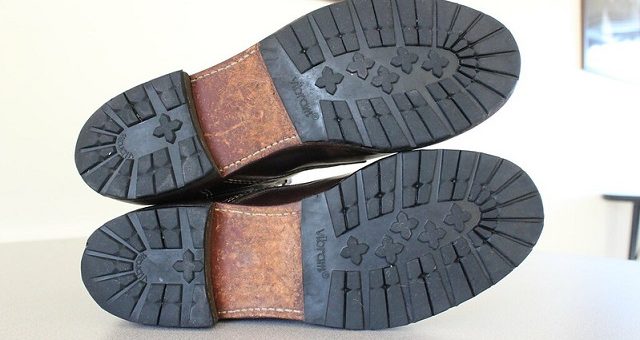 ---
Why The Vibram Rubber Outsole
Vibram rubber sole shoes are widely used by many shoe manufacturers today because if their reputation for quality, durability, comfort, and excellent traction on a variety of surfaces.
Vibram soles were first created in 1935 to replace the soles of most hiking shoe brands, which offered little to no warmth, traction, and protection. So these soles were designed particularly to withstand most elements and to last much; longer.
Vibram Rubber soles are made from Vulcanized rubber, which is much better at insulating, and they have a tread pattern called Carrarmato that is more lugged for better grip and durability.
Thus Vibram Rubber Soles offer much better traction and insulation as well as being much more durable.
---
Benefits of Having Shoes with a Vibram Rubber Sole
Today Vibram offers many varieties of soles on a variety of shoe types which all have these excellent benefit;
Tread and Traction – The specific tread on the Vibra Rubber Sole shoe, no matter what the style, offers superb traction on a large variety of surfaces and also extreme durability.

Comfort – The Vibram Rubber Sole has a blended EVA base that offers superb cushioning and comfort along with excellent shock absorbency.

Durability – In general softer rubber outsole are less durable, and harder rubber outsoles are more durable but uncomfortable. Because of the unique EVA and Vibram Rubber blend of the Vibram Rubber soles that give you both exceptional durability and comfort.

Resoling – Vibram Rubber Outsole are readily available from many retailers and resellers, so if they wear out, you can easily have your shoes resoled.

Insulation – Vibram Rubber Outsoles offer much better insulation against wetness and cold that any opther sole type.

---
Features of a Good Shoe with Vibram Soles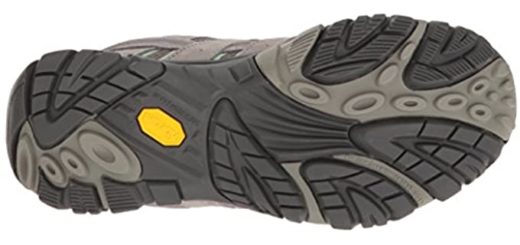 Comfortable leather, synthetic or textile uppers with or without a waterproof membrane.

Insulation for up to 200 grams for colder conditions.

A cushioned and moisture-wicking insole and lining.

EVA midsole.

Vibram Rubber Outsole with a tread for its specific purpose.

---
Reviews: The Best Vibram Soled Shoes with Vibram Soles
Here are some excellent selections in different shoe types that have a Vibram Rubber Sole;
---
1
The Grafton from Altra is a comfortable and durable sneaker style shoe with a Vibram rubber outsole.
Ideal for indoor and outdoor wear with a Vibram Rubber Outsole and MegaGrip design.

The Sole has a stack height of 23 MM and a lightweight of 311g.

The uppers consist of premium suede leather that is comfortable and durable.

There is a cushioned EVA Midsole.

---
2
The Moab Ventilator 2 is outdoor hiking and walking shoes with a durable and trail-specific Vibram Rubber Outsole.
The uppers consist of durable and breathable suede leather and mesh.

There is a Bellows closed-cell foam and mesh tongue to keep moisture and debris out.

A protective rubber toe cap reinforces and protects your toes.

Inside is a breathable and moisture-wicking mesh lining.

Air cushioning provides comfort and shock absorbency along with the protection and stability of a Nylon arch shank.

The outsole has a lug design and is made of pure Vinram Rubber.

---
3
Work Shoes with Vibram Soles
Timberland Hyperion

Made with premium leather uppers and a waterproof membrane for protection and abrasion resistance.

An alloy safety toe protects the toe and forefoot area nad is very lightweight.

There is a lightweight molded EVA midsole for shock absorbency.

The Outsole consists of durable Vibram rubber.

RefrigiWear Black Widow
A leather and synthetic uppers construction with a lace-up closure.

Composite lightweight safety toe.

The leather is waterproof and also highly durable.

A durable Vibram Rubber Outsole.

Insulated with 200G of Thinsulate insulation.

---
4
Slip on Winter Shoes with Vibram Soles
A slip-on casual wearing and walking winter shoe from Merrell that is great for both indoor and outdoor use.
Fabric and textile uppers with 200g of M Select WARM lightweight insulation for colder conditions.

The uppers consist of durable Nubuck leather and mesh for lightweight breathability and durability.

An Arctic Grip Vibram rubber Outsole for traction in ice and snow.

Cushioned comfortable insole and midsole.

---
5
The Luna Leadville is a comfortable and tough Vibram Soled sandal for everyday casual wear in those hot summers.
Ideal for running, hiking, beachwear, or everyday casual wear.

A comfortable and supportive summer sandal.

Features the popular Vibram Rubber Outsole with an aggressive tread for all terrains.

The conscious strap and webbing allow you a more comfortable and adjustable fit.

---
6
Sandals with Vibram Soles
The Chaco ZCloud is another superb sandal that also features a Vibram Rubber Outsole.
Comfortable textile uppers with quick-drying polyester straps ideal for dry and wet conditions.

The straps are adjustable so that you can get the perfect fit.

The Vibram Rubber Outsole has a non-marking design and is very durable.

A sock friendly open toe design for all weather conditions.

---
Index Table: Top Rated Shoes with Vibram Soles
---
---