Leather is a versatile and comfortable material that can mold and shape to the form of your feet, not to mention that it is very lightweight and breathable.
Walking shoes are there to provide comfort and protection when you walk, so why not opt for a leather walking shoe that is durable and offers the most comfortable and adaptable fit.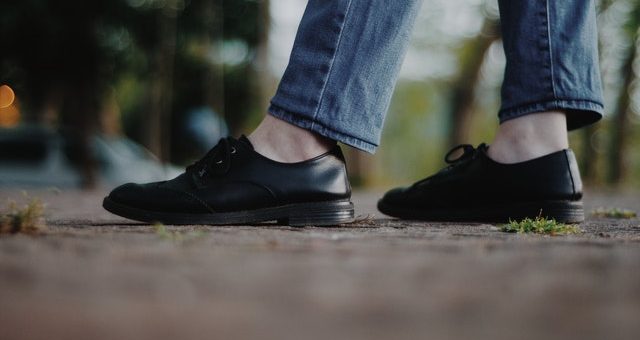 ---
Why Choose a Leather Walking Shoe?
Leather, suede, or even fabric and mesh, may be used for the upper construction of walking shoes, each with its unique benefits. Although fabric and mesh shoes are more lightweight., leather seems to be much more conforming and durable in the long run.
So let us look at some of the Pros and Cons of Leather Walking Shoes;
Pros of Leather Walking Shoes – Leather walking shoes are much more durable and long-lasting and usually abrasion-resistant. Leather also protects you much better against weather elements and is more likely to be water-resistant. Most leather walking shoes designed today offer a soft and adaptable fit with technology to make them more breathable. Leather is also much easier to clean and maintain.
Cons of Leather Walking Shoes – As we have mentioned, leather walking shoes may be a bit heavier than fabric or mesh walking shoes and not as breathable, though with technology today, that will soon come to an end. Leather walking shoes will be more expensive because leather is a much more durable and quality material in the long run.
Pros of Fabric and Textile Walking Shoes – Suede, mesh, or fabric walking shoes stand out because they are originally more breathable and lightweight and are much cheaper than leather walking shoes.
Cons of Fabric and Textile Walking Shoes – Non-Leather Walking shoes are much less durable and will need to be replaced much more often. They likewise offer little to no protection against the weather, and other elements and dirt, wetness, and debris will seep in through the fibers easily. These shoes are also much harder to clean and keep clean and will need reproofing if treated often.
---
Why Specifically a Walking Shoe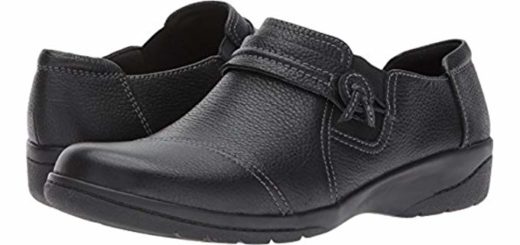 Walking and running are similar but also quite different when you come to think of them. Walking requires less cushioning and flexibility than running as there is much less impact, and you do not need such a lightweight shoe.
Walking and running shoes have one main difference, and that is CUSHIONING. When walking, your heels come into contact with the ground first, for a heel-to-toe motion, so your heels absorb the most shock. On the contrary, with running, you land flat on your feet; thus, cushioning is required across the entire length of the foot, and a thicker sole is necessary for shock absorbency.
Walking shoes need extra cushioning in the heel and do not need as much shock absorbency as running shoes in general.
All in all, it is quite acceptable to WALK in a RUNNING shoe, though you should never try to RUN in a WALKING shoe!!!
---
How to Choose a Good Walking Shoe
here are few essential Factors to Consider in a Good Walking Shoe:
Stability – Your walking shoe should have balanced and stable throughout the entire shoe when you walk. A firmer mid area and a secure heel will aid in improving stability. Stability walking shoes are likewise a good choice if you pronate excessively or have a lower arch type.
Flexibility – Flexibility is vital, particularly at the toes' base, for smoother and easier motion and heel-to-toe conversion.
Comfort Features – These include a wide and roomy toe, a comfortable and snug fit, as well as cushioning and smooth moisture-wicking interior linings that will not cause any friction and chafing.
Heel – A snug-fitting and supportive heel counter will protect your heels and ankles against injury as well as provide stability and support. A padded or cushioned heel is ideal in a walking shoe as you mostly land on your heels when walking.
Midsole – This is the area between the tread and the uppers, which are there for cushioning, flexibility, and shock absorbency. Y
Insole – The insole or footbed is the long padded or lined piece of material inside the shoe that your feet rest on comfortably. This part is essential for your comfort for two reasons, it provides cushioning, and it wicks away moisture to keep your feet dry and cool.
Tread – The tread on the outsole of a walking shoe has fewer patterns and is less lug in design than a running shoe, although it should still provide some grip and traction when walking.
---
Features of a Good Leather Walking Shoe
Cushioned for comfort.
Breathable and moisture-wicking interior linings.
EVA midsole and shock-absorbing capabilities.
High traction durable rubber outsole.
A Padded tongue and collar.
Secure Lace-Up System.
Perforations for breathability.
It has full-grain or synthetic leather uppers.
Color variation availability.
---
Reviews: The Best Leather Walking Shoes
Here are our top picks in leather walking shoes;
---
1
Breathable Leather Walking Shoes
These are two ideal models from New Balance for men and women that offer comfort and support with every step that you take.
Available in black or white solid color options.
The shoe comes with a Mesh and padded tongue and collar for comfort and breathability.
The shoe has Synthetic and genuine leather uppers that are soft and comfortable.
Soft and moisture-wicking interior linings.
A durable and high traction rubber outsole.
---
2
Stability Leather Walking Shoes
One of the top supportive and comfortable walking shoes that should not be missed is, of course, the Addiction Walker from Brooks.
Genuine smooth and supple leather uppers with perforation holes for ventilation and cooling.
A lightweight and cushioned removable insole.
Supportive BioMoGo DNA cushioned midsole technology for underfoot soft support and cushioning.
Excellent motion control and control of overpronation with the Diagonal Rollbar technology.
There are Inside breathable mesh linings that are smooth and comfortable.
A high traction rubber outsole.
Available in either a black or white color variation.
---
3
Elegant Leather Walking Shoes
The Rockport World Tour and TS are two perfect leather shoe models from their range designed to provide you the best support and comfort for walking.
Genuine leather uppers with a secure lace-up system.
A shock-absorbing EVA midsole and removable, rubberized EVA footbed.
Soft performance interior mesh linings and a plush Ortholite insole.
The outsole is made from durable rubber and offers excellent traction.
---
4
This New Balance model offers you either a black or white leather option in a comfortable and supportive everyday walking shoe with a fashionable style.
Smooth leather uppers that are durable and lightweight.
High traction and durable rubber outsole made for walking.
It comes with a Secure lace-up system for a snug and comfortable fit.
There are perforations in the uppers side leather panels to improve breathability.
It has a padded and comfortable heel counter.
Smooth fabric interior linings that soft and wick away moisture.
Available in black or white leather options.
---
5
These two comfortable loafers from Clarks offer cushion soft technology and an Ortholite footbed ideal for absorbing shock when you walk and providing comfort and support. The shoe is a classic yet still stylish leather loafer shoe that is ideal for any occasion.
Smooth 100% genuine leather uppers and an easy slip-on and off loafer design.
Inside are an Ortholite footbed and cushion soft technology insole for comfort and support.
There are a few neutral color options available in these two shoe models f
there is a durable high traction rubber-made outsole.
---
6
Work and Walking Leather Shoes
From Reebok, the Work N Cushion is a work shoe that is ideal for occupations that require plenty of walking.
The Work n Cushion shoe has a low cut design and leather uppers with a Memory Tech sockliner and a beveled heel design for enhanced walking.
There is responsive feel cushioning in the sole and a durable and high abrasion-resistant Rubber outsole made for walking.
The shoe is comfortable and ideal for walking and working in any environment.
---
7
Leather Walking and Training Shoe
The Adidas Strutter is a leather walking shoe available in black or white leather options.
The Adidas Strutter is cushioned for your comfort and has a secure lace-up system.
The shoe also has a high traction rubber outsole.
---
8
The shoes have leather and textile uppers with a smooth textile lining.
They have a rollbar stability post and cushioning for support and comfort.
The ideal stability walking shoes also aids with overpronation.
There are a few neutral color options available to you.
---
9
Leather Shoes for Walking
Both shoes' models have genuine leather uppers.
They come in a few neutral colors from which you can sleet.
The shoes have to cushion and a shock absorbing midsole for comfort.
The outsole is a durable and high traction rubber.
---
10
These are platform sole design athletic and fashion shoes.
They have mesh and leather uppers with a smooth lining.
Inside is memory foam cushioning and a supportive midsole.
More color options are likewise available to you.
---
11
The uppers are synthetic leather with perforation holes for breathability.
The design is fashionable and can be worn with almost any outfit.
They have a cushioned insole and a durable rubber outsole.
There are a few more colors available.
---
Index Table: Top Rated Leather Walking Shoes
---
---