When you have flat feet, the arches in your feet completely collapse, and your foot will touch the floor without any gaps when standing.
Many individuals find that their flat feet cause no symptoms or pain, while others may experience many symptoms and pain from having flat feet.
When you have flat feet, it is important to invest in footwear that properly accommodates these conditions and provides much needed arch support.
We have chosen Skechers shoes for Flat feet because of their arch support and cushioning features, along with light stability features that help relieve symptoms of flat feet.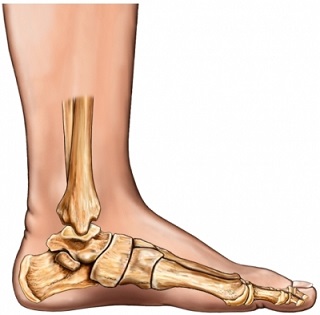 ---
Flat Feet and How They Affect You
Flatfoot is a condition where the arches that ate on the inside of your feet completely collapse, so when you press down on them, your feet will flatten completely, leaving no gaps. Your feet may hold point outward when you stand, and the entire sole of your feet will touch the ground.
Flatfeet may result in an injury or overuse injury, or they may be genetic.
If you do not have pain or issues, you may not need any treatment for flat feet.
Keep in mind that the arches of your foot are there to evenly distribute weight and impact when you walk, stand, or run; they reduce pressure on your joints, heels, and balls of your feet, areas that often suffer as the result of flat feet.
Symptoms – You may experience pain in the heels or arches of your feet, as these areas take the most strain when you have flat feet. You may have swelling inside your ankles, and pain may worsen with activity. People with flat feet are generally more likely to Overpronate, which means their feet roll inward excessively as they walk or run, and most of the impact will be on the sides and heels of the feet.
Causes – Flat feet may be hereditary, and you may just be born with flat feet. However, your arches may collapse because of a sudden or overuse injury, excessive weight gain, or because your arches have become damaged or weakened by wear and tear; as we age, our arches become worn, and our feet tend to flatten. Arthritis is also a condition that may lead to flat feet.
Risk Factors – A few risk factors may cause your arches to collapse and your feet to become flattened, including obesity, injuries to the feet or ankles, Rheumatoid Arthritis, Aging, and Diabetes.
Managing Flat Feet – If you have no pain or symptoms, then treatment is not needed for flat feet. However, I would still recommend proper footwear with cushioning and arch support. Stretching exercises can help to stretch your Achilles tendon to prevent ankle pain, as people with flat feet tend to have a shortened Achilles tendon. You can use arch support insoles or inserts to provide better structure and proper alignment for your feet. Physical therapy may help with overuse injuries, especially in runners, caused by flat feet. Losing weight is likewise ideal if you have flat feet as it places much strain on your feet and joints, for which there are no arches to absorb the shock and distribute weight.
Complications – Flat feet may lead to further complications such as hip, knee, and lower back pain, as there is excessive strain on your joints; you may also suffer from Bone spurs, Arthritis, Bunions, Corns, and Calluses as a result. People with flat feet often have Shin Splints, and their feet may be wider and more prone to Plantar Fasciitis, causing heel pain. Most people with flat feet get symptom relief with nonsurgical treatments. Some people don't need any treatment. Flat feet may increase your risk of certain problems like:
---
Choosing Shoes for Flat Feet
The arches of your feet have many functions; they allow for better balance, distribute weight evenly, and absorb shock when you walk, stand, or run. Flat feet do not have any arch support and will need to compensate with footwear supporting the arches.
Shoes with a raised arch or extra support in the middle of the sole help to align your feet properly. Cushioning is vital in shoes for flat feet as it absorbs impact when you walk, run, or jump.
A firmer sole and midsole cushioning are ideal for taking pressure off your feet and providing more spring for your movements.
Closed shoes are usually more supportive for flat feet, and shoes with a low heel or higher heel-to-toe drop proved better midfoot support and stability.
---
Features of a Good Skechers Shoe for Flat Feet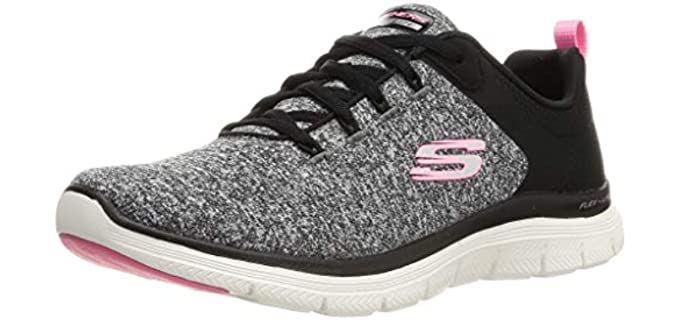 Uppers -Skechers shoes have breathable mesh, synthetic uppers, or a choice of leather uppers. They offer a relaxed and roomy fit, with a wider toe box for flat feet. A Breathable and comfortable lined upper is ideal. Materials such as mesh, leather, and textiles are excellent choices.
Cushioning – Skechers shoes have many cushioning technologies such as memory foam, Goga Max, and Goga Mat cushioning in the insole and midsole that will provide firmer support and shock absorbency.
Support – While most Skechers shoe models have a slightly raised mid-section, the arch fit options also provide optimal arch support.
Outsole – Skechers shoes have a durable and high-traction rubber outsole that provides good support and shock absorbency.
Options -Most Skechers shoe models are available in wider width fits and many more color options.
Reviews: The Best Skechers Shoes for Flat Feet
These are some of our favorite Skechers shoe models that are ideal for flat feet;
---
1
Training Shoes for Flat Feet
The Skechers Nuovo shoes are leather training shoes for flat feet.
They have a roomy fit and a wide-toe box with firmer cushioning for more support.
The uppers are nubuck leather, and the outsole is a durable rubber.
The shoes are stable and suitable for flat feet with good arch support.
---
2
Rocker Sole Shoes for Flat Feet
The Max Cushioning Elite are neutral running shoes for flat feet.
They have Air Cooled Goga Mat cushioning, OrthoLite insole, and Ultra GO Platform sole for support and cushioning.
The outsole has a slight rocker style and a durable rubber grip.
The uppers are lightweight and breathable, with a comfortable fit.
---
3
Skechers Shoes for Flat Feet
Here we have leather training shoes from Skechers that are ideal for flat feet.
They offer a roomier toe box fit and a flexible sole for a higher or neutral arch type.
The shoes are well cushioned with a supportive footbed for flat feet.
They have a durable rubber outsole for traction.
---
4
The D'Lites and Afterburn from Skechers are comfortable casual shoes for flat feet.
The memory foam footbed conforms to the shape of your feet for optimal support.
The shoes have a roomy fit and comfortable leather and textile uppers.
They offer light arch support and a shock-absorbing midsole.
---
5
The GoRun shoes from Skechers are athletic shoes for flat Feet.
The shoe did offer light arch support, with a shock-absorbing midsole and cushioned insole.
They have comfortable uppers fit and memory foam insole.
The shoes are multi-purpose for running, sports, and training.
---
6
The Street Uno from Skechers is a casual-styled shoe available in more colors.
They have memory foam cushioning and a slight arch support design with a raised heel for flat feet.
They have a soft lining to wick away moisture and comfortable, flexible uppers with a lace-up feature.
The shoe is available in neutral color options and in more sizes.
---
Index Table: Top Rated Skechers Shoes for Flat Feet
---
---