Diabetic shoes are designed to help reduce the risk of foot injuries and complications, which are more common in people with diabetes due to poor circulation and nerve damage.
Skechers is a popular brand that offers a range of diabetic shoes that may be suitable for people with diabetes.
Here are a few options to consider:
Skechers Relaxed Fit: This line of shoes is designed with a relaxed fit and a wide, round toe box, which can provide extra room for the toes and reduce the risk of blisters and other foot injuries. They also have a memory foam insole and a flexible sole for added comfort.
Skechers Walk: This line of shoes is designed with a wide, round toe box and a stretchy upper material, which can provide extra room for the toes and reduce the risk of blisters and other foot injuries. They also have a memory foam insole and a flexible sole, making it easier to walk in.
Skechers Max Cushioning: This line of shoes is designed with a wide, round toe box and a cushioned insole, which can provide extra cushioning and reduce the impact on the feet. They also have flexible soles and a lightweight design, making walking easier.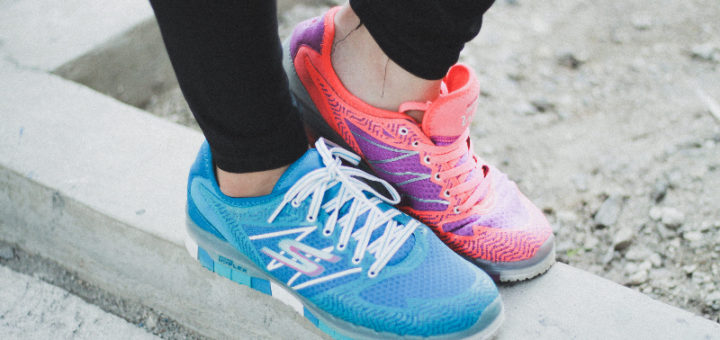 ---
---
What features Makes a Shoe a Diabetic Shoe
Firstly let us take a look at what features footwear needs to contain for them to be deemed as diabetic shoes;
Interior Lining – Diabetes can cause the skin of your feet to be more fragile and cause sores and scratches on your feet to take much longer to heal. You want to prevent friction and irritation, and look for shoes with a smooth and seamless lining.
Non-Binding Uppers – You want less pressure on your feet because they may tend to swell and have other deformities, such as bunions and hammertoes. A Non-Binding design is ideal.
Roomy Fit – A deep and wide toe box and an extra depth design are ideal for less pressure on your feet. The extra depth also allows you to use orthotic insoles.
Cushioning – For underfoot comfort and shock absorbency, you need shoes with good lightweight, and comfortable cushioning.
Stretchable Uppers – The Uppers can also offer a stretchable fit that will adapt to the shape of your feet and your movement while still providing a snug and comfortable fit.
Specialized Insoles – Many shoes have specialized comfort and arch support insole ideal for diabetic feet. As you will see, Skechers shoes do offer special technology insoles and footbeds.
---
Advantages of Wearing a Diabetic Shoe
The Construction and design of Diabetic shoes have many advantages in preventing foot issues and protecting your feet.
They offer good motion control and stability when you have overpronation or balance issues.
They promote and enhance circulation to prevent numbness and swelling.
The shoes protect your skin from breakdown and irritation.
They prevent calluses and corns from forming.
The shoes also reduce pressure in high-pressure areas of your feet.
As you will see, many shoes that are Diabetic standard-rated will be covered by the Medicare Therapeutic Shoebill, which is also a benefit.
Diabetic shoes offer a comfortable and supportive fit for all conditions related to Diabetes.
---
Features of a Good Skechers Diabetic Shoes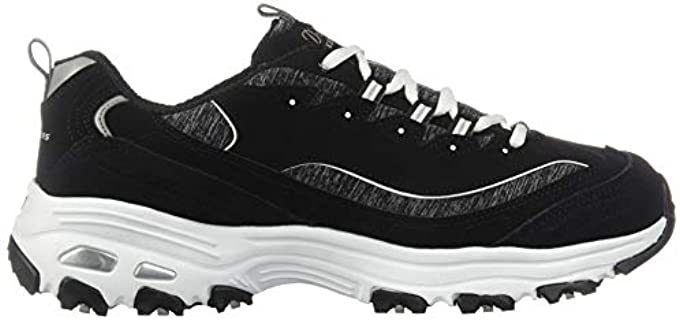 Uppers and Fit – The Uppers of Skechers shoes come in various materials such as engineered mesh, soft knit fabric, and mesh for most athletic shoe models. Depending on the shoe model, they also offer leather, synthetic uppers, and soft textured canvas uppers. Some models may come with a padded or breathable mesh tongue. You can choose from streamlined and flexible fits or their relaxed fit models.
Cushioning and Support Technology – Skechers feature many cushioning and support features in their shoe models. They use Ortholite foam technology that cushions and breaths well, along with Air Cooled Memory foam, Air Cooled Goga Mat, and Ultra Go cushioning. You also get the Arch Fit models with anatomical arch support and cushioned footbeds.
Outsole – The Outsole will most likely be a durable rubber with variations such as Flex grooves for Flexibility or parametric web design outsoles for traction on various surfaces.
Options – Skechers shoe models offer a variety of colors, and some models have wide and extra wide-width options.
---
Reviews: The Best Skechers Diabetic Shoes
---
1
The Skechers GoWalk 5 is a slip-on comfortable walking shoe perfect for diabetic feet.
It has flexible and soft mesh uppers with a smooth lining,
There is a lightweight and dual-density Ultra GO sole with Comfort pillar technology for shock absorbency,
Inside is an Air-Cooled Goa Mat insole for cushioning.
You can machine wash these shoes, and they are quick drying.
There are also plenty of colors and wider widths available.
---
2
Wide Width Diabetic Shoes
The Skechers Afterburn and D'Lites are relaxed-fit fashionable shoes for Diabetes.
These models come in many colors and variations and have wider width options.
They feature plush memory foam cushioning and a shock-absorbing thick sole.
The tongue is a cushioned mesh, and the uppers are leather and synthetic.
These shoes have a durable and high-traction rubber outsole.
---
3
Walking Shoe for Diabetes
The Skechers GO Walk Arch fit range is a supportive shoe for diabetic feet.
They have engineered mesh soft knit upper fabric with a smooth and breathable lining.
Inside is an Ortholite foam insole layer for cushioning, Ultra GO lightweight but responsive cushioning, and Air Cooled Goga Max Technology.
The sole also has High-resound comfort pillars, and the arch is a supportive anatomical fit.
You can choose from more colors and widths options available in this model.
---
4
Here, we have two sandal models from Skechers that are likewise ideal for Diabetic feet.
They have synthetic leather and textile uppers with adjustable straps for the perfect fit.
The Louden has a memory foam cushioned footbed and a more relaxed fit.
The Go 600 has a platform sole with 5Gen cushioning and a Goga Max high rebound insole.
You can get both sandal models in more color options for you to look over.
---
5
Walking Shoe for Diabetes
The Skechers GoWalk 5 are high-performance athletic shoes for feet affected by arthritis.
They have soft woven knit mesh fabric uppers and a comfortable lining.
The Top sole is cushioned with a cooled Goga Mat that is lightweight and supportive.
The midsole is shock-absorbing, and the outsole is a durable rubber.
This model is available in many width options and colors from which you can choose.
---
6
The Skechers D'Lux is a comfortable and elegant shoe for diabetic feet.
It has mesh uppers and offers a more relaxed fit.
Inside is a plush memory foam cushioned insole and a Bio Dri smooth lining.
The outsole is a high-traction, durable rubber that will ensure excellent slip resistance and long-lasting comfort.
---
7
Walking Shoe for Diabetes
These are two more casual slip-on shoes for walking.
They have wider widths available for diabetic feet.
Easy to slip on and off with lightweight canvas uppers.
There is a cushioned memory foam footbed and supportive midsole.
---
8
Cushioned Shoe for Diabetes
The Max from Skechers is comfortable for Diabetic feet.
They have a roomy fit and lightweight upper.
There is plush cushioning and a supportive midsole.
The shoes are available in wider widths.
---
9
The Go Run fast can be used as a running or walking shoe.
They have a comfortable and smooth fit.
The uppers are breathable and seamless.
There is Five Gen cushioning and shock absorbency in the midsole.
The shoe has a roomy and comfortable toe box.
---
10
Walking Shoe for Diabetes
The Skechers Go walk Arch Fit shoes are ideal for Diabetic feet.
They have good arch support and comfortable Ultra Go cushioning.
The shoe has a roomy toe box fit.
The uppers are lightweight and breathable.
There are likewise wider widths available.
---
Index Table: Top Rated Skechers Diabetic Shoes
---
---