You may find that it can be quite uncomfortable and painful while standing or walking, especially for extended periods of time when you have flat feet. Having flat feet (low arches) can also put a strain on your lower limbs and back.
Wearing the correct pair of orthotic inserts or insoles for flat feet can significantly alleviate any pain or discomfort associated with flat feet. Although orthotics are not a cure for flat feet, they are the best way of ensuring that this condition is more bearable.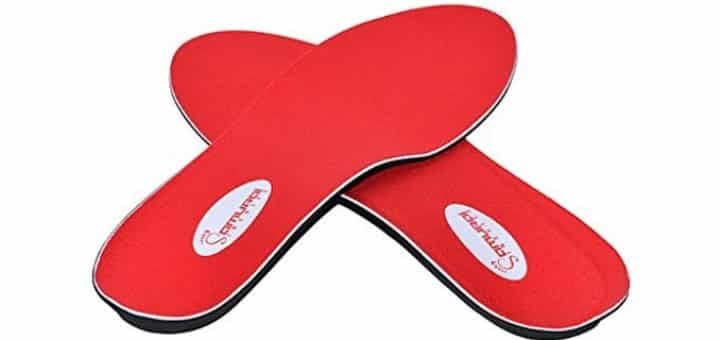 ---
What Exactly is Flat Feet
Flat foot is a condition of the foot known as fallen arches which mostly occurs in adults but can be seen in children as a birth defect. Medical conditions such as diabetes, obesity, pregnancy, and foot injuries are all main causes of flat feet, while with some people it is a condition that they are born with.
When you have flat feet, you lack crucial arch support which means that when you are walking the pressure will shift to other parts of your feet that can lead to pain, joint and foot issues as well as other complications. This condition can be effectively controlled by the use of supportive footwear (see our article on the best shoes for flat feet) and orthotics which will stabilize your arch and heel.
How Do Insoles Support Flat Feet
Orthotics are very popular amongst athletes, particularly runners to prevent injuries. Orthotics are also one of the most recommended ways to relieve pain and discomfort associated with fallen arches, plantar fasciitis, tarsal tunnel syndrome, and many other foot conditions.
The ultimate purpose of an insole for people with flat feet is to provide the optimal level of support to keep the correct alignment of your legs preventing injuries and future ailments that are related to your knees and ankles. An insole is placed inside your shoe running along the sole of your foot. The insole is designed to restore your foot to its natural functionality and to realign your foot and ankle bones to their natural position which in turn helps to prevent injuries and to relieve pain and discomfort.
Picking the Right Insoles
Make sure to look for an insole that is not too firm and not too flexible either.An insole that is too firm will not provide adequate shock absorption during activity, while an insole that is too flexible will be comfortable but will not provide much support.
Because most insoles are designed according to relative sizing, it is important to measure your foot and the insole to get the right fit. Some insoles may require that you cut them to size and shape. As with most footwear and insole will also need some break-in time before you will be able to enjoy all of its benefits.
---
Reviews: Best Insoles for Flat Feet
We have compiled a list based on reviews and research on some of the best insoles available today particularly for flat feet;
---
1
Flat Feet and Over Pronation Insoles
Samurai orthotics insoles have been biomechanically designed to optimize the functioning of your feet and legs with their shock absorbency and ability to realign your foot joints where necessary.

Samurai Insoles will enable you to walk and function pain-free and reduce strain and fatigue on your feet and legs.

An affordable option is giving you the best benefits of arch support, comfort, and versatility.

Designed by a podiatrist as one of the best insoles for overpronation and provide arch support for flat feet.

Created on standard shoe sizes so there is no trimming or guessing of sizes.

Slim design to fit any shoe type.

Money Back Guarantee – if you are not happy with your Samurai insoles.

---
2
Orthotic Shoe Insoles for Flat Feet
This is one of the best-selling insoles today! The Powerstep Pinnacle offers exceptional flexible cushioning as well as good support, perfect to alleviate foot pain and discomfort from having flat feet.

A Synthetic Sole.

Offers high medical-grade foot support.

An encapsulated design and semi-rigid shell to give you full arch support and flexibility that will also aid with mild to moderate pronation.

A deep heel cradle protects your heels during heavy impact from physical activity and stabilizes your foot.

The double layer foam cushioning gives you enhanced support.

The top fabric has anti-microbial properties and helps to reduce heat and friction when you are performing strenuous activities.

---
3
Orthotics for Fallen Arches
The Full-length Orthotic Insole by Envelop is designed specifically to give support and pain relief for conditions such as plantar fasciitis, fallen arches, bunions and other similar foot conditions.

A contoured podiatrist design to allow your foot to function correctly.

Breathable and antimicrobial fibers are allowing all-day wear.

Designed to combat foot pain associated with plantar fasciitis, fallen and painful arches, shin splints, heel spurs, Morton's neuroma, bunions, knee pain, back pain and much more.

Designed for all varieties of men's and women's shoes and can be trimmed for a precision fit.

Money Back Guarantee – if you are not completely satisfied.

---
4
Best Insoles for Flat Feet
One of the Superfeet's most versatile insoles is the Superfeet Black Premium Insole. Designed to support any arch type and to fit the widest range of shoe types.

Made from high-quality synthetic materials with a synthetic lining.

A low arched insole that offers you light and comfortable support.

Will fit almost any type of footwear even tight fitting styles.

Will aid in conditions such as foot pain, arch pain, heel pain and plantar fasciitis.

A natural NTX anti-bacterial coating that is latex free to ensure your feet stay fresh and dry.

A perfect shape for low arches.

---
5
Orthotics for Fallen Arches
A podiatrist-designed orthotic available in both men's and women's sizes to give you all-day comfort and support.

Designed by a podiatrist and clinically proven to relieve the pain and symptoms associated with fallen arches.

Available in sizes for men and women that will fit any shoe type, no trimming needed.

Immediately absorbs and reduces pain-inducing shock at its source.

Will lessen the impact on your feet with every step.

All day comfort and pain relief.

---
Comparison Table: Top Insoles for Flat Feet
Summary – Flat Feet Insoles
You can trust any one of the insoles mentioned above and orthotics to provide you with all day pain relief and comfort particularly if you have flat feet and other foot conditions.
Some insoles may require being trimmed to size while others come in ready made sizes according to the different shoe sizes. All of them will provide relief from the symptoms of flat feet, the choice of the insole is up to your personal preference. As you may have noticed some of the top insoles for flat feet come with a money back guarantee if you are not completely satisfied.
Suffering from painful arches is a thing of the past you can now enjoy life to its fullest and take part in any activities by simply just adding an insole to your footwear.
---
Please Rate this Article:
---
---