Around 20% of the adult population have flat feet; this provides a key target audience for those in the shoemaking business.
This gap has been noted and filled to provide a large variety of dress shoe styles for the flat-footed individual.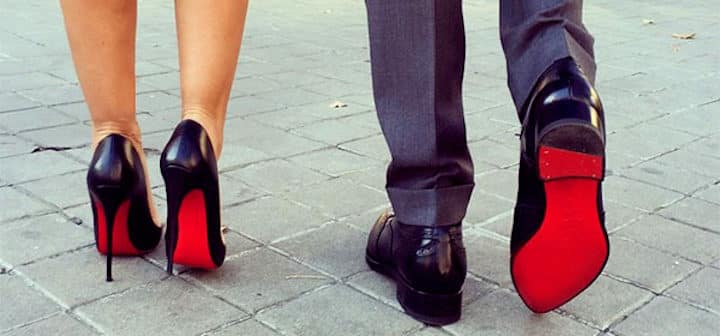 ---
What Exactly is a Flat Foot
When the arch of your foot is very low or has fallen, you are considered to have a Flat Foot. There are a few main causes of this, in the event that it is not a genetic trait.
Weight – An increase in weight can put more strain on the arches of your feet reuslting in a fallen arch.

Pregancy – During pregnancy the hormone relaxin allows your joints to become more flexible for birth, this, in turn, can loosen the joints in your feet, and along with the added weight causes a flat arch that may be permanent.

Injuries – Certain foot conditions and injuries may affect your arch and cause ea flat foot.

---
Dress Shoe Types for Flat Feet
There are two main characteristic shoe types that you need to look at when you have flat feet or fallen arches; Motion Control shoes or Stability Control shoes.
Which one of the two you will require will depend on your level of pronation:
Pronation refers to the inward rolling of your feet when you walk or run.
People who pronate excessively – or overpronate need a motion control shoe.

Motion control shoes – are one of the best options for people with low arches and overpronation as they provide support on the inner side of the feet and make standing and walking more comfortable.

People with normal pronation – need a Stability shoe.


Stability control shoes – have a foam lining at the instep that cushions your arch providing comfort and support that will fit a low arch.

Individuals who have a flat foot or lower arch are usually more likely to overpronate. An individual who under pronate or supinates requires a more cushioned shoe.
Stability and motion control characteristics are features more prone to running and sports shoes but a few dress shoe brands started adding these features.
---
Features of a Good Shoe for Flat feet
Good shock absorbing capabilities.

Well cushioned.

A stabilizing heel

Motion Control or Stability features.

Good Arch Support

---
Reviews: The Best Dress Shoes for Flat Feet
1
Flat Feet Slip-On Dress Shoes
---
2
Comfort Work Shoes for Flat Feet
Comfortable and supportive flat feet work shoe that is perfect for a professional environment.
This is a formal shoe made of leather and with the sole is of rubber.

It consists of Orthotic support which is contoured orthotic insole.

It also has gel padding near the heels.

It helps to alleviate the pain of the feet and also enhances the comfort of the entire feet.

The cushioned sole is light weighted and helps to take soft steps.

It is perfect for the flat feet, and the formal look of this shoe is just excellent for office wear.

The soft, padded and seam-free lining design eliminated the pressure or strain on any points.

The soft lining also helps to reduce the friction with the skin.

---
3
Wide and Flat Feet Dress Shoes
These shoes are perfectly elegant dress shoes for any formal event and office work.
People with flat feet who wear these shoes were extremely satisfied.

---
4
The Dunham and Aravon are branded shoes by New Balance, which implement their comfort walking technologies into these dress shoes.
EVA midsole gives great arch support for a low arch foot.

ABSORB technology for a better shock absorbent as soon as the foot makes an impact, resulting in a soft, protective gait cycle.

---
5
Best Flat Feet Dress Shoes
Classic and comfortable to wear flat feet shoes.
Cushioning and support for flat feet are provided by the Ortholite® footbed.

Available colors are black or brown for these shoes.

These shoes are very comfortable being one of the best shoes for standing all day at work.

These shoes come in extended sizes and very wide widths.

Their great style will be a perfect match for everyone who is looking for classic office work shoes.

---
6
Orthopedic Dress Shoes for Flat Feet
Dr. Comfort is an orthopedic shoe brand that not only makes the most comfortable and supportive shoes but likewise also stylish shoes that you can wear as dress shoes.
The men's Classic features leather uppers in classic style men's dress shoes.

The Cindee is a Dress pump with a slight heel for sophistication and smooth leather uppers.

Both shoes have an added Gel cushioned insert, that can be removed for use of your won orthotics.

A durable rubber outsole and lightweight construction for all-day wear.

Available in wider widths and extended sizes to choose from.

---
7
Dress Loafers for Flat Feet
The Orthofeet Lincoln and Chelsea are two stylish yet comfortable slip-on loafers that can be worn as dress shoes for almost any occasion, where you need added support and a comfortable fit.
Leather upper construction with an easy slip-on style and smooth seamless and non-binding interior.

An Orthocushioning system and a lightweight sole for cushioned comfort.

Extra depth to accommodate all foot conditions and available in wider widths.

The outsole is made of thick shock absorbing rubber.

---
8
Orthopedic Dress Shoes for Flat Feet
From Vionic we have a stylish Oxford lace-up shoe for the gents and a classic Kitten Heel, pointy toe pump for the ladies.
Both shoes feature Hidden Orthotic support and a podiatrist-designed cushioned footbed.

Smooth leather uppers construction.

The Vionic Kit Josie has a low kitten heel and a synthetic sole, while the Oxford Bruno has a rubber outsole, and Brogue style upper design.

Both are durable designs with quality materials and construction and feature comfortable biomechanics to accommodate all foot types.

---
Index Table: Top rated Dress Shoes for Flat Feet
---
Please Rate this Article:
---
---