As your feet age, they also come with many demands, health issues, and conditions for all the years they have carried you.
This means you need proper support and comfort from your shoes as a senior.
That is why I want to introduce you to the best Skechers walking shoes for Seniors.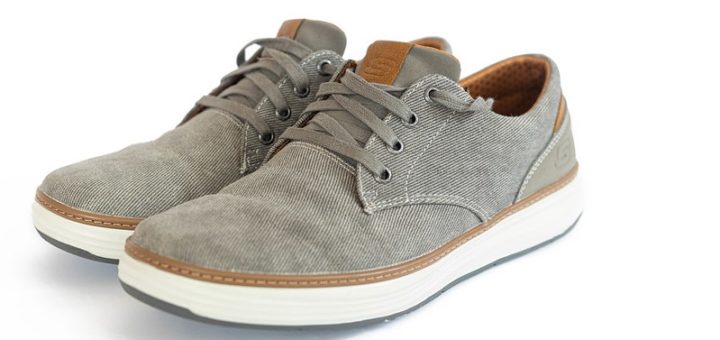 ---
Benefits of Walking for Seniors
Firstly, walking is extremely beneficial for seniors.
It is a low-impact and easy cardio exercise that can be done at any pace, with even a little balance.
Walking can greatly improve the health and well-being of seniors in these ways;
It helps to strengthen your muscles.
It keeps your weight in check.
Walking Lowers your risk of heart disease and strokes.
Walking reduces blood pressure and strengthens your bones.
It is a great stress reliever and helps with anxiety and depression.
Walking will keep your joints flexible, and it is an excellent outdoor activity.
Seniors need a little experience and nothing more than a good pair of walking shoes to enjoy this exercise.
---
Why You Need Proper Walking Shoes as a Senior
All in all, your fete allow for healthy movement and carry the weight of your entire body; they are your base of support that may deteriorate with age, which means you need to improve the features offered by your walking shoes
As you age, certain things affect your feet;
Obesity and Weight Gain – You may have gained weight over the years, placing more strain on your feet and arches.
Less Fat and Muscle in Your Feet – You are born with fat padding in your feet for absorbing shock; as you age, the fat deteriorates, and so does your muscle definition. Which leaves the bones more exposed and causes a harder impact on our feet and bunions as we walk.
Circulatory Foot Conditions – Many seniors have poor circulation, mostly caused by conditions such as Diabetes and neuropathy. This can cause pain and swelling in the feet.
Foot Ailments and Deformities – With age, certain foot ailments and deformities may develop, these include bunions, hammertoes, corns, and callouses. Most of which may have been caused by the wrong choices in footwear.
---
Features of a Good Skechers Walking Shoe for Seniors
Uppers and Fit – Skechers walking shoes come in various styles and use different materials for the uppers. They can have mesh, engineered knit mesh; the fabric is woven or kit, and textile or synthetic leather uppers. Depending on the shoe model. The uppers will offer a snug and streamlined fit or a more relaxed fit.
Cushioning and Support Technology – For Cushioning and support Skechers use Ortholite and Memory foam in the insole with Air Cooled Goga Mat, Goga Max, or Ultra Go cushioning systems for shock absorbency. Many have comfort pillars in the sole to provide balance and shock absorbency.. the Arch fit range has an anatomical-shaped footbed for foot and arch support.
Outsole – Skechers shoes either have a rubber outsole with flex grooves or a more rigid or synthetic outsole with Comfort Pillar technology. Some outsole designs are thicker than others which you will also notice, which generally depends on the model of the shoe from Skechers. Skechers offers a durable and solid outsole ideal for seniors because it provides excellent traction and grip on most indoor and outdoor surface types.
Options -Most Skechers shoe models have wider width options and more colors. The wider options are more accommodating for seniors with foot conditions such as bunions and hammertoes or who may have swollen feet.
---
Reviews: The Best Skechers Walking Shoes for Elderly
Here are some of our favorite choices in Skechers walking shoes for Seniors;
---
1
The Skechers Go Walk 6 is their cosmic force and elastic stretch model in walking shoes from their top ranges.
It has soft woven knit mesh fabric and synthetic uppers.
The outsole is a durable and high-traction rubber design,
There is Air Cooled Goga Mat insole cushioning and a supportive midsole.
They are available in wider widths and more color options.
---
2
The Skechers Go Walk 6 is a mesh upper sneaker-style walking shoe for seniors.
It is lightweight and highly breathable with a smooth, seamless lining.
There is a lightweight dual-density Ultra Go outsole that has comfort pillar technology.
Inside is an air-cooled Goga Mat insole.
They are available in wider widths and more colors.
---
3
The Skechers D'Lux is an Oxford-style walking shoe for seniors.
It has mesh uppers and Bio Dri smooth moisture-wicking linings.
There is a memory foam cushioned insole and a supportive shock-absorbing midsole.
The outsole is a durable and high traction synthetic sole.
There are wider width options available, as well as more colors in this range.
---
4
Wide Width Senior's Shoes
The Skechers Afterburn and D'lites are comfortable and casual walking shoes for seniors.
They offer a much more roomy fit and air available in wider-width models.
The D'Lites and Afterburn have an Air Cooled Memory foam insole for plush underfoot cushioning and a supportive foam midsole.
They have a thick and protective rubber outsole that is slip-resistant.
There are also many more color options available.
---
5
Cushioned Shoe for Elderly
The Skechers Cushioning Elite offers maximum underfoot comfort for seniors.
They are walking shoes with synthetic soles and engineered mesh uppers.
There is responsive Ultra GO cushioning in the 2-inch platform midsole,
The Outsole has a parametric web design for better traction and slips resistance, with flex grooves for flexibility.
More color sand width options are likewise available.
---
6
Something that you can walk in for all occasions is the Moccasin loafers from Skechers.
The Avillo has canvas uppers and a cushioned memory foam footbed, with a rubber sole and padded collar.
The Fest-Manzanita is a synthetic flat loafer with a relaxed fit, Air Cooled Memory Foam insole, cushioned midsole, and soft woven uppers.
Both shoes have a rubber outsole ideal for walking and are available in more widths and colors.
---
Index Table: Top Rated Walking Shoes for Seniors
---
---