Metatarsalgia is a condition that affects the ball of your foot. When you strike down on the balls of your feet when walking or running, it can become very painful if you do not have the correct footwear.
Skechers for metatarsalgia provides plenty of cushioning and support to help reduce the symptoms of this foot condition, as well as help to increase healing.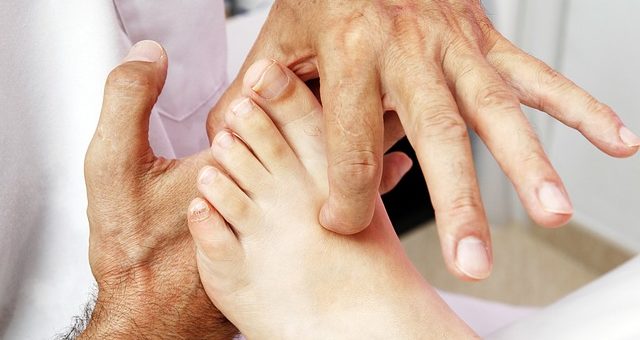 ---
Metatarsalgia and How it Affects Your Feet
Metatarsalgia is a condition that affects the balls of your feet.
The ball of both or a single foot can become inflamed and painful, making it hard to walk or run.
Certain activities such as running, especially jumping where there are hard impacts on the balls of your feet, can lead to these conditions.
There are other causes, in turn, such as foot deformities and ill-fitting shoes, which we will get into further along.
Although Metatarsalgia is generally not a very serious foot condition that could cause serious damage, it can distract you and affect your daily activities.
Fortunately, there are many ways to remedy and prevent the conditions with a few small additions to your routines and some good shoes.
Symptoms – You may feel a sharp, aching, or burning pain in the balls of your feet. The pain may worsen as you stand, walk, run, and even with certain more specific activities. There may also be a sudden shooting pain or numbness in the area. Mostly Metatarsalgia feels like you have a bunched-up sock or pebble in your shoe.
Causes – Metatarsalgia is caused by inflammation or damage to the balls of the feet. This mainly occurs when there are high-impact activities that cause strain on the balls of the feet. Many risk factors involved with Metatarsalgia form part of the causes.
Risk factors – High Impact sports such as running and jumping are great risk factors, as well as one of the main causes of Metatarsalgia. Wearing very flat or high-heeled shoes places plenty of impact on the balls of your feet. Ill-fitting shoes can also have a part in the cause of Metatarsalgia. Obese individuals and those with very flat feet may have an impact on the balls of their feet that can cause the condition. When you have Calluses, corns, and other deformities and growths on your feet and, in turn, hammertoes, you have an increased risk of getting Metatarsalgia. Inflammatory arthritis is a medical condition that may lead to Metatarsalgia.
---
Why Choose Skechers Shoes for Metatarsalgia?
Skechers shoes come with comfort technology and support features that are ideal for Metatarsalgia and for various foot conditions.
Most Skechers shoe models have plenty of cushioning that provides excellent impact absorption.
They likewise have arch support and a contoured footbed to align your feet perfectly.
---
Features of a Good Skechers Shoe for Metatarsalgia
Uppers – Depending on the design, Skechers shoes may have leather, synthetic, mesh or knit uppers with a smooth lining.
Support and Cushioning – Skechers shoes feature their Goga Mat, Goga Max, and Air Cooled Memory foam midsole and footbeds which are quite popular, among other features. They offer good arch support, especially in the arch fit models, and plush and energizing cushioning.
Outsole – Skechers shoe models mainly have a rubber outsole for good traction and stability.
Options – As you will see, most Skechers shoe models are available in more colors, and many do offer wider width fit options.
---
Reviews: The Best Skechers Shoes for Metatarsalgia
---
1
Slip On Shoes for Seniors
The Skechers Go walk slip-on is one of their most popular models.
It is an easy slip-on design that is available in many colors as well as wider widths.
The Go Walk has a high rebound rubber outsole with Comfort Pillar technology for better control and a dual-density outsole for shock absorbency.
There is an Air-Cooled Goga Mat Midsole and Ultra Go insole for cushioning and support.
---
2
Metatarsalgia Walking Shoe
The Skechers D'Lux is a newer model that is ideal for Metatarsalgia.
The D'Lux has mesh uppers with a moisture-wicking lining.
Inside is a memory foam cushioned insole and a supportive midsole that will absorb shock.
The outsole is a high-traction, durable rubber.
More color and size options are available in this model.
---
3
Walking Shoe for Metatarsalgia
The Go Walk Arch fit is ideal for individuals that lack the support of their natural arches,
There is a cushioning Ortholite insole and a High rebound Pillar in the outsole and midsole for shock absorbency and cushioning.
The shoe properly aligns and cushions your feet to help with metatarsalgia.
The uppers are comfortable and offer a breathable fit.
---
4
Here are some sandal models for metatarsalgia from Skechers.
They offer an adjustable fit with textile uppers and breathable fabric.
There is a thick and anatomical-shaped footbed for cushioning and shock absorption.
The sandal feature 5Gen cushioning and a Goga Max high rebound insole.
The outsole is durable and slip-resistant.
More colors are available to you.
---
5
Metatarsalgia Running Shoes
One of the best running shoes if you have Metatarsalgia.
The GO run Fast offers plenty of 5 Gen cushioning and a foam midsole to absorb shock and cushion the balls of your feet.
The rubber outsole offers high traction and has a slight rocker design to take pressure off your feet.
The uppers are a breathable mesh that adapts to the shape of your feet.
There are more colors, as well as wider widths available to you.
---
6
Wide Width Metatarsalgia Shoes
The Skechers Afterburn and D'Lites are very comfortable casual shoes for everyday wear when you have Metatarsalgia.
They offer a roomy and comfortable fit with leather and mesh uppers in many color options.
There is a plush Air-Cooled memory foam insole.
The midsole is supportive, and the thick rubber outsole will absorb shock.
---
7
Cushioned Shoe for Metatarsalgia
The Skechers Cushioning Elite offers plenty of comforts and cushioning for Metatarsalgia.
They are comfortable walking shoes with more colors and sizes available.
There is an Ultra Go Cushioned insole and a two-inch midsole for shock absorbency and comfort.
The Uppers are breathable engineered mesh.
There is a high-traction rubber outsole.
---
Index Table: Top Rated Skechers Shoes for Metatarsalgia
---
---