Flat Feet Sandals are designed for walking on a variety of surfaces and terrains such as the beach, pavements, and trails.
They usually have arch support design and a contoured footbed and some gait control to protect your flat feet.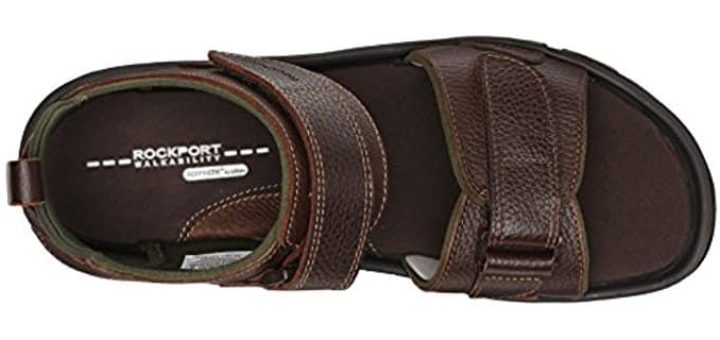 ---
Flat Feet Symptoms
People with flat feet which is also known as a fallen arch have either no arch or a very low arch.
The arch is the gap beneath the inner part of your foot when you stand that raises your foot slightly from the ground. When you have a flat foot the inner part of your foot or your arch will either be flat on the ground or very close to it.
Flat feet can affect either one or both of your feet. Generally, individuals with a flat foot tend to overpronate, which means that when they walk or run, their feet will roll more inward, causing the feet to point outward.
Many individuals who have a flat foot or lower arch will not experience any noticeable symptoms, although in more severe case there may be symptoms that you need to be considerate off;
Pain – The most common symptom of a Flat Foot is pain in the foot and the heel area mostly. This is because there is more strain in the muscles and tendons as well as in the connecting ligaments.

Stress – A flat foot or low arch causes abnormal stress on your knee and hip joints which may cause pain in these areas. This type of stress is more likely when your ankles turn inward and when you Overpronate.

Other Pain – A flat foot may cause strain and stress in many parts of your feet and body, resulting in you feeling pain in your ankles, as well as swelling. Or pain in the arch of your feet, heels, knees, hips, lower back and even your lower legs.

Stiffness – similarly a Lower arch can cause more strain on the arch itself which can cause stiffness in your feet and arches.

Uneven Weight Distribution With a Flatter foot your body weight will not be distributed evenly as it should be which can cause your shoes wearing down in certain parts much faster.

---
Cuases and Treatment of Flat Feet
There are many causes of flat feet that are if you are not genetically born with them;
Excessive weight gain.

Pregnancy.

Medical Conditions.

Improper footwear.

Injuries.

Arthritis.

Luckily flat feet can be well supported and kept comfortable with the right footwear, there are also likewise a few treatments for the symptoms associated with flat feet;
Shoes Shoes that offer proper support, cushioning and that fit well can provide comfort to flat feet. A wider shoe is likewise recommended when you have flat feet so that your feet can spread comfortably in the shoe.

Orthotics A supportive arch support or cushioned insole may provide comfort and relief.

Rest – When you experience pain as a result of activities when you have flat feet it is always advised to have adequate rest periods until the pain subsides.

Lose Weight Obesity and weight gain is the MAIN reason behind flat feet in most cases, therefore keeping your weight under wraps is ideal in the prevention and diminishing of symptoms of flat feet.

---
Features of a Good Sandal for Flat Feet
Comfort – A cushioned footbed or insole provides comfort and cushioning for your feet, while smooth upper linings and soft straps and toe posts are ideal to prevent friction and irritation.

Adjustability – An adjustable back strap or toe strap is always ideal to have so that you can customize the fit of your sandal to your own personal preferences. this is particularly good to have in a sports o outdoor sandal where you need the sandal to stay securely on your feet.

Grip – sandals are mostly associated with wet and slippery terrain fr outdoors and beachwear, there for a tough rubber outsole with a lug or patterned tread is desirable, in order to provide good grip and slip resistance.

Shock Absobency – For any shoe that you will be walking or running, or even just standing in, a fair amount of shock absorbency is always required, particularly for a flat foot. The rubber outsole, Gel padding, EVA midsole or other forms of cushioning and padding will provide you with much-required shock absorbency.

Motion Control – A contoured footbed helps to prevent excessive pronation and controls motion which is ideal for a flat foot.

Stability a more rigid and less flexible sole or midsole ensures better structural stability which is hence a requirement for a flat foot.

Arch supprt – Good arch support that is specific for a flat arch is ideal to look for.

---
Reviews: The Best Sandals for Flat Feet
1
A contoured and highly supportive sandal ideal for low arches and flat feet from Vionic.
Supportive and contoured cushioned footbed.

Excellent heel cushioning and shock absorbency.

A durable and high traction rubber outsole.

flexible and comfortable design with a wide toe area.

---
2
Sporty sandals for flat feet from Rockport, a top brand in comfort and supportive shoes.
Features a thick and shock-absorbing durable rubber outsole.

A cushioned and soft insole design with an EVA Midsole.

Soft leather and fabric upper straps.

Sporty design.

---
3
The Teva Mush is a top favorite when it comes to sporty comfort sandals.
The features Mush cushioned and comfort footbed and midsole.

A comfortable and wide toe area.

Excellent low arch support.

Shock absorbing midsole and rubber outsole.

Comfortable and adjustable straps.

---
4
Comfortable and classic styled leather sandals for both men and women with hidden orthotic support.
The thick rubber sole ensures good grip and shock absorbency.

Leather uppers straps that are durable and non-irritating.

Podiatrist-designed footbed for everyday wear.

Received an APMA seal of acceptance as an orthopedic shoe.

Good cushioning and support system.

---
5
Sports Sandal for Flat Feet
Tough, yet comfortable, that is what these two sports sandals from Teva are. teva is a renowned name in comfort and supportive sandals, and these two models are ideal for a flat foot or low arch.
High traction rubber outsole with water channeling lugs.

A Compression molded EVA midsole, for better support and comfort.

Features a Stability shank and Shock pad Heel, perfect for a flat arch.

Available in color as well as width options for men and women.

---
6
Fisherman's Sandals for Flat Feet
Looking for a sandal to wear outdoors and in wet conditions, well then look no further than the highly supportive Orthofeet Fishermans sandal with its extra depth design.
Leather and mesh uppers with an enclosed toe and adjustable back strap that is quick-drying and highly breathable.

Features the orthopedic comfort and supportive Ortho Cushioning System.

A non-binding and extra depth design, that is likewise available in wider width options.

Lightweight sole that offers excellent traction and grip on slippery surfaces.

---
7
Orthopedic High Arch Casual Sandals
Two easy slip on and off casual sandals from Dr. Comfort with adjustable and seam-free upper straps.
Soft and supple leather and seam-free uppers.

A dual-density cushioning and shock absorbing midsole.

Stability shank to control motion.

A cushioned and moisture-wicking lined insole.

Available in wider widths for every foot type.

---
8
Slide on Flat Feet Sandals
FitFlop is a brand in comfort and therapeutic design sandals that are fast making the headlines. I love these two models for a flat foot or lower arch.
Features the popular anatomically designed Anatomicush midsole, For cushioned comfort and support.

Ergonomically designed and cradles your arch.

Available in wider widths and has a wider design for more toe room for flat feet.

Stylish and elegant design for every occasion.

---
Index Table: Top Rated Sandals for Flat Feet
---
---