The expected release date for the Saucony Triumph 21 is November 20, 2023.
The Saucony Triumph 21 will have the following main updates: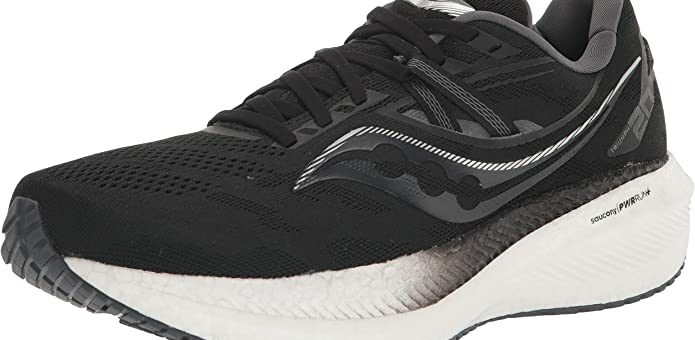 The new Saucony Triumph will have an outstanding style for a daily training shoe.
It will offer much-improved durability and super plush cushioning,
The fit will be true to size and stable.
There will be improved traction in the outsole.
Previous model of the Triumph:
The Saucony Triumph 20 release date was on October 2, 2022.
The Saucony Triumph 19 release date was on June 2, 2021.
---
Latest Version of the Saucony Triumph
*
---
Video
---
Price
The MSRP (Manufacturer's Suggested Retail Price) for the Saucony Triumph 21 will be $150.
It will be very affordable for such a durable and well-cushioned running shoe.
Arch Support and Pronation Control
The new Sauconymodel will be the ideal neutral shoe.
It will offer features for supination, as well as for overpronation.
The plush cushioning will be ideal for high arches.
The more stable fit provides stability for low and flat arches, as well as for overpronation.
Terrain
The new model will be for road running and more solid surfaces specifically.
It will be durable enough for daily running on these surfaces.
Use
The Saucony Triumph 21 could be used for daily running and for long-distance running.
It will offer plush cushioning for comfort, and a much more durable design.
Durability
Overall the design will be very durable.
The outsole will have improvements for durability and long-lasting traction.
Fit and Sizing
The ft will be a more medium and roomy fit.
There will be a comfortable toe room.
Wider width options will likewise be available.
Weight
The weight for men will be 275 grams.
For the ladies, it will weigh 243 grams.
---
Elevation of the Saucony Triumph 21
Heel Height
There will be a heel height of around 37 mm.
The heel will offer good elevation.
Forefoot Height
The forefoot height will be around 27 mm.
The forefoot will also offer light flex.
Heel-to-Toe Drop
A 10 mm heel-to-toe drop will be expected.
The heel-to-toe dorp will be ideal as a running shoe for neutral pronation.
---
Components of the Saucony Triumph 21
Outsole
For the outsole, you can still expect the high-quality, durable rubber.
The tread will have improved traction, and the sole will have more flex.
Midsole
The Midsole cushioning will offer you a Dreamy and super plush ride.
There will be PWRRUN cushioning with a long-lasting airy feel.
Upper
The new Saucony Triumph 21 will offer New mesh uppers with an articulated eye-row for a more sleek fit.
The design will have soft suede detailing and be much more lightweight,
The uppers will be completely vegan with recycled materials.
---
Saucony® Triumph 19 vs. Triumph 18
---
*
---
---
---