The Saucony Ride 16 release date is August 17, 2023.
The Saucony Ride 16 will have the following main updates: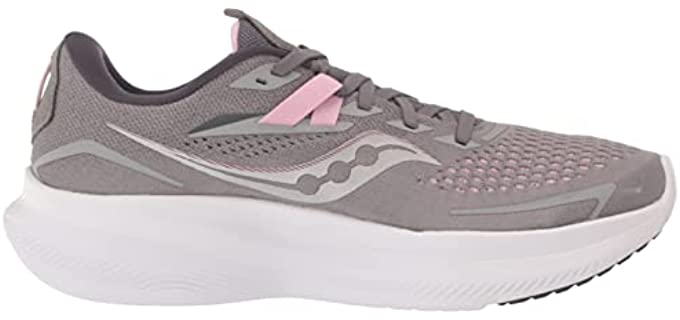 The Saucony Ride 16 will be one of their best Ride models to date.
It will be an excellent workhorse that will be ridiculously comfortable, with plush cushioning and superb protection features.
It will be much lighter with airy uppers and a secure tongue that will stay in place.
It will be quite stable for a neutral shoe with loads of protective cushioning and support.
Previous model of the Ride:
The Saucony Ride 15 release date was on June 11, 2022.
---
Latest Version of the Saucony Ride
*
---
Video
---
Price
The MSRP (Manufacturer's Suggested Retail Price) for the Saucony Ride 16 will be $140.
As with some of the improvements, you can expect a slight increase in the price of the new Saucony Ride 16.
There may be different price options depending on the retailer that you use.
Arch Support and Pronation Control
The Saucony Ride 16 will be a neutral shoe with light stability features.
It will offer plush and supportive cushioning, ideal for high arches and normal arch types.
The fit will be comfortable and suitable for most foot shapes.
Terrain
The new model will be a road shoe.
It will be suitable for use on most hard surfaces, even gym and treadmill surfaces.
Use
Generally, it will be a running shoe. However, not for marathon running.
The Saucony Ride 16 will be more for leisure running, jogging, and treadmill use.
Durability
With some slight improvements, it may be more durable.
The overall construction will be of excellent quality and durable.
Fit and Sizing
The fit will be regular with a medium-toe box.
There will be normal and wide-width options available.
Weight
Weight: Men 255g | Women 221g
The shoe will weigh 255 grams for men and 221 grams for women.
As you can see, it will be very light in weight.
---
Elevation of the Saucony Ride 16
Heel Height
There will be a heel height of 31.4 mm estimated.
The heel will offer good support.
Forefoot Height
The Forefoot should be around 24.5 mm in height.
There will be slightly more flex in the midfoot section.
Heel-to-Toe Drop
6.9

The total heel-to-toe drop will be 6.9 to 10 mm.
This will be ideal for a regular running shoe for neutral pronation.
---
Components of the Saucony Ride 16
Outsole
The Saucony Ride 16 will have a durable rubber outsole like the predecessor.
The tread will have an improved design for traction and a higher heel.
Midsole
The PWRRUN midsole will have a new formula that will be much softer cushioning.
It will have a higher stacked midsole for more springy cushioning.
The overall feel will give you smooth heel-to-toe transitioning.
Upper
For the uppers, you can expect much more breathability and a lighter fit for summer.
It will offer deeper contouring into the midsole, so your feet will feel like they are sitting in the shoe.
The uppers will consist of durable recycled materials.
---
Saucony® Ride vs. Tempus
---
*
---
---
---