Magnanni is a Definitive Vintage and highly sophisticated shoe brand, which creates the most beautiful masterpieces for gents.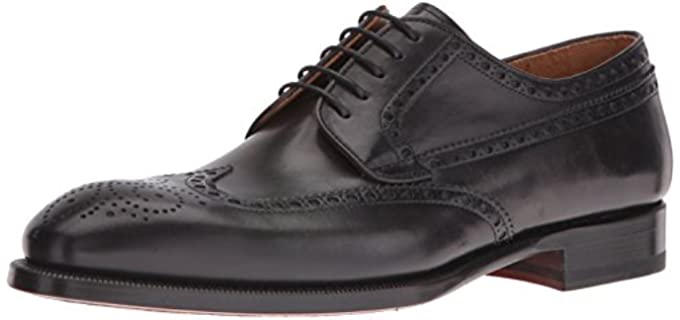 ---
The Heritage Behind Magnanni Shoes
Magnanni is a Spanish shoe brand untouched by the modern world, created in La Mancha, Spain, by the most skilled and meticulous craftsman.
Magnanni shoes hold the longstanding family tradition in creating these exceptional quality classic shoes in a place where great wine, food, and shoes are the Pinnacle.
Let's look at some of the rich History behind Magnanni shoes;
The Father of Shoemaking – Pascual Blanco Martinez learned the art of shoemaking from his grandfather at a very young age and thrived at the meticulous and precise nature of creating a sketch into a pair of gentleman's shoes with unique features and finishings. Pascual's ambition for perfection inspired him to become the head designer of the Magnanni shoe brand at only twenty years old. Under his management and passion, he created a line of shoes that are the most elegant and luxurious in their king.
Shoemaking Traditions – With just five employees in a factory in Alamanda, Spain, the Magnanni shoe company began in 1954 under the leadership of Sebastian Blanco from the Blanco family and was passed on to every generation of sons from the Blanco family as the years passed.
---
What makes the Magnanni Shoe so Exquisite?
Handpainted Patina – each shoe is exquisitely and delicately hand-painted by skilled artists using blended Patinals to create layers of different dimensions and textures, almost as if staring into a crystal ball. No one pair of Magnanni shoes is identical, as every stroke subtly shapes, creating a unique antique feel and design.
Artesano Sole – The Artisano hand-stitched sole is an icon of quality, technique, and craftmanship held by the Magnanni family for many years. This delicate art involves sewing the shoe sole and upper together, avoiding the lining, with double-needle stitching, which is a look that is rarely seen in modern fashion footwear.
Shoe Types – Shoe types such as the Artesano, a smooth and sleek slip-on dress shoe with buckle detail is created, and the lace-up dress shoe style and the Monk single strap Dress shoe. There are also boots and sneakers with different styles, such as a monk or double straps, slip-on, or lace-up closures. Another favorite is the loafers, which come in a variety of styles and textures.
Leather – The best Quality Leather, Nappa leather with either a smooth or suede finish, is used in Magnanni Shoes.
Colors – The colors of the shoes are rich with a vintage antique feel and many dimensions. Rich and neutral colors are available and a few cooler and bolder color options such as blue, gray, and burgundy, depending on the model shoe.
---
Features of which makes the Magnanni Shoe Brand so Good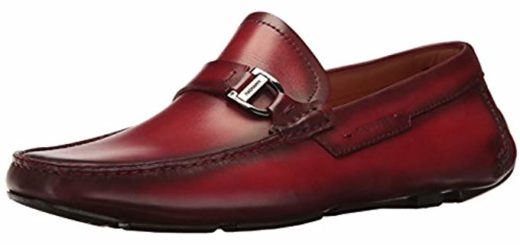 Materials – Made from the finest quality leather. Hand-painted and dyed to be an original one of kind pieces.
Colors Available – Rich and warm color options available.
Styles – Dress Shoes, Boots, and sneakers.
Sole – A hand-stitched sole.
Closure – Buckle details on some models.
---
Reviews: The Best Magnanni Shoe Models
Below are some of the top favorite shoe models from the Magnanni shoe brand.
---
1
The Magnanni Rafa Loafers are a favorite as a stylish and elegant dress shoe with Nappa Leather Uppers and hand-burnished detailing.
The upper consists of smooth Nappa leather with stunning Hand-burnished detailing.
Inside are full leather linings for comfort and moisture absorbency.
The soles are made from durable and slip-resistant leather.
A stunning and elegant dress shoe that you can wear with any outfit.
---
2
The Magnanni Marbella are stylish slip-on dress shoes with buckle details and available in three smooth leather color selections.
Smooth leather uppers in a Monk dress style for the distinguished gentleman.
Features decorative buckles with two cross straps.
A durable sole with a slightly elevated heel.
Available in three colors in smooth leather to choose from.
---
3
The Slater Oxford from Magnanni is a comfortable and fashionable men's shoe available in two colors to choose from.
Smooth and comfortable leather upper with a lace-up closure and laces in matching color as the shoe.
The durable outsole is made from rubber that offers excellent grip in w white color with a slight platform design.
On the uppers, there are perforated panels for improved breathability.
There is a two-toned midsole for cushioning and shock absorbency.
---
4
The Gerardo Oxford from Magnanni is another superb casual shoe that is versatile and comfortable to wear.
It comes in four different color options for the upper with a light contrasting colored sole.
It is made from durable and soft leather with a lace-up closure in matching colors.
A durable rubber sole and thick midsole for support and cushioning.
Lined with a smooth moisture-wicking lining.
---
5
The Magnanni Lyon is a favorite in comfortable ankle boots available in black or brown neutral color selection.
Soft and suede feel leather upper in black or brown color options.
An easy slip-on ankle boot with a pull-on tab at the back.
The upper consists of durable and supple Ferran Nappa leather, which is the best quality leather.
Handmade elegantly designed boots with a slight heel for sophistication.
---
6
These are comfortable and easy wearing casual slip-on Loafers from Magnanni, which are ideal for wearing with almost any outfit type.
Smooth and soft leather uppers in a loafer style with across buckle detail.
It is made from durable fine quality leather with a thicker synthetic sole for better grip and traction.
Ideal slip-on and off style for easy wearing.
It comes in a few colors to choose from.
---
Index Table: Top Rated Magnanni Shoes for Men
---
---