The Spiked Loafer has become quite popular today and is a classy and slightly daring addition to formal footwear.

---
The Spiked Loafer
A loafer is a slip-on style shoe that usually does not have any fastening or laces and is also more of a casual shoe.
There are, however, more formal styled loafers for formal occasions such as weddings, Cocktail parties, professional Functions, and promos.
These shoes are typically made of leather or suede, some from velvet, with a moccasin-shaped toe and a flat or slight heel and sole.
The Spiked Loafer is a different formal loafer design in which the upper is either covered or decorated with spikes in a variety of colors and shapes.
---
How to Wear Your Spiked Loafers
There are a few different ways and occasions to which your Spiked loafers are acceptable and ideal to wear;
Semi-Formal – A Spiked loafer in a more casual style can leave you looking dressed up yet still relaxed and gives you the option to the best of both worlds in casual and formal events.
Formal – Most Spiked Loafers are very formal and designed to give that extra glamorous feeling and touch to your outfit for events such as Weddings, Dress Up Parties, and Formal Office Functions.
Loafers with Different Pants Types – Spiked Loafers can be worn with a full suit and suit pants for a formal event. You can also wear your Spiked Loafers with a Chino or more formal styled Jean for a semi-formal or casual look.
---
Features of a Good Spiked Loafer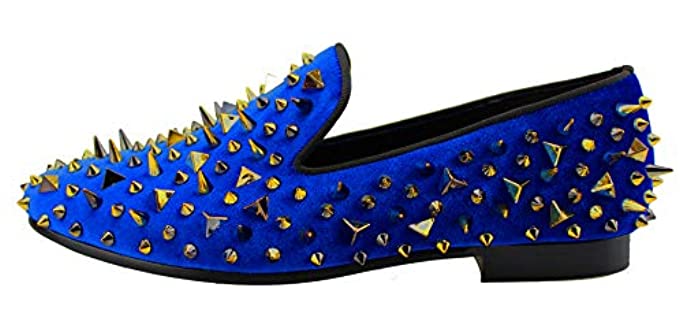 Uppers – The upper can be made from anything from smooth leather, Suede leather or even velvet and textile materials as this is a more extravagant and formal shoe type. Some materials even have a Glittery appearance along with the spikes.
Spikes – Most of these loafers are decorated with either spikes only or a mix of Spikes, Glitter, and Rhinestones. The spikes are generally in Gold or Silver on a contrasting or opposite color shoe, but some models may be in the same color as the shoe.
Design – This is a slip-on loafer design that you will find in a large array of bright and bold colors, black, gold, and silver being the most predominant.
Sole – The sole is usually smooth as this is a formal and occasional shoe that might also be used for dancing. The sole can be synthetic or rubber and a similar or opposite color to the shoe.
Insole – I have seen some lovely black models with a red interior, although most interiors are similar colors to the shoe. There is usually a comfortable lining and a padded insole for comfort.
Toe and Heel – The toe has a narrow to very narrow design, and the heel is slightly elevated for sophistication and a more formal and elegant style.
---
Reviews: The Best Spiked Loafers for Men
Here are some excellent choices in Spiked Loafers for men.
We hope you love the products we recommend!
So that you know, We may collect a share of sales or other compensation from the links on this page.
---
1
The uppers consist of s soft and durable polyester with either silver or gold color spikes all over the user's area.
The uppers also have a Glitter effect, and this shoe is available in many bright and neutral colors for a bold and daring or a more reserved look.
The outsole is made from durable rubber, and there is a stylish slight platform design.
---
2
Synthetic leather upper with large spikes covering the entire shoe.
A comfortable and easy slip on and off the design with a comfortable
The durable rubber outsole offers good traction, and there is a slight heel for stability and sophistication.
This shoe is available in so many color selections that you can choose from, gold, Silver, Blue, Black, Red, and Black Option with Gold spikes.
---
3
Synthetic leather upper and a durable synthetic sole with a slight heel.
The uppers are decorated with rhinestones on the front, and there are spikes at the heel area in a similar color.
The upper color differs from that of the spikes.
You can choose between a Black and red tone, Black and Gold, or even a Black and Silver-toned color option.
---
4
A Soft velvety spike feels uppers in a deep black color.
It is decorated with Rhinestones and spikes.
The ideal shoe for Prom, Weddings, Galas, and Cocktail parties.
This shoe easily wipes clean with a damp sponge and is easy to wear with the slip-on design.
---
5
Colorful uppers with similar or contrasting Spoikes, rhinestones, and a glittery and sparkling appearance.
Choose between many bold and also neutral color selections.
The sole is synthetic and has a heel for sophistication and stability,
It also has a more narrow and formal-looking toe.
---
6
Available in many color options with a black interior.
The sole offers excellent traction with a slight heel.
Ideal for formal occasions and stylish parties and weddings and professional functions.
---
7
The leather loafers have spiked tops.
They are PU leather with a rubber sole.
The tips are spiked in gold.
There are also more colors available.
---
8
The Harpelunde loafers have spikes and velvet.
The uppers are soft velvet with spikes.
They are available in more colors.
Ideal for formal occasions.
---
9
The Meijiana Loafers are velvet spiked loafers.
They have a rubber outsole and cushioned insole.
The uppers are soft velvet that has spikes.
There are also many colors available.
---
10
The Jitai penny loafers have a spiked design.
They are comfortable and luxurious in style.
The loafers are synthetic with a rubber outsole.
There is also a cushioned insole.
---
Index Table: Top Rated Spiked Loafers for Men
---
---