Diabetes is a condition that needs much effort to take care of and monitor, and many times we neglect to take care of our feet and keep an eye on them.
Diabetes can cause nerve damage and other issues that mainly affect your feet, which could have some severe consequences. For the most part, athletic and Orthopedic style shoes are usually prescribed for Diabetic feet, though little is said about dress shoes.
You may need to wear dress shoes for s specific event, or for a professional work environment, and in these cases, we want to help you find the most comfortable dress shoes for Diabetics.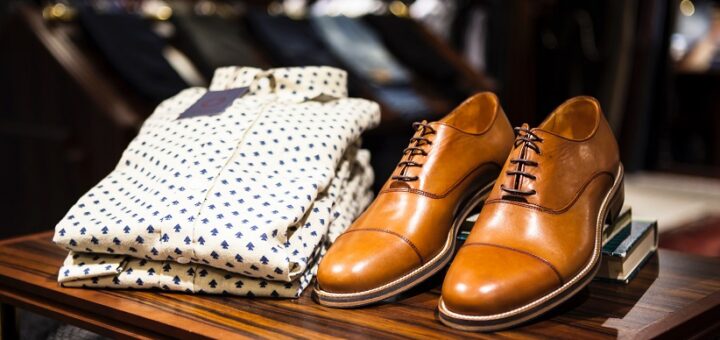 ---
How Diabetes Affects Your Feet
Before we get into the best dress shoes for diabetics, let's first look at how diabetes can affect your feet. Many individuals may have noticed some of the below symptoms and issues that I will be mentioning. Others may have had no issues with their feet. All in all, when you have diabetes, it's very important that you take care of your feet and that you keep a close eye on any changes.
For the most part, diabetes affects your blood sugar, which means you have high blood sugar and lower insulin levels. You can have diabetes type one, in which case your body produces no insulin when you and you need insulin injections. Or you may have diabetes type 2, where your body doesn't produce sufficient insulin fast enough to take care of glucose and sugar in your blood. Insulin takes sugar and glucose to the cells in your body to provide energy. The build-up of excessive glucose and sugars in your body eventually leads to a condition called diabetes.
Dealing with diabetes initially is difficult enough as is, but it also causes other issues. One of them is issues with your nerves, causing nerve damage, and also with your blood circulation. Now I'm going to be going into a bit more detail with this, especially in the way that it affects your feet, which will show you why you do need proper shoes for all occasions when you have diabetes.

Nerve Damage and Neuropathy – Firstly, nerve damage, one of the main conditions schools in most people, with diabetes, is peripheral neuropathy. In this condition, it causes a tingling and burning sensation in the nerves, especially in your fingers and your toes, which can lead to numbness and eventually a complete loss of feeling, especially in your feet. Now you can imagine if you have no feeling in your feet if you step on something hard, will shop, your feet can get hurt, and you won't notice it. If your shoes are chafing or squeezing your feet, you will also not notice that. Not to mention if your feet are hot or cold, you will not feel that either. In all these situations, it can lead to more dire effects.
Poor Blood Circulation – Another issue with diabetes is that it causes poor blood circulation and affects your blood, which means healing from a bruise, a cut scrape, or even from a blister, which can take much longer. And you are much more prone to infection because your immune system is compromised.
Ulcers and Gangrene – Blessed is souls scraps cuts can lead to some pretty nasty ulcers, which ultimately can lead to gangrene. Now, gangrene sets in when tissue starts dying around a sore or ulcer, and this can be extremely severe, as it may cause the loss of a limb. As you can see, the picture with numbness in your feet and poor blood circulation, and healing takes very long, especially because you are more prone to infections when you have diabetes. And ultimately leads to serious effects such as Gangrene and infection of the blood and other organs.
Swelling – In some cases, people with diabetes may notice that their feet tend to become swollen and painful.
---
Choosing Your Dress Shoes
For the most part, three shoes are designed to look good, to give you a more sophisticated and formal appeal, rather than for comfort. However, luckily, many brands design dress shoes, particularly to be more comfortable and to still look good. The most important thing when you have diabetes is to protect your feet from injuries. You need good underfoot cushioning and protection from anything that could cause a puncture, or that could cause a bruise or a cutting risk.
It would help if you also had a shoe that offers an accommodating and comfortable fit that will not chafe or cause any friction to your feet that may lead to blisters that can become infected. You need shoes that offer proper support to help keep you balanced, as in many cases where individuals have neuropathy and their feet on them, they might struggle with balance.
---
Features of a Good Dress Shoe for Diabetics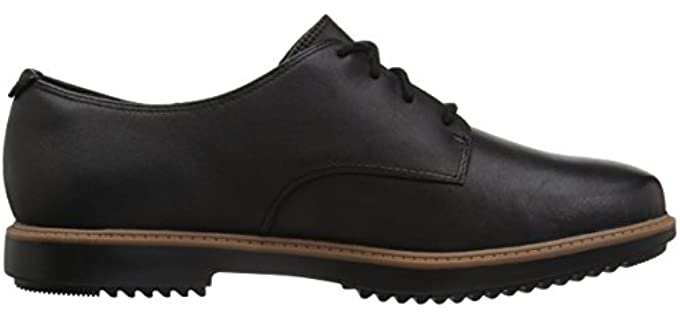 So I have looked at a few brands and models of dress shoes that look great. They come in different styles from which you can choose for different occasions, and they also have a more accommodating fit and proper support and comfort features, especially if your feet are affected by diabetes.
Uppers – First of all, I have chosen different styles of dresses, such as large slopes and slip-on shoes. Oxford-style dress shoes and more formal, regular lace-up shoes. The uppers can consist of leather, nubuck leather, smooth leather, or synthetic leather.
Fit – I have taken much consideration into choosing shoes that offer a more accommodating and comfortable fit. The dress shoes that I have chosen have a roomy toe box. They are mostly available in wider with. And some of them have an adjustable fit, such as a lace-up or hook-and-loop closure system.
Comfort and Support Features – The Dress shoes will have proper shock-absorbing cushioning in the midsole, and a more comfortable softer cushioned insole. There will be a supportive contoured footbed or arch support.
Outsole – I have chosen dress shoes with a more substantial outsole that will provide good underfoot protection. They may have a synthetic or rubber outsole.
Options – The dress shoes are mostly available in neutral colors and more sizes, some do offer wider widths.
---
Reviews: The Best Dress Shoes for Diabetics
In our review section you will find some of the best available dress shoes that are all ideal for feet affected by diabetes;
---
1
The Escalade step is a formal dress shoe that is an easy slip-on style.
It has a roomy fit and soft leather upper.
There is a comfortably cushioned footbed and a more flexible sole.
The shoes have a durable rubber outsole.
---
2
The Gramercy from Orthofeet is an Orthopedic dress shoe for diabetic feet.
They have an extra depth and wide-width design with layered cushioning and a removable insole.
The shoes offer good arch support and have stability features.
They are available in neutral color options.
---
3
Hush Puppies are likewise an Orthopedic brand.
Their Glen oxford dress shoes are ideal for Diabetic feet.
They have a thick shock-absorbing sole and comfortable ZeroG Elon Midsole.
There is Strobel construction for flexibility and comfort.
The shoes are suede leather with a comfortable fit.
---
4
The Cotrell Edge is a very comfortable leather dress shoe in an Oxford style.
It has leather uppers and a textile lining.
There is a removable footbed and cushion soft technology, with an OrthoLite sheet.
The Shoes have a roomy toe box and are available in wider widths.
---
5
The Skechers Harper is a relaxed fit loafer for semi-formal occasions.
They have a wide and roomy fit with 360-degree comfort.
There is a double gore for easy on and off.
The shoes have an Air Cooled memory foam footbed for comfort and a durable rubber outsole.
---
6
The Cora Daisy for ladies is a comfortable dress shoe with a low heel.
The wide fit is ideal for diabetic feet and the fabric and leather uppers are quite gentle against the skin.
They are well cushioned with an OrthoLite Footbed and there is a shock-absorbing TPR outsole.
The shoes are an easy slip-on-and-off style.
---
Index Table: Top Rated Dress Shoes for Diabetics
---
---