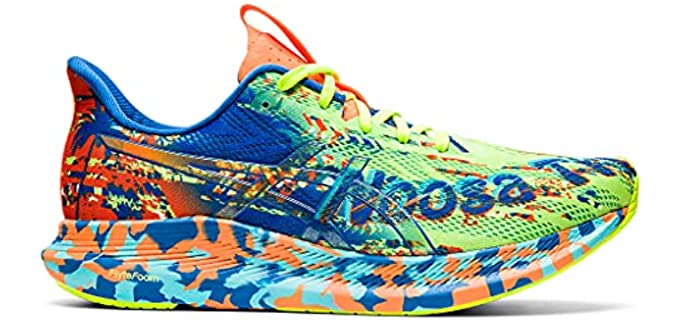 The expected release date for the Asics Noosa Tri 15 is July 3, 2023.
The Asics Noosa Tri 15 will have the following main updates:

The new model will be the perfect triathlon shoe for fast road runs and high-performance.
The new model will have a much more comfortable fit with a springy midsole and comfortable plush cushioning.
It will offer excellent ground contact for running and a variety of exercises and sports.
Overall the new Asics Noosa Tri 15 will be a do-it shoe with a spacious and comfortable fit.
Previous model of the Noosa Tri:
The Asics Noosa Tri 14 release date was on May 7, 2022.
---
Latest Version of the Asics Noosa Tri Shoe
*
---
Video
---
Price
The MSRP (Manufacturer's Suggested Retail Price) for the Asics Noosa Tri 15 will be $170.
The New Noosa Tri 15 will be quite a substantial shoe with plenty of personalities.
Arch Support and Pronation Control
The New Asics Noosa Tri 15 will be perfect for more neutral pronation types.
It will offer a comfortable and supportive fit for a high to normal arch type, with plenty of cushioning.
Terrain
I would highly recommend you try to stay off muddy trails and wet surfaces with the new model.
However, it will be perfect for roads and indoor floors.
Use
The Asics Noosa Tri 15 will be a great all-around shoe.
It will be perfect for the gym and running on treadmills.
Also, it will be ideal for daily running and even long-distance or marathon running.
Durability
The new model will be quite durable but not as water-resistant.
It will offer good durability on roads and hard floor surfaces.
Fit and Sizing
As for the fit, I would say it is a medium and roomy fit overall.
You will be able to get the new model in a wider width option.
Weight
The weight for the men will be 224 grams.
The weight for ladies will be 184 grams.
I absolutely love the fact that the new model will be so lightweight.
---
Elevation of the Asics® Noosa Tri 15
Heel Height
There will be a heel height of 25 mm for the men and 26 mm for the ladies.
It will be doffer to fit each unique foot type perfectly.
Forefoot Height
The forefoot height will be quite similar.
It will be 21 mm for the ladies and 20 mm for the men.
Heel-to-Toe Drop
There will be a 5mm heel-toe toe drop.
The heel-to-toe drop will be perfect for a variety of purposes.
---
Components of the Asics Noosa Tri 15
Outsole
The Outsole will be an improved durable rubber.
It will be an AHAR, high abrasion-resistant rubber, which will be ideal for roads and hard surfaces.
Guidesole technology will be enhanced to create a more curved sole that reduces ankle flexion and that, in turn, increases running efficiency.
Midsole
The Midsole will offer the extremely lightweight Flytefoam technology.
Midsole and insole cushioning will be plush and comfortable.
The shoc will offer exceptional shock absorbency and energy return.
Upper
The uppers of the new model will similarly remain synthetic and breathable mesh, with a moisture-wicking lining.
However, If you loved the previous bold prints and colors, get ready for some more new fashionable designs in this bold sneaker model.
---
Asics® Noosa Tri vs. EvoRide
---
*
---
---
---